Description
Level 1 Certificate in Wine
Saturday + Sunday, June 22 + 23, 10am – 3pm each day

WHO SHOULD ATTEND
Level 1 is an introductory course for beginners and enthusiasts. It assumes some exposure to wine but little or no formal wine knowledge. This program is appropriate for both consumers and professionals in all wine, food, hospitality and service industries.

WHAT YOU WILL LEARN
Students will learn technical wine tasting, the major wine grapes, wine and food pairing basics, and fundamentals of wine style. The emphasis in Level 1 is on providing an overview of wine and wine tasting, plus an introduction to wine and food pairing concepts.

LEVEL 1 PROGRAM FORMAT
8 hour classroom program
20 – 24 wines tasted

LEVEL 1 PROGRAM SYLLABUS
Seven "S" System Of Wine Tasting
The Big Four: Sauvignon Blanc, Chardonnay, Pinot Noir, Cabernet Sauvignon
Understanding Wine Grapes: Pinot Grigio, Riesling, Rosé, Montepulciano, Syrah, Merlot
Fundamentals Of Wine And Food Pairing
Wine Styles: Old World Versus New World
REGISTRATION REQUIREMENTS
Guests, students and certificate candidates must meet the legal minimum age for the retail purchase of alcoholic beverages in the country where the program is being held: 21 in the USA and China.

CERTIFICATE REQUIREMENTS
Complete classroom program
Complete classroom wine tasting exercise
Multiple choice exam of 25 questions
Minimum passing score 75%
YOUR EDUCATOR Jonathon Alsop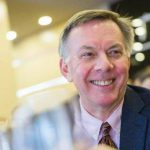 Jonathon started life as a wine writer covering wine, food and travel in 1988. He is author of the long-running wine column In Vino Veritas by Jonathon Alsop as well as many articles for the Associated Press, Frequent Flyer, La Vie Claire, Beverage Business Magazine, Mobil Travel Guides, Fodor's Travel Guides, Boston Globe, and many others. He founded the Boston Wine School in 2000 where he teaches wine and food classes.
HOUR HOST VENUE

VINOvations is a state of the art destination for wine lovers who want more than just the usual. We strive to enhance our customers wine drinking experience by offering a vast selection of boutique wines from around the world. We offer our guests the charm and amenities of a winery: our unique 2500 sq ft. event space includes a 40 bottle automated wine tasting room, private tasting stations, dual Chef's Studio Kitchen, wine education & much more.