Level Up Your Game - Running for Office
About this event
For those interested in running for elected office or positioning for boards and commissions, BWOPA/TILE presents its signature masterclasss to give insights, tools and inside scoop on launching a viable campaign specifically for us.
Register early to get your space. Registration includes pre-class survey, networking, strategic framework, leadership toolkit, mentor-match and lunch.
AGENDA AT A GLANCE (not final)
8:30am - Registration / Sign In
9:00am - Welcome - LaNiece Jones , BWOPA/TILE Executive Director
Opening Remarks - Kimberly Ellis, Unbought & Unbossed (Tentative)
9:30 -11:00am - Session I - Leaders On the Front Line
Moderator: Hon. Dezie Woods Jones, State President/CEO, BWOPA/TILE
Hon. Jayne Williams, Former City Attorney, City Of Oakland, San Leandro, Stockton
Hon. Brenda Knight, Former Peralta Community College Board Trustee
Hon. Cynthia Sterling , Former President, Fresno City Council
Hon. Leslie Baranco, Former Stockton City Council
Hon. Lori Wilson, Mayor of Suisun
11:00am - 12:30pm - Session II - Building Base of Support / Fundraising
Moderator:
Hon. Linda Handy, Peralta Community College District Trustee
Taisha Brown, Chair, African American Caucus, California Democratic Party
Ingrid Palmer, President, Los Angeles African American Woman PAC
12:30 - 1pm - Lunch - Featured Speaker: Solano County Board Supervisor Candidate K. Patrice Williams "My Story"- Running for Office
1:15 - 2:45pm - Policies + Issues Forum
Moderator: Cassandra Joubert, ScD, BWOPA Solano/Sacramento Regional Director
Judge Trina Thompson, Alameda County Superior Court
Nyeisha DeWitt, EdD Oakland Natives Give Back
Kimberly Mayfield, EdD, Holy Names University
2:45- 4:15pm - Nuts and Bolts
Moderator: LaNiece Jones, MA, BWOPA State Executive Director
Latressa Wilson Alford, Esq. VP, BWOPA Solano/Napa Chapter
Regina Brown Wilson , California Black Media
Rita Forte, Olive Street Agency
Ay'Anna Moody, GSW
Hon. Fatima Alleyne, PhD, Contra Costa County Board of Education
4:15- 4:30pm - Break
4:30-5:30pm - - Show'em What You Got Presentations
5:30 PM - It's a Rap!
( Agenda may be subject to change)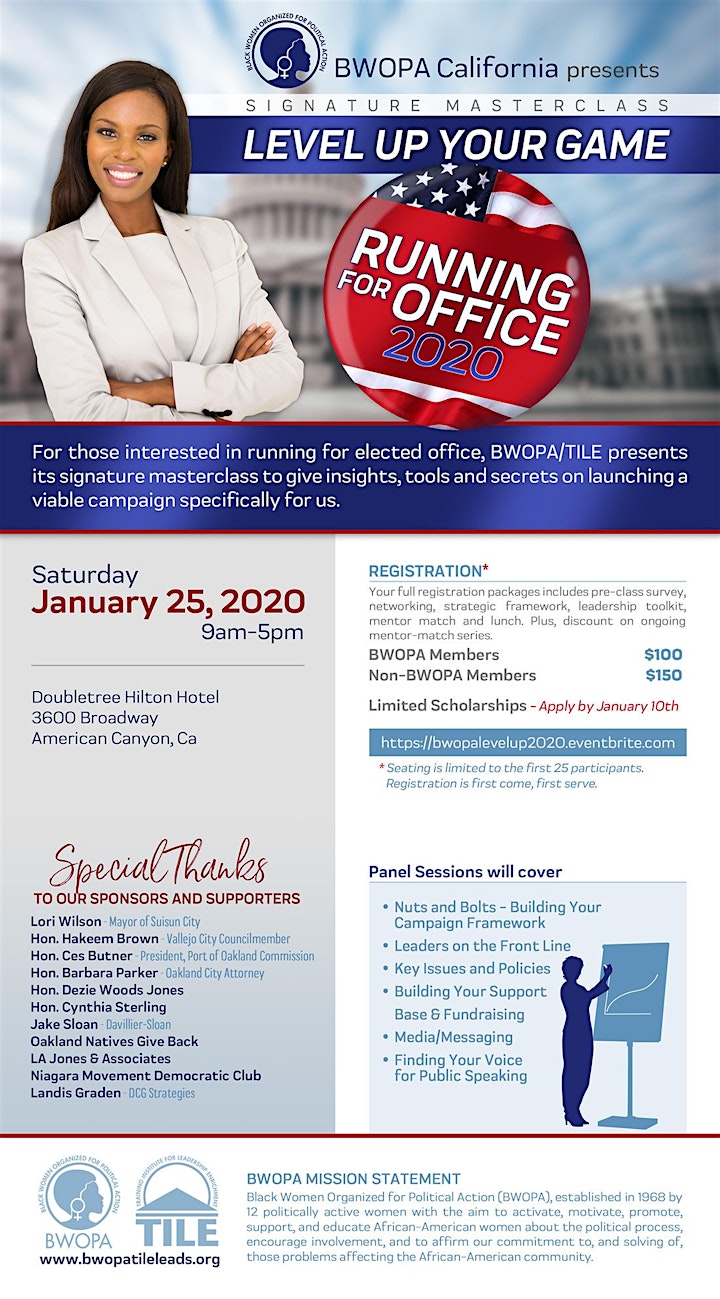 Organizer of BWOPA Level Up Your Game - Running for Office
Black Women Organized for Political Action (BWOPA) mission is to activate, motivate, promote, support, and educate African-American women about the political process, encourage involvement, and to affirm our commitment to, and solving of, those problems affecting the African-American community. 
BWOPA's purpose is to...
Provide leadership, training and mentoring to insure participation in the political process;  (TILE)

Developing long-range strategies to insure representation of African Americans within the political spectrum.

Articulate our collective positions on issues affecting African Americans; 

Develop collaborative linkages with other political organizations; and

Preserve and chronicle the political experience of African American women in California.