Description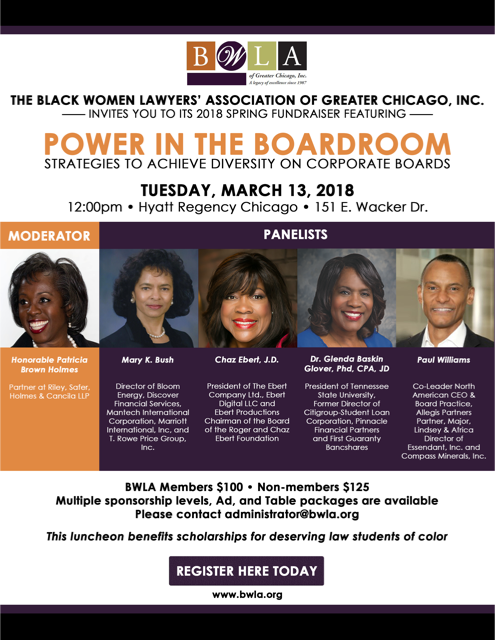 ---
The Black Women Lawyers' Association of Greater Chicago (BWLA) invites you to attend our 2018 Spring Fundraiser Luncheon, "Power in the Boardroom: Strategies to Achieve Diversity on Corporate Boards."
Although some corporations have made strides in recent years, African-American women hold only 1.9% of seats on Fortune 500 company boards. In light of this statistic, now, more than ever, BWLA is committed to equipping its 400 members with the tools and strategies necessary for entering c-suite and corporate board careers.
During this exciting event, expert panelists will discuss the impact of diversity in the boardroom and how black women lawyers can position themselves for corporate board and executive roles. Proceeds from the luncheon will benefit the Black Women Lawyers' Association Scholarship Fund, a 501(c)(3) organization committed to investing in the next generation of leaders and civil rights champions in the legal profession. A portion of all ticket, table and sponsorship sales will be tax deductible.
This is an event you don't want to miss!
Tickets may be purchased as follows (law students and BWLA members are encouraged to inquire about eligibility for obtaining a hardship ticket):
Member: $100.00

Non-Member: $125.00

Table: $1,250.00
For questions and additional details, including sponsorship and Bar Association partnership opportunities, please email administrator@bwla.org