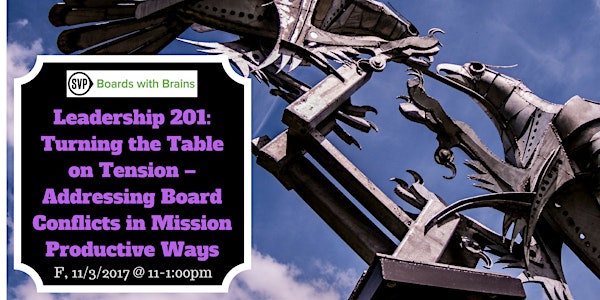 BWB Leadership 201: "Turning the Table on Tension: Addressing Board Conflicts in Mission Productive Ways"
When and where
Location
Boulder YWCA 2222 14th Street Boulder, CO
Refund Policy
Contact the organizer to request a refund.
Description

BOARDS WITH BRAINS is SVP's open-to-all nonprofit governance education series. Join us for our 2017 trainings, like this one: Learn the tools and strategies you need to be a strong, collaborative communicator and leader through moments of board discord. Use common causes of board conflict to propel your organization forward to a greater place of collaboration and clarity.
About this Session:
Leaders can't always be on the same page, and strong leaders know that disagreements can be a regular part of smart people working together to reach the decisions needed to run an organization well. Create a culture of strong communication on your board; learn how dissention can devolve into disagreement, tension, then conflict. Join SVP for this session where you'll learn the tools you need to be a strong leader through moments of board discord. We'll work with common examples of conflict that attendees provide (e.g. appropriate roles, decision making, strategic direction forward, accountability, interpersonal, etc.). Don't let conflict derail the good work of your board – channel it instead to help your organization innovate and push the thinking in service of mission.
Attendees of this session can expect to:

Learn to identify and minimize underlying points of disconnect as they arise, before they develop into conflict
Understand how to get to root of disconnects to diffuse tension
Learn how to facilitate parties in and through conflict when it arises
Practice the models and skills that get to the source of conflict and shift discussion into productive agreements that help parties move forward
About our Presenters:

Kara Penn, MBA, MPP is Principal Consultant for and Owner of Mission Spark, a management consultancy that partners with philanthropic, nonprofit and social enterprise leaders to achieve transformational results and to strengthen the social sector. Kara graduated from The Colorado College, where she was a Boettcher Scholar. She completed her MPP at the University of Chicago, and her MBA at MIT Sloan School of Management. She has been the recipient of three national fellowships (Watson, Coro and Forte), recognizing her leadership and community contributions. In 2014, she co-authored the book Fail Better, Design Smart Mistakes and Succeed Sooner (Harvard Business Review Press).
About SVP's Boards with Brains series:
SVP Boulder County believes strong nonprofits deliver better results. For our nonprofits to be wildly successful, we believe strong leaders – both staff and board – help create adept organizations. Our Boards with Brains professional development series was designed with that in mind. We've got a variety of nonprofit leadership topics, as well as 'tracks' and levels to help attendees identify which sessions suit them best.
Our per-session fee is a below-market $40. Individuals or organizations can purchase a transferable, 8-punch pass (giving you a $10 discount on each ticket), and, each session also includes a limited number of scholarship slots (just ask).
Please note, SVP does require a minimum number of pre-registrations to go ahead with any session. As such, we encourage those interested to sign up as soon as possible so we don't have to cancel. Day-of drop in participants should understand there may not be space to accomodate them, or sufficient session materials available. They will be expected to pay on site with a credit card (please note, scholarship and 8-pack pricing is not valid for drop-in attendees).
Find the full roster of 2017 Boards with Brains sessions on this page of our website.