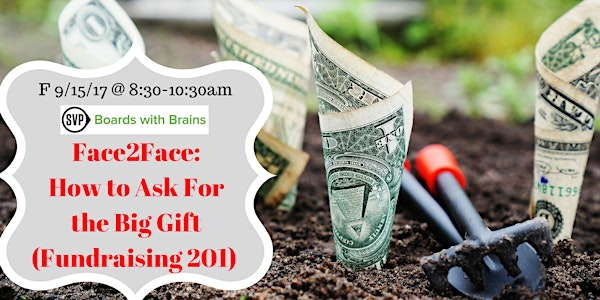 BWB Fundraising 201: "Face2Face: How to Ask for the Big Gift"
When and where
Location
Longmont Museum & Cultural Center, Classroom C 400 Quail Road Longmont, CO 80501
Refund Policy
Contact the organizer to request a refund.
Description

BOARDS WITH BRAINS is SVP's open-to-all nonprofit governance education series. Join us for our 2017 trainings, like this one: Fundraising isn't actually about money. It's about people who share values combining their resources to improve their communities. In this session, nonprofit board members and staff will learn the best techniques for inviting donors to support their organizations, while fulfilling their own vision for a better world!
About this Session:
Are you a board member who would like to be out asking for major donations, but you're just not sure how to do it? Are you a staff member who needs to brush up on your major gift skills? This is one of Front Range Source's most popular and interactive workshops. We'll focus on tactics that take you through every stage of the ask:
-Before the ask. Learn strategies for getting the meeting and planning your visit.
-During the ask. Practice tried and true approaches that take the mystery out of making the ask.
-After the ask. Explore methods for closing the deal and establishing a lasting relationship between your organization and the donor.
Most importantly, we'll let you practice. Role-plays and other exercises will build your confidence and get you ready to be out there raising money for your mission!
Attendees of this session can expect to:
Understand donor motivations and tailor the ask to the donor's needs.
Prepare thoroughly and thoughtfully for a solicitation
Practice making a successful ask
About our Presenters:

Front Range Source serves an international clientele from its Boulder, Colorado headquarters. With a combined experience of more than 50 years in fundraising and nonprofit management, co-founders Leslie Allen and Ann Goldman have worked at every level of the donor pyramid from small gifts to large, and across every fundraising channel, from direct marketing and web giving to major gifts and foundations fundraising. We offer top-level consulting, coaching and facilitation services to nonprofits in all areas of fundraising, strategic planning and board development. Our vision is that every nonprofit organization has the resources they need to achieve their vital mission.
About SVP's Boards with Brains series:
SVP Boulder County believes strong nonprofits deliver better results. For our nonprofits to be wildly successful, we believe strong leaders – both staff and board – help create adept organizations. Our Boards with Brains professional development series was designed with that in mind. We've got a variety of nonprofit leadership topics, as well as 'tracks' and levels to help attendees identify which sessions suit them best.
Our per-session fee is a below-market $40. Individuals or organizations can purchase a transferable, 8-punch pass (giving you a $10 discount on each ticket), and, each session also includes a limited number of scholarship slots (just ask).
Please note, SVP does require a minimum number of pre-registrations to go ahead with any session. As such, we encourage those interested to sign up as soon as possible so we don't have to cancel. Day-of drop in participants should understand there may not be space to accomodate them, or sufficient session materials available. They will be expected to pay on site with a credit card (please note, scholarship and 8-pack pricing is not valid for drop-in attendees).
Find the full roster of 2017 Boards with Brains sessions on this page of our website.