Sales Have Ended
Ticket sales have ended
Thank you for your interest in this event! Unfortunately, this event has sold out. Please feel free to check out our other upcoming events at: www.blackwomenofarizona.com/events
Sales Have Ended
Ticket sales have ended
Thank you for your interest in this event! Unfortunately, this event has sold out. Please feel free to check out our other upcoming events at: www.blackwomenofarizona.com/events
A BWAZ Virtual Event Series: Womens Sexual Health Part II
About this event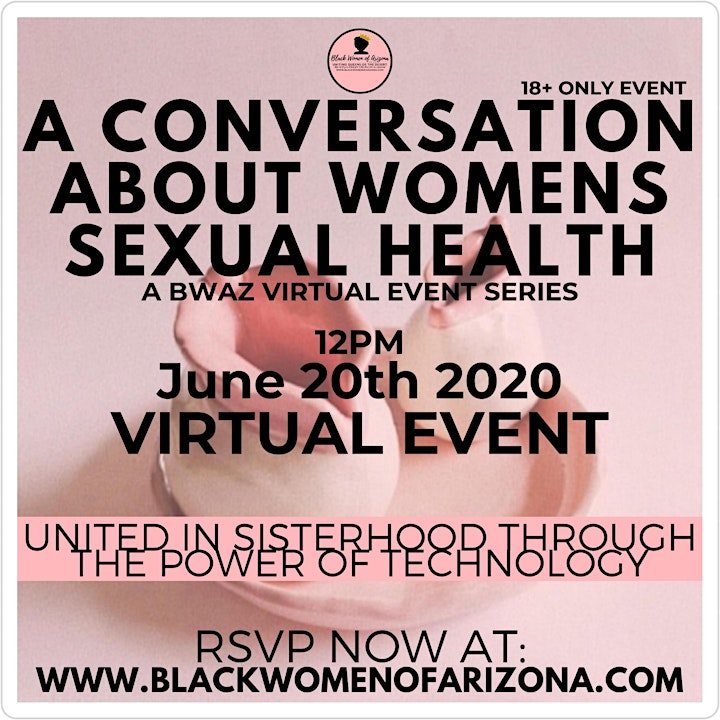 BWAZ is excited to announce the launch of our virtual event series "United In Sisterhood."
Over the course of several weeks, BWAZ will be hosting a variety of virtual events covering various topics that have impacted the women in our community.
Sisterhood doesn't stop in times of crisis. instead, we come together even more in different ways.
At BWAZ, we are United In Sisterhood Though the Power of Technology!
We hope to see you [virtually] at this upcoming event soon.
*************************************************************************************************
Join us on June 20th 2020 for Part II of our womens sexual health virtual event series! Due to the COVID-19 crisis, our Pocketbook Series Brunch was cancelled so here's your chance to join us virtually to talk about womens sexual health.
"A Conversation About Womens Sexual Health" will be hosted by BWAZ Founder Phay Dee and a featured guest speaker(s) that will provide some insight on womens sexual health.
If you missed Part I of this event, you will not want to miss this one!
No matter your age, orientation, or where in the country you're located, you're invited to join us.
If you have any questions that you would like to submit anonymously, please click HERE.
*This event is NOT KID FRIENDLY.*
Guests must be at least 18 years of age to attend this event.
*************************************************************************************************
This event does NOT offer any vending opportunities or speaking engagements.
If you're interested in being a featured guest speaker at one of our other virtual events, please apply here.
*************************************************************************************************
Event FAQ:
*PLEASE READ THIS SECTION IN ITS ENTIRETY PRIOR TO PURCHASING YOUR TICKET*
BWAZ Virtual Events are nonrefundable, unless the event is cancelled, and nontransferable. NO EXCEPTIONS.
Additional information (log-in details) regarding this event will be sent to confirmed guests only via email approximately one week prior to the event date.
This is a women's only virtual event.
Event guests do not have to reside in the state of Arizona in order to attend.
This event is open to ALL women in the United States. You do not have to be a member of the BWAZ platform in order to attend.
This is NOT A KID-FRIENDLY EVENT! All event guests must be at least 18 years of age. No exceptions.
Although this is a virtual event, event guests will be required to be on video during this event.
Event guests are required to be dressed for the entire duration of this event.
All confirmed guests will automatically be added to the BWAZ email list. Emails are NEVER sold or shared with ANY third parties. If you would like to opt out of future emails, please specify by replying "unsubscribe" to any emails sent by BWAZ AFTER this event has taken place.
Effective 6/25/2019, in the rare event that a refund is submitted, per Eventbrite's refund policy, Eventbrite fees will not be returned even if a refund is submitted. For more information regarding their refund policy, please visit their website at: bit.ly/EventbriteRefundPolicy
Legal Disclaimer: This event is for educational and entertainment purposes only and is not a replacement or substitution for medical care and/or medical treatment.
For any additional questions, please contact BWAZ directly at: info@blackwomenofarizona.com
*************************************************************************************************
Get social with #BWAZ
Visit the Black Women of Arizona online at: www.blackwomenofarizona.com
Keep up with the Black Women of Arizona on social media:
(Last revised 05/18/2020)
Date and time
Location
Refund policy