Description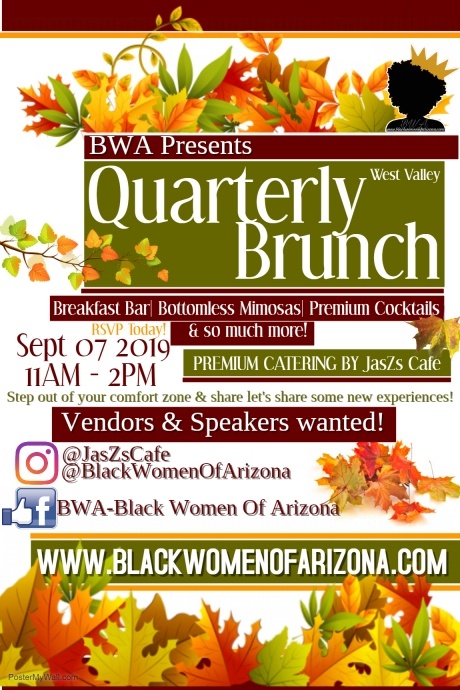 ---
This is it!!!
Join BWA for our final Quarterly Brunch in 2019!
For this brunch series, our theme will be "Celebrating the Black Woman" where we will be covering various topics in regards to women empowerment.
BWA's private brunch will be held at a secret location and will include a luxury style brunch buffet prepared by JasZsCafe, bottomless mimosas, premium cocktails, BWA's signature Cocktail of The Brunch, vendors, and speakers!
Space for this event is limited so RSVP today! Early Bird Specials available now. Prices go up soon!
Step out of your comfort zone and let's share some new experiences!
See you soon!
---
Vendor packages are also available!
Event Speakers wanted!
- Event Vendor Application: https://www.surveymonkey.com/r/ZDNHDZR
- Event Speaker Application: https://www.surveymonkey.com/r/6MNTG7Y
NO JEWELRY VENDORS PLEASE.
Please allow 3-7 business days for a followup. Be sure to check your spam/junk folder.
---
Visit the Black Women of Arizona online at: WWW.BLACKWOMENOFARIZONA.COM
Keep up with the Black Women of Arizona on social media:
•FACEBOOK PAGE
https://www.facebook.com/BlackWomenofArizona/
•BWA PRIVATE FACEBOOK GROUP
https://www.facebook.com/groups/301299793582339/
•INSTAGRAM
https://www.instagram.com/blackwomenofarizona
•TWITTER
https://twitter.com/BlackWomenOfAZ
•MEETUP
https://www.meetup.com/Black-Women-of-AZ
•SNAPCHAT
https://www.snapchat.com/add/blackwomenofaz
•YOUTUBE (Launching Winter 2019)
https://www.youtube.com/channel/UCuQ-npfkdzsP0iJl7G3p4RQ
•EVENTBRITE PAGE (ALL EVENTS)
https://www.eventbrite.com/o/black-women-of-arizona-14624961086
---
FAQ / IMPORTANT EVENT INFO:
***PLEASE READ THIS SECTION PRIOR TO YOUR PURCHASE***
- Because this is our last brunch series of 2019, brunch purchases are nonrefundable AND nontransferable. NO EXCEPTIONS.
- Effective 6/25/2019, in the rare event that a refund is submitted, per Eventbrite's refund policy, Eventbrite fees will not be returned even if a refund is submitted. For more information regarding their refund policy, please visit their website at: https://www.eventbrite.com/support/articles/en_US/Troubleshooting/is-the-eventbrite-fee-refundable?lg=en_US
- Event location will be available approximately one week prior to the event date
- Menu options & all additional information will be available only to attendees one week prior to the event date via email
- This is a women's only event
- This may NOT be a kid-friendly event
- BWA Quarterly Brunches will be hosted every 3 months in both the East AND West Valley
- For safety reasons, IDs will be checked at the venue for all alcoholic beverages/purchases
- Please drink responsibly. BWA, its coordinator, and/or the event venue & staff is not responsible for overconsumption of alcoholic beverages. By purchasing a ticket to this event, you agree to release both BWA, the event coordinator, & the event venue & staff from all liabilities
- All confirmed guests will automatically be added to the BWA email list. Emails are NEVER sold or shared with ANY third parties. If you would like to opt out of future emails, please specify by replying "unsubscribe" to any emails sent by BWA AFTER the event

For any additional questions, please contact BWA directly at info.bwarizona@gmail.com
(Last revised 7/9/2019)