| | |
| --- | --- |
| BW Speaker School - Live in Baltimore | |
Event Details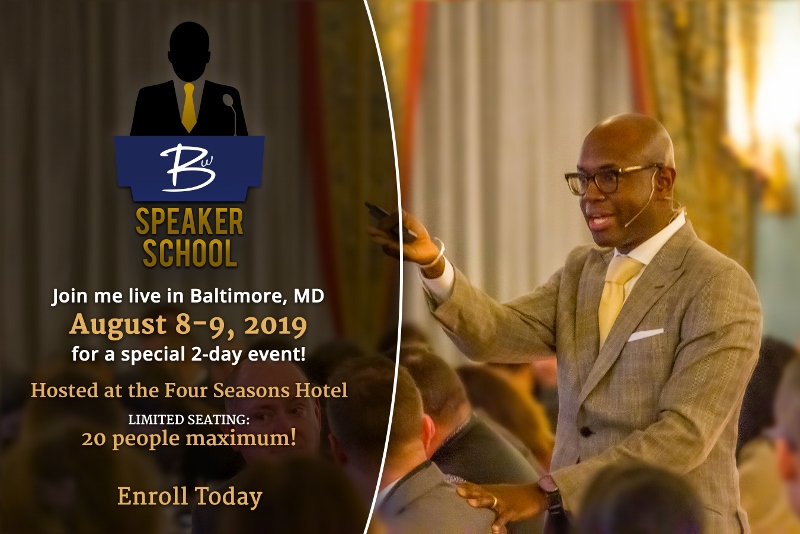 Join me in Baltimore for this special event! (20 people max)

 

"Bryan, how did you start speaking?" I am asked that question several times every week. After close to 13 years of having my own successful speaking business, I'm excited to announce a great opportunity for a few, select individuals! 

 

The purpose of this two-day program is to equip you with the tools, resources and strategies to build a successful speaking business. Specifically, I want to share with you how you can charge (and consistently earn) a solid income within 6-12 months.

I will take what I've learned in 18 years of speaking and almost 13 years as an entrepreneur, and bring it to you. All of it. My goal is to help you significantly shorten the amount of time needed to get started and monetize your expertise (aka benefit from my potholes, lessons learned and best practices). 

I look forward to helping you monetize your expertise. To your success!

-Dr. Bryan K. Williams, Founder - BW Speaker School
Topics will include: 
*Fees - How to negotiate and set them.
*Branding - How to craft your image (How do you want to be perceived?)
*Marketing - How to identify and communicate with your target market. (How will let your audience know about you?)
*Client Relationship Mgt - How to build strong relationships before, during and after your presentation.
*Presentation - How to design and deliver a memorable presentation (pre-call, slides, on-site, follow ups)
*Scaling - How to diversify your income stream via books, webinars, e-courses, etc.
*Administration - How to handle expense reports, taxes, contracts, etc.
Bonus: Meeting Planner's Perspective - A highly successful meeting planner will be with us to share

 insider information into what planners look for when searching, hiring and paying speakers. 
If any of the following statements describe you, this program will be a great fit: 
*I want to monetize my knowledge, but not sure how.
*I don't know how much I should charge for my services.
 *I've lost my job due to a recent merger, acquisition or downsizing. 
*I am looking to re-invent myself and would like to invest in my own development.
*I currently speak, but am not truly maximizing what I'm worth.
The ideal candidate for this program is an emerging speaker who is comfortable speaking in front of an audience (or a current speaker who is making less than $7,000 per engagement). 
Frequently Asked Questions
*Is the registration investment worth it?
Absolutely! Upon completing the course, my goal is for you to have the knowledge, resources and confidence to charge, at least, $3,000 to $5,000 per speaking engagement (to start). 
So, as you can see, all you need is only ONE paid speaking engagement to get a return on your investment for the BW Speaker School!
Plus! The registration includes all food and beverage on both days of the event, including: Breakfast, Lunch, Light Refreshments, and a special group dinner on the evening of August 8th!

*How is this program different from the 6-week online course you've been doing?
This 2-day course covers the same material over 2 full days...plus a bit more. For example, a veteran meeting planner will be a guest speaker to share some insider information into what planners look for when searching, hiring and paying speakers. The 2-day program will be hosted at the luxury Four Seasons Hotel in Baltimore. Plus, the following meals will be covered:

Breakfast and Lunch on both days of the event, and a special group Dinner on the evening of Day one. 
*With my busy schedule, how will I find the time to complete the course? 
Over the years, I have learned that people will always make time for whatever they deem to be important. Priorities and schedules get re-shifted as needed. Truthfully, this two-day session is a relatively small investment into building a very lucrative venture for yourself (and your family).
*There are so many things that I am interested in, I'm not sure what my niche should be.
I can empathize completely. That is why the first module is about "Branding", and in that module we focus exclusively on helping you identify your passion, core competency and niche!
*What if I just want to speak part time and not commit full time?
That is completely up to you! This 2-day course is highly relevant whether you are aiming to become a full-time professional speaker commanding $10,000 (plus) per engagement or you would like to supplement your income with periodic $3,000 keynotes and breakout sessions.
*Will I have access to you (Bryan) after the course to pick his brain??
100%! In fact, I (Bryan) will personally facilitate both days (with one or two guest speakers). Also, as an enrollee, you will have access to our private LinkedIn group dedicated to the participants in our school. I personally post, comment and reply in that group on an ongoing basis.
*I am travelling from out of town. Where can I stay?
Recent Testimonials

I've enjoyed the Speaker School sessions immensely.  I cannot tell you how much I appreciate you sharing your expertise!  I feel confident I will be able to use my newfound knowledge to develop a successful speaking business.  Thank you!
-Kristin Henry
..............................
As a speaker who is confident and fairly experienced in delivering presentations, I really needed help with the business side of speaking. The Bryan Williams Speaker school provided exactly what I was looking for. I walked out of the course with an understanding of the speaking business, a myriad of tangible tools, and most importantly, a clear plan of action as to what I need to do to NEXT to grow my speaking business. In addition to providing exceptional ROI (what I learned during the course is already allowing me to book more talks and at a higher fee), the Bryan Williams Speaker School was one of the most engaging educational events I have ever attended. Dr. Williams made every detail of the event an incredibly personalized experience. 
-Luke Carlson, CEO of DiscoverStrength
............................
Bryan's coaching helped me distill all my various knowledge into a laser-focused personal brand. My lack of clarity was the greatest thing holding me back and Bryan's guidance has unleashed me to begin helping others engage their full hearts so they can create limitless value. 

-Brian Buck
.................................
If you have a knowledge or skill others might benefit from and desire to speak on a local or national stage, the BW Enterprise Speaker School is for you. Dr. Bryan Williams is knowledgeable and passionate in delivering relevant resources, customized learning, coaching, and mentorship. In addition, he offers access to experts and a community comprised of individuals from various industries and stages in their speaking career. The BW Enterprise Speaker School is helpful in quickly guiding you through the transition from your current job title to thinking (and acting) like a "world-class speaker". The cost of the training is an investment in yourself, but you can expect to realize major value right away.

-Dr. Carrine V. M. Todman-Lewis, DBA, MTA, CMP, CVEP

Tourism and Meetings Industry Professional
***If you are travelling from out of town, there are multiple hotel options to choose from in Baltimore's vibrant Harbor East neighborhood!
Save This Event
Where

Four Seasons Hotel Baltimore
200 International Drive
Baltimore, MD 21202


Organizer
"Bryan is the premiere thought leader and speaker on the topic of customer service and customer experience in the world today. He is the rare confluence of tremendous content, broad business and management knowledge, and a presentation style that engages and entertains an audience. Bryan is equally effective in presentations to organizational leaders as he is at inspiring exceptional performance from front line service providers."   
--Luke Carlson, DiscoverStrenth 
-----------------------------------------------------
"Dr. Bryan Williams is a phenomenal motivator with an exhilarating magnetism. Bryan has a significant impact on every team member on a personal & professional level. Witnessing our team comprehending and aspiring to be exceptional is an awe-inspiring experience."
--Claudia Alvarado, William Wesley Grand Salon & Spa
------------------------------------------------------- 
"Bryan Williams met with and worked along side our senior leadership team and, with his guidance, we were pushed to our limits to discover our true potential. The "Bryan Williams experience" allowed us to focus on working together to create a corporate environment that impacted our entire team and launched."    
--Tom Watts, Exceptional Living Centers
--------------------------------------------------------
"Our team recently experienced a dynamic and engaging customer service expert, Dr. Bryan Williams.  Service excellence transcends industry sectors, and Bryan reached our group with very practical tools and insights to engage our leadership team to deliver world-class service.   He is a gifted customer service expert, who can inspire and lead others to awaken new opportunities!"
--Dawn Garcia, Sacred Heart Hospital