BW Leadership Academy 2017 - Annapolis

Thursday, November 9, 2017 at 8:30 AM

-

Friday, November 10, 2017 at 4:00 PM (EST)
Event Details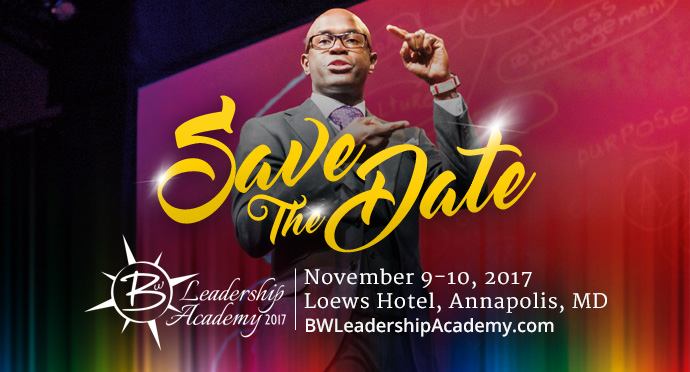 Recent Testimonials from BW Leadership Academy-Phoenix (May 4-5, 2017)
"This academy was a blessing to me professionally and personally. As a leader I spend so much time on helping others be the best they can be. To take the time to give that attention to my self was rejuvenating. The information I gained about my own strengths were very insightful and can be implemented immediately." -Cheryl Green, SSCP Mgt.
 "There was a moment during this very well-organized, well-appointed and professional academy when I realized it is not your weaknesses that you need to "fix" or "re-learn" in order to become an effective leader. Rather, you need to recognize precisely what your strengths are and then maximize those gifts to manage around your shortcomings. This was the first time I was involved in a continuing education session that took this approach." -Tina DuPont, Seabury
When & Where

Loews Annapolis Hotel
126 West Street
Annapolis, MD 21401


Thursday, November 9, 2017 at 8:30 AM

-

Friday, November 10, 2017 at 4:00 PM (EST)
Add to my calendar
Organizer
"Bryan is the premiere thought leader and speaker on the topic of customer service and customer experience in the world today. He is the rare confluence of tremendous content, broad business and management knowledge, and a presentation style that engages and entertains an audience. Bryan is equally effective in presentations to organizational leaders as he is at inspiring exceptional performance from front line service providers."   
--Luke Carlson, DiscoverStrenth 
-----------------------------------------------------
"Dr. Bryan Williams is a phenomenal motivator with an exhilarating magnetism. Bryan has a significant impact on every team member on a personal & professional level. Witnessing our team comprehending and aspiring to be exceptional is an awe-inspiring experience."
--Claudia Alvarado, William Wesley Grand Salon & Spa
------------------------------------------------------- 
"Bryan Williams met with and worked along side our senior leadership team and, with his guidance, we were pushed to our limits to discover our true potential. The "Bryan Williams experience" allowed us to focus on working together to create a corporate environment that impacted our entire team and launched."    
--Tom Watts, Exceptional Living Centers
--------------------------------------------------------
"Our team recently experienced a dynamic and engaging customer service expert, Dr. Bryan Williams.  Service excellence transcends industry sectors, and Bryan reached our group with very practical tools and insights to engage our leadership team to deliver world-class service.   He is a gifted customer service expert, who can inspire and lead others to awaken new opportunities!"
--Dawn Garcia, Sacred Heart Hospital
BW Leadership Academy 2017 - Annapolis