BVS' Biotech Community Event at the Green Flash Brewery
About this event
We are very excited to announce our outdoor Biotech Community Event at the Green Flash Brewery.
These events are always very popular and we get representation from over 100+ companies/institutes & we will once again be inviting the entire So CA Life Science Community to attend.
The event is being promoted as a special Biotech Community Event sponsored by the best scientific suppliers in the industry along with it being a wonderful way for scientists and science vendors to network in a relaxed evening venue.
The event will be a combination of vendor exhibits, tacos and beer. We will have extra special raffle prizes and expect an excellent turnout.
We look forward to seeing you there!
Pam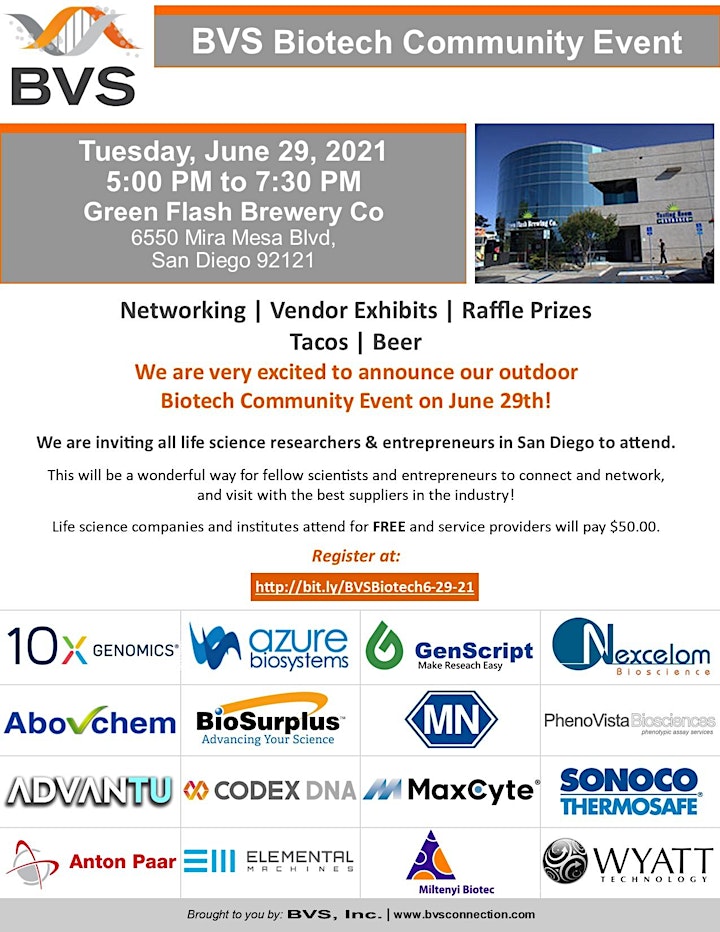 Organizer of BVS' Biotech Community Event at the Green Flash Brewery



Your fastest path to the right scientific suppliers.
Time is money. Researching and vetting suppliers takes an exorbitant amount of time. Website reviews. Brochures. Phone calls. Individual appointments. Stop the madness – we're expert scientist-to-vendor connectors. Let us help you by customizing showcases, summits, seminars, and special corporate culture events to meet your goals and objectives.