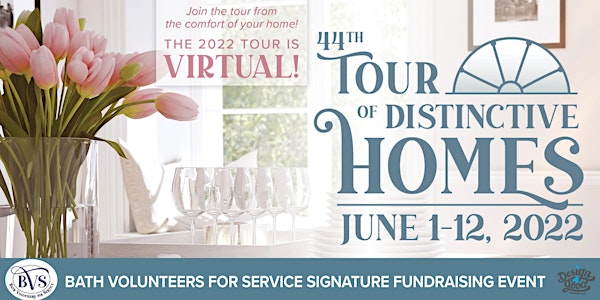 BVS 44th Tour of Distinctive Homes presented by Bath Volunteers for Service
Join us for the 44th Tour of Distinctive Homes Virtual/Video tour through SEVEN of the area's most unique and elegant homes, June 1-12,2022.
About this event
Over the past forty-four years, the Bath Home Tour has become a treasured tradition in Northeast Ohio. It has been a privilege for Bath Volunteers for Service to showcase the finest in home and landscape design in our community as our annual signature fundraising event which provides annual grants to dozens of local non-profit organizations, and scholarships in the Bath and greater Akron area.
This year once again,
Enjoy a private tour of seven unique and elegant homes from the comfort and safety of your own residence, at a time that is most convenient for you. Each of the featured homes will be professionally filmed and narrated, with a focus on the home's history, of family heirlooms, and of the distinctive and personal touches that sets each property apart from another. Several of the homes will also feature gardens that complement the living space.
This year's homes are truly some of the area's not-to-be missed residences.
The tour will be accessible from 8:00 am Wednesday, June 1 – 11:59 pm Sunday, June 12 via an email link you will receive on Wednesday morning, June 1st. The email will be sent to the email address provided during registration and ticket purchase.
Take a look at some highlights from the 2022 tour using the link below.
Visit https://www.bvshometour.org for additional information.