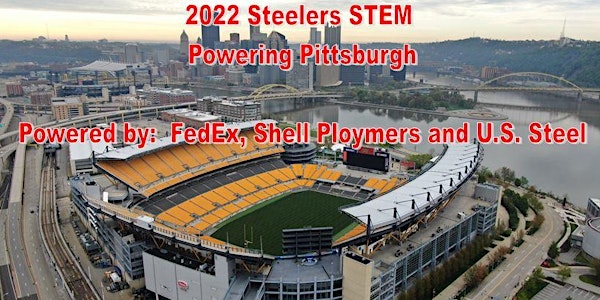 BVIU- Steelers STEM Competition (Powering Pittsburgh)
Presented by Shell Polymers, FedEx and U.S. Steel
When and where
Location
Beaver Valley Intermediate Unit 147 Poplar Avenue Monaca, PA 15061
About this event
The Steelers STEM Competition (formerly Powering Pittsburgh) is for Beaver County High School (grades 9-12) teams. Teams of up to 4 students will develop unique ideas to power the city of Pittsburgh or Acrisure Stadium in the future using renewable sources. The winning team will go on to the regional competition at Acrisure Stadium in November. Winners of the final competition will be awarded $3,000 for their schools STEM programming along with the ability to attend a Steelers game! The winning team will also accept the prize on behalf of your school with a check presentation on the field!
There are 2 levels of competition:
IU Competition - This portion of the competition will be in-person at the BVIU on October 27, 2022. The winning team will be eligible to compete at the Final Competition.
Final Competition - Winning teams will compete in November 9 at Acrisure Stadium. Cash Scholarships: $3000 for 1st place, $2000 for 2nd place and $1000 for 3rd place. All teams who attend the final competition will receive lunch and a guided tour of Acrisure Stadium. Second and third place teams will receive a Steelers gift.
Each District may register up to 3 Teams.