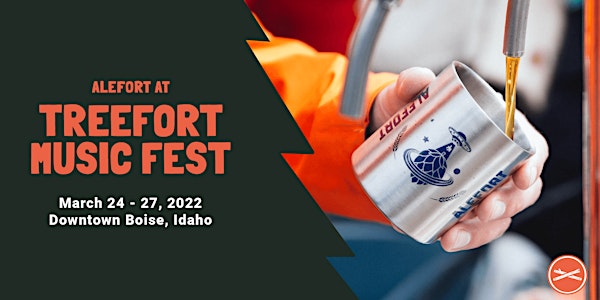 BUZZ PASS / ALEFORT @ Treefort Music Fest 10
ALL AGES
Treefort Music Fest
Buzz past the entry line, get exclusive swag and more with the new Alefort Buzz Pass.
When and where
Date and time
Starts on Thursday, March 24, 2022 · 4pm MDT
Location
Alefort 700 S Capitol Blvd Boise, ID 83702
About this event
Alefort is the craft beverage and food tasting component of Treefort Music Fest. The Alefort team is committed to the presentation of unique and high quality food and beverage experiences that illuminate the intersection of craft beverage and local cuisine with Boise's greater culture.
New this year, Alefort will offer the Buzz Pass, which will function like a ZIPLINE pass for Alefort only. The Buzz Pass is $100 and will allow thirsty Treeforters to jump the line, tap into a secret menu, and access private bathrooms within Alefort.
The Buzz Pass includes:
Front of the line access to Alefort
8 beer tokens
Access to private bathrooms
daily secret tastings of rare offerings (1oz. tastings, doesn't cost a token)
exclusive Alefort & Treefort swag
Treefort pass holders get FREE entry to Alefort, but to get front-of-line access, you must get the Buzz Pass.
#treefort10 | March 23-27,2022
TREEFORT HEALTH PLEDGE:
We ask that you not attend if any of the following is true for you or anyone in your party:
Within 14 days before attending the festival you have tested positive, or been exposed to someone who has tested positive for, COVID-19;
Within 48 hours prior to attending the festival, you have experienced symptoms of COVID-19 (e.g., a fever of 100.4F or higher, cough, shortness of breath or difficulty breathing, chills, repeated shaking muscle pain/achiness, headache, sore throat, loss of taste or smell, nasal congestion, runny nose, vomiting, diarrhea, fatigue or any other symptoms associated with COVID-19 identified by the Centers for Disease Control and Prevention);
Within 14 days prior to attending the festival, you have traveled to any international territory identified by federal or applicable state or local governments as being subject to travel or quarantine advisories due to COVID-19.