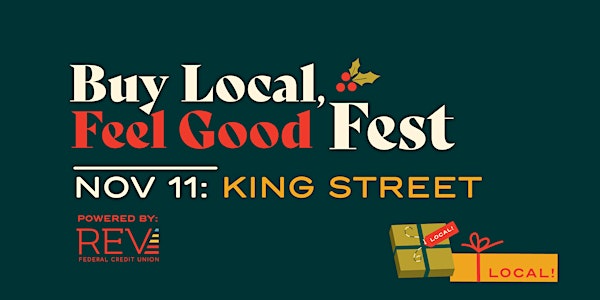 Buy Local, Feel Good: King Street
It's that magical time of year! Time to CHOOSE our LOCAL business community throughout our 10th annual Buy Local Season.
When and where
Location
King Street King Street Charleston, SC
About this event
Due to inclement weather, this event has been moved from Saturday, Nov 6 to Thursday, Nov 11 @ Tradesman Brewing Co. (1647 King St Ext, Charleston, SC 29405)
5 – 7 p.m. // Raffle prizes drawn at 6 p.m. Must be present to win.
Because of the rescheduling, we will allow all valid receipts from Saturday, November 6 through Thursday, November 11 to qualify for raffle tickets. Don't forget - you can still shop online or purchase gift cards to support these great local businesses and those receipts will count too!
It's that magical time of year! Time to CHOOSE our LOCAL business community throughout our 10th annual Buy Local Season.
You know that feeling you get when you go into a local shop or visit their website and find the perfect, unique gift for a loved one? You walk away with a little pep in your step and know that you've done something good – not just for your gift-recipient but for the neighbors you've supported by making that purchase.
Join us for a new 5-part series of "Buy Local, Feel Good Fests" – hyper-local "cash mobs" driving support to participating local businesses, ending with a happy hour celebration with raffle prizes and all the feel-good vibes that come from supporting local. These will rotate around the community's densest, walkable areas of local businesses on Saturdays from 1 - 4 p.m. throughout the campaign.
SHOP KING STREET: Sat, Nov 6 - Thurs, Nov 11
Bring a valid receipt from any of the below local businesses on Thursday, Nov 11 to the happy hour at Tradesman Brewing to participate in the raffle! You'll receive 1 raffle ticket for each valid receipt.
Raffle Prizes Include:
– Jane Win Charleston necklace from Croghan's Jewel Box ($268)
– Gift Card to M.Dumas & Sons ($200)
– Custom Sentinel Experience from J.Stark ($175)
– A pair of VIP complimentary admission and free drink tokens from Forte Jazz Lounge ($100)
– Signed copy of the photobook "My City" by Jack Alterman, from the Preservation Society Shop ($65)
– Gift Card to Blue Bicycle Books ($50)
– The Henrietta Tassel Earring in Cornflower Blue from the Tiny Tassel ($34)
– Gift Card to Callie's Hot Little Biscuit ($30)
– No. 4 Candlefish Candle (holiday pine) and a pack of safety matches valued from Candlefish ($30)
– Anniversary Candle from Charleston Candle Co. ($30)
Local Business Participants:
Blue Bicycle Books
Buxton Books and Tours
Callie's Hot Little Biscuit
Candlefish
Charleston Candle Co.
Charleston Music Hall
Croghan's Jewel Box
FIG
Forte Jazz Lounge
Half-Moon Outfitters
Indaco
J.Stark
Kudu Coffee & Craft Beer
M. Dumas & Sons
Miller's All Day
Off Track Ice Cream
The Alley
The Grocery
The Ordinary
The Preservation Society of Charleston Shops
The Tiny Tassel
Verde