Buy Detroit: Independent Shopping Excursion

Multiple Dates
Event Details

Let's face it: you've got someone on your list that's super tough to buy for. Dad? Mom-in-law? Baby brother? Or maybe you just want to snag something fantastic for yourself. You deserve it, right? Here's the deal: Detroit has some absolutely positively one-of-a-kind stores, so there's no reason to shop at a big box.
Local art, unique Detroit brands, one-of-a-kind home goods, ultra-classy vintage and more at over a dozen of the city's premiere independent retailers. If you don't find the perfect gift on this trip, you never will. We'll pick you up at one of the spots listed below, and drop you off at key places. Stroll, browse, shop. Chat with the shop owners. As an added bonus, retailers will be offering special surprises just for the participants on this trip: snacks, drinks, promotions and more. The Detroit Bus Company has your back in these crazy holidays. 
Here are some of the stops we'll be hitting:
Eastern Market: Detroit Mercantile. Bonus! It's Merry Marketplace weekend, and many of your favorite shops and vendors will be lined up in one convenient location for you. Citybird, Detroit Denim, Eastworks Detroit, Detroit Bicycle, Pewabic, Slow Jams, Spiel Haus Toys, and many many more. Your ride with the Detroit Bus Company gets you 10% off at all these fantastic vendors. El Guapo, The Mac Shack and other food trucks will be on site if you need to grab some nosh to fuel your frenzy.
Midtown, 2 stops: Canfield & Cass and the Park Shelton Hotel. Midtown has loads of great local shops. Got an artist in the family? Hit up the Detroit Artists Market or Utrecht Art Supply. Shinola makes stunning hand-crafted watches and leather goods of the highest quality. City Bird and Nest are doling out mimosas in the morn and champagne in the afternoon for our shoppers. The Peacock Room offers gorgeous women's clothing, accessories, fantastic hats and jewelry, and will be on hand with goodies. Hugh, a contemporary take on classic bachelor furnishings and vintage-inspired goods, will have free hot toddies for cold and weary shoppers. 
Livernois Avenue of Fashion: This up-and-coming strip is actually a new take on a Detroit classic. Livernois and Outer Drive is the exciting home to some of the city's greatest boutique shopping. Love Travel Imports, a fair trade store featuring gorgeous gifts and clothing from exotic destinations all over the world, will be offering great discounts for our shoppers. Voigt's Soda House, a recent Hatch Detroit finalist, is setting up shop in the Revolve Detroit retail space. Check out Detroit Fiber Works and Art in Motion for 10% off your purchase, and sign up for classes for the art aficionado in the family. Hungry? Thirsty? Need a sugar rush or a caffeine fix? Stop in to Good Cakes and Bakes for some tasty snacks and Chazzano Coffee.
We'll have maps and a goodie bag for each of our shoppers so you don't miss a thing.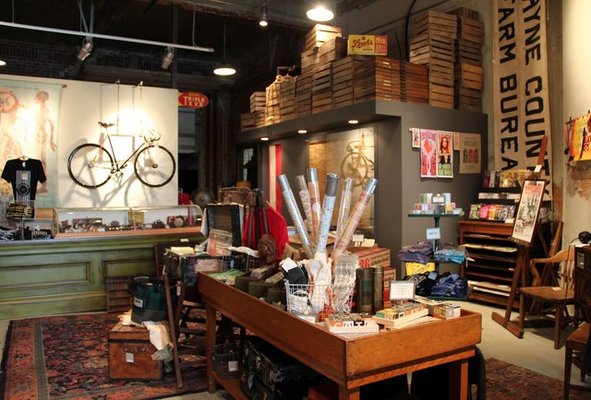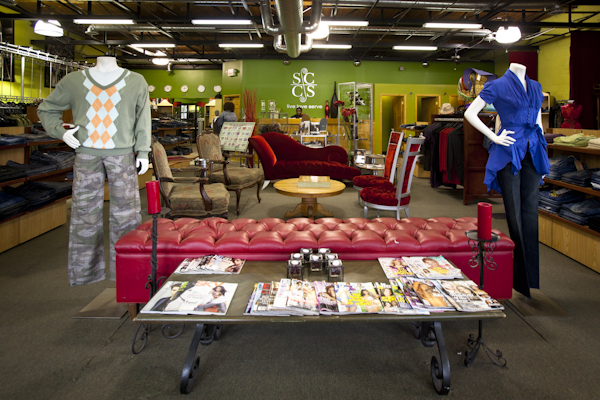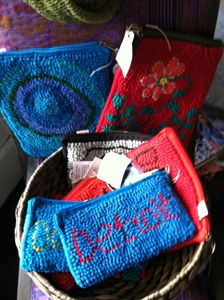 And now the pick up details. Choose one of the following when you buy your ticket:
Ferndale at 11:15 AM. The bus will be behind Rust Belt Market so you can squeeze in one more shopping spot.
Royal Oak at 11:30 AM. The bus will be in front of Gusoline Alley, and there's a parking garage right across Center Street.
Downtown Detroit at 11:55 AM. The bus will be in front of Foran's Grand Trunk Pub, just south of Campus Martius.
FAQ!
What happens if I miss the bus? Will the bus wait for me if I'm late?

If you miss your pickup in Royal Oak or Ferndale, you can beat the bus down to Grand Trunk in Detroit and hop on there. We can't hold the bus for you if you're late, though. Sorry to be so mean about that. There's a schedule to keep and we want everyone to have a good time.
Can I drink on the bus?
Yes, within reason. Take it easy, lampshade. You're on a starting and stopping bus and there aren't frequent bathroom breaks. No, you can't pee on the curb. Also, please only bring things with lids; no open cups. And it's just plain illegal to take any open container on or off the bus. Drink on the bus? Sure. At the bar? Absolutely. But no drinks in the no-man's-land in between the two.
What if I can't show up? Will my friend be able to go instead?
Totally. Just let us know ahead of time via hello@thedetroitbus.com and we'll update your tickets with the new name or send them with your printed tickets.
Will you be selling extra seats at the bus?
Nope. Sorry. All passes gotta be bought online. There's a limited number of seats and we want you to have plenty of room - no roof riders no matter how badass that might sound.
What's your refund policy? I want me dubloons.
We'll gladly refund your tickets seven days prior to the day of the event. After that, there's no refunds. Sorry to be so mean about it.
Questions? Comments? Concerns? Shoot us an email at hello@thedetroitbus.com or give a ring at 313-444-2871.
Organizer
We're a new take on an old problem of getting around. We do things differently with our own special public services, events and bus rentals. Details can be found at TheDetroitBus.com.
Call (313) 444-BUS1 anytime or find us on Twitter and Facebook. Join up, get on and let's put our city back on wheels. It's time we got going.