Event Information
Refund Policy
Contact the organizer to request a refund.
Eventbrite's fee is nonrefundable.
Our Business is Helping Black Businesses Grow and Thrive. Established in 1989 the Los Angeles Black Business Expo is the premier resource.
About this Event
Virtual Buy Black on Black Friday with Los Angeles Black Business Expo
FACTS:
According to The Nielson Company research, Black consumers are speaking directly to brands in unprecedented ways and achieving headline-making results. Through social media, Black consumers have brokered a seat at the table and are demanding that brands and marketers speak to them in ways that resonate culturally and experimentally—if these brands want their business. And with African Americans spending $1.2 trillion annually, brands have a lot to lose.   
There were more than 1 million black-owned businesses in the U.S. at the beginning of February, according to research from the University of California at Santa Cruz, which drew from Census survey estimates. By mid-April, 440,000 black business owners had shuttered their company for good — a 41% plunge. By comparison, 17% of white-owned businesses closed during the same period, the UC Santa Cruz research shows. According to CBS News in June 2020.
The Los Angeles Black Business Expo is here to  Help Black Businesses Grow and Thrive.
Learn, Connect, Grow your Business by levering networks, embracing technology and social media.
September event Featured Speakers, Seminars, Panels, Vendors and more.
Dr. George Fraser, CEO, FraserNet Inc.;"Growing a Multi-Million Dollar Network."
Les Brown, CEO, Les Brown Unlimited Inc.; "You've Got To Be Hungry!"
Marques Ogden, Ex-NFL, CEO, Speaker; "Building Corporate Client Relationships."
Byron Nelson, CEO, Founder of The Matrix Group International; "Finish What You Start"
Jewel Diamond-Taylor, CEO, Speaker, Author "ShiFT "Happens sharing top tips to adapt, pivot. And thrive."
Dr. Joseph Bryant, Jr., National Sports Director, Rainbow PUSH, "Building for Success in the New Normal"
Bryan Franklin, CEO, BAM.eco "Time for Some Action"
Dr. Stephanie Ardrey, CEO/President of Blu Diamond Group, Inc. "Keys to Building Corporate Credit."
Reginald Grant, MS Ed., CEO, eSportsInstruction, and Corporate Relations - Retired NFL Players Congress "Focused Messaging & Branding"
Kim Anthony, National Director, Urban Philanthropy Institute (UPI) Launch. Lead. Succeed! How to Start and Fund Your Own Non-Profit.
Dr. Rosie Milligan, Senior Estate Planner & Consultant "Creating Generational Wealth – The Steps to Take.
Yvette Gilliam-McCullough, BBVA Community Development Mortgage Banking Officer Community Banking and Lines of Credit
Thomas "TJ" Loftin, CEO, Investor and Public Speaker "Building Black Ownership: Monetizing Gentrification"
Linda Coleman-Willis, CEO, Business Development for Success It's Time to Write Your Book. I will show you where to start."
Crystal Mitchell, Co-Director Recycling Black Dollars and CEO, Mitchell Business Solutions "Pathways to Multiple Streams of Income"
Melvin Burrell, Real Estate Broker, Insurance Broker, and Wealth Management Expert "Keys to Building Black Wealth Now!"
Bob Grant, Chairman, Retired NFL Players Congress & Super Bowl Champion "Sports Licensing"
Cliff Pierre, CEO, Revenue Boomers Generating Revenue using Social Media"
Melanie Perry, CERTIFIED FINANCIAL PLANNER TM Now that you have Earned Money – Learn How To Manage It!
Richard Myles Sr., CEO/President of MFL - Minor Football League "Sports Franchising"
Rico Lamitte, CEO, The Suave Life "Your Vision, Your opportunity."
John Mathews, CEO, Prothymos Innovations, eBless.App "Starting a Tech company."
Doris F. Mosley, CEO, Another Beauty Salon, and Los Angeles Spectrum International Beauty Expo (SIBE). " The Hottest Business of the Century! A 10 Billion $ Annual Hair Industry"
Naimah, CEO Naimah Northstar LLC., Author, Actress, Life-Coach; "The Power of You!"
Ray Wilson, CEO, Leadership Coach, & Author "The Results Equation: Three Steps to Advance to the Next Level in Your Business during these Challenging times."
Dr. Letitia Wright, Producer, TV Show Host "Your Community Can Fund your Business. Crowd Funding."
Dr. Thyonne Gordon, CEO, Beyond Story Training & Consulting "Grow Your Business With Your Best Story"
Kathy Williamson, N.D., Award-winning Journalist, and Film Critic "Networking to Build Successful Relationships… Business & Personally."
Norma T. Hollis, Consultant, Trainer, Speaker, Coach "Making It Through the Madness. Tips for Mental Mastery."
Zenobia Millet, CEO, Funding Boutique ""4 Non-Traditional Ways To Raise Capital For Non-Traditional Entrepreneurs""
Seareatha Virtanen, CEO, Harmonies Brew. "A Black, female CEO Making it Happen."
Chef Nikko, CEO & Celebrity Chef "Food, Nutrition, and the Industry" sponsored by Pantry Brain
Paul Ruffin, CEO, ECI Networks, and Director WelcomeHome.Vet "Veterans Business Resources"
Ronell Miller, CEO, HBCUstartups, Consultant "From A Venture Capitalist POV: Building Wealth For Diverse Startups In The Digital Revolution"
Treasure Owens, CEO, and Founder, POWERS, Inc. "Building out your Prosperity Roadmap for Long Term Effect"
Kimberley Ausgood, Certified Financial Education Instructor "You Can Achieve Financial Security with This Little-Known Insurance Product. It is Proven! It Works!"
Deborah Thorne, Author, Coach, Trainer, and Speaker "From Employee to A Six-Figure Entrepreneur in 7 Steps."
Michael McNair, Co-founder of Simpa Health and 55B Labs "Building Innovative Applications for Black Founders"
Brian Erhahon Real Estate Professionals "The Financial Advantages of Purchasing Your Home"
Angela Anderson Founder and CEO, #1 HR Expert " HR Matters"
Crystal Victoria CEO, Target Evolution Educator, and Author "Teens Earning Money: The Teen Biz Camp Crew"
Nicole K Jones Director of Business Development for the #1 HR Expert "HR Matters"
Coach Cleon "CJ" Joseph CEO, The Fitness Syndicate "The Safe Shelter at Home Workout with CJ."
Sylviana Moore, CEO, The Moore Foundation "Demystifying: The Imposter Syndrome"
Dr. Cherilyn Lee, Ph.D., Nutrition and Natural Health Expert "Your Health & Business"
LC Green, Jr., Business Tax Expert Learn the Deductions of Home Base Business that can Save You Money.
Justin I. Johnson, CPA, Esq., Managing Partner│ Johnson & Nathaniel LLP "Setting up Your Business"
Alexis Small, Founder, CEO College Daze Media, LLC "Branding Yourself During A Pandemic"
Jarim Person-Lynn, Founder and Wealth Coach for The Winner's Circle Group, LLC. "How Seeing Black Business In ACTION Can change your Life."
Jordan Smith, Creator of Brand New Sauce Productions "How Seeing Black Business In ACTION Can change your Life."
Diane Yoo, Managing Director, Medingenx, "From A Venture Capitalist POV: Building Wealth For Diverse Startups In The Digital Revolution"
Rev. Dr. Oden, Former Partner Los Angeles Black Business Expo, Retired Pastor "The importance of Black-owned business"
Richard Yeargin III, 2x National Champion NCAA Football, CEO, RYIII Foundation, "Overcoming Obstacles"
AND More Speakers, Vendors and Sponsors to be announced.
Join us on Saturday, September 12th, 9am-5pn, PST (12:00 pm - 8:00 pm - EST)
More information: http://www.21labbe.com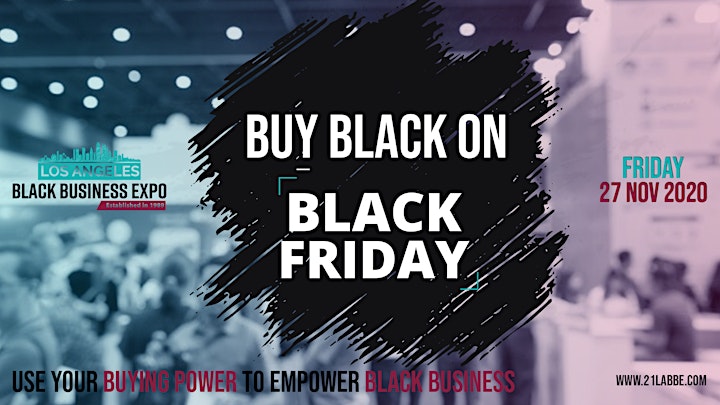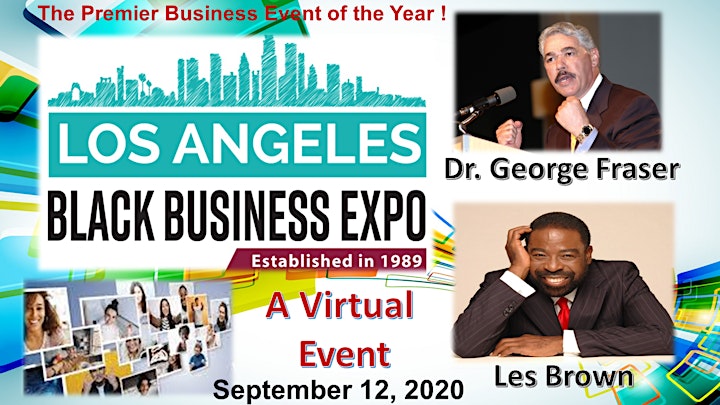 Date and Time
Location
Refund Policy
Contact the organizer to request a refund.
Eventbrite's fee is nonrefundable.