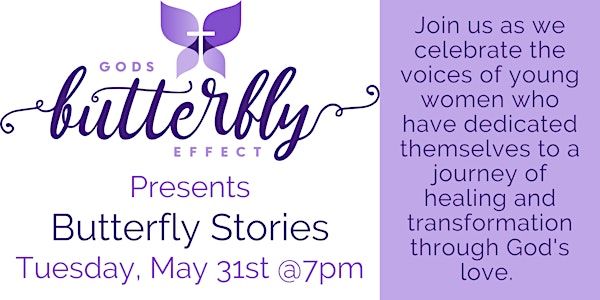 Butterfly Stories
This night will be a celebration of young women using their voices to share their insights about God's love.
About this event
Join us for an opportunity to hear voices that matter so deeply to God. Voices that don't always feel heard, voices that are sometimes silenced... voices that are powerful and hold messages of God's love.
We believe there's something that you need to hear this night, something that God wants to tell you through these beautiful and briliant young women. So we invite you to join us, and we ask that you invite other women and young women to be blessed during this very special event alongside you. It is our hope that the words shared will inspire and encourage you in your journey of exploring the deep and perfect love God has for you.
The proceeds will be used to sponsor a healing retreat for the young women who will be sharing this night, as well as to fund other programming costs associated with God's Butterfly Effect Academy. To donate directly to the retreat please check out our gofundme page at https://gofund.me/7052a681