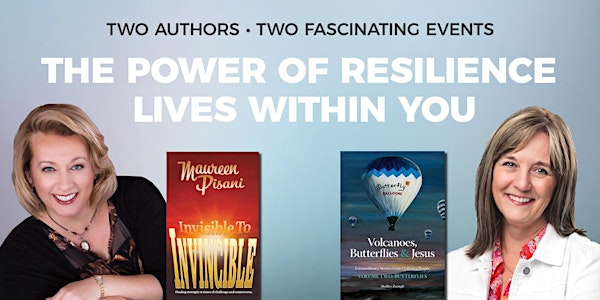 Multiple Dates
Butterflies Book Launch & Workshop with Guest Hypnotherapist Maureen Pisani
Description
FRIDAY, NOVEMBER 1: Keynote Address & Book Launch
7:30 PM - 10:00 PM
Hosted by: Shelley Zwingli, and featuring Maureen Pisani
Kerry Vickar Centre: CJVR Performing Arts Theatre
Maureen Pisani is hosted by author, Shelley Zwingli, who launches her second book, Butterflies - Extraordinary Stories from Ordinary People in the series, Volcanoes, Butterflies & Jesus. This book shares stories from 17 people who have crossed paths with Shelley. These people have shown true resilience as they faced extremely challenging events in their lives. We have much to learn from reading these narratives.
Shelley invited Maureen to give a presentation and workshop in the hope that people who may be coping with any of life's overwhelming issues could find the power of resilience that lives within them. Maureen assures us that if we can change our minds we can transform our lives.
Maureen is an author and motivational speaker who utilizes her experiences to highlight how each of us has hidden strengths within us. As a hypnotherapist, Maureen is at the Mastery Level in all 4 modalities – Hypnotherapy, Therapeutic Guided Imagery, Neuro-Linguistic Programming (NLP), and Reiki Energy work. In addition, she is the only hypnotherapist who has been a director and instructor in two nationally accredited colleges and is also a trainer for NLP. Because of her medical and scientific training and background, she is also the only hypnotherapist who is a co-author of a research paper issued by the Neuroscience Department at UCLA. She is the resident hypnotherapist at the renowned Chopra Center in La Costa, San Diego County, CA.
Maureen has authored 9 books and produced more than 25 hypnotic CDs. She is the founder of Pro-Thrive Science-Based Hypnotherapy where she works with groups and individuals, in person or online, to help them go from just surviving to truly thriving.
SATURDAY, NOVEMBER 2: Achieving & Sustaining Resilience Workshop
9:00 AM - 1:00 PM
Led by: Maureen Pisani
Kerry Vickar Centre: CJVR Performing Arts Theatre
Each of us has been tossed head first into a 'valley' of life, where our heart was ripped out from our chest, the earth was pulled from underneath us, we were betrayed by the one we trusted the most, or someone we loved had the unthinkable happen to them. We ended up in the darkest of dark places, where we either stayed because it was simply too hard to extricate ourselves from its depth; or in spite of all odds, we clawed our way out.
The definition of resilience is 'the capacity to recover quickly from difficulties.' Most of us have experienced life giving us its '1-2 punch'. Resilience, in my opinion, is the ability to claw our way out repeatedly, from whichever 'valley' we find ourselves in. Sustaining that level of resilience is the TRUE SUCCESS IN LIFE!
Maureen Pisani C.Ht., T.N.L.P., Motivational Speaker, Author & Hypnotherapist, will be leading the 'Achieving & Sustaining Resilience Workshop'. She will utilize the Emotional Freedom Technique (E.F.T.) and Hypnotherapy to walk us through the realizations of how bad those 'valleys' were, how much we have learned from them; how strong we truly are; and how capable we are to sustain this successful and triumphant style of living.
***NOTE: Books will be available for purchase at the events. Once you've purchased your ticket you'll receive an e-mail from Eventbrite with more information and your ticket attached as a PDF to print out and bring to the event. If you don't see an email from Eventbrite in your inbox, please check your junk/spam folders. Thank-you and see you in November!***
Organizer of Butterflies Book Launch & Workshop with Guest Hypnotherapist Maureen Pisani
Author, Shelley Zwingli, of Melfort, Saskatchewan releases at this event, Butterflies - Extraordinary Stories from Ordinary People which is the second volume of her three-volume series, Volcanoes, Butterflies & Jesus.  She also blogs at divinesigns.ca.