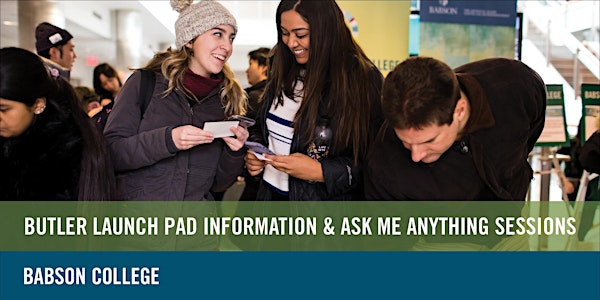 Butler Launch Pad Info/Ask Me Anything Session: Fall 2022
Butler Launch Pad Info/Ask Me Anything Sessions: Fall 2022
When and where
Location
Babson College, Reynolds 241 & Olin 101 Babson College 231 Forest Street Babson Park, MA 02457
About this event
Welcome to a new year with the Butler Launch Pad! The Butler Launch Pad is the Blank Center's startup incubator. Our Butler Launch Pad entrepreneurs have access to faculty advisors, expert office hours advising, co-working space, in person and virtual events, content, our online communities, seed funding, and much more.
To learn more, join us at this Info and Ask Me Anything session where Butler Launch Pad Director Cindy Klein Marmer will host and answer any questions you might have.
There will be a session on Tuesday, September 13 at 1:00 p.m. in Reynolds 241 and will not be live streamed.
There will be a session on Wednesday, September 14 at 4 p.m. ET that will take place in Olin 101and will be live streamed.
Students are welcome to join in person either day or via live stream on 9/14. We look forward to meeting you soon!