| | |
| --- | --- |
| BUTCHERY TRAINING - "GOING HALF-HOG" PORK 101 HANDS-ON | |
Event Details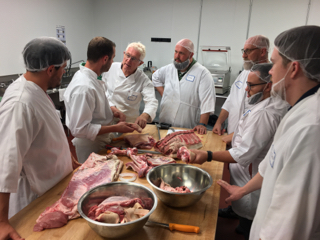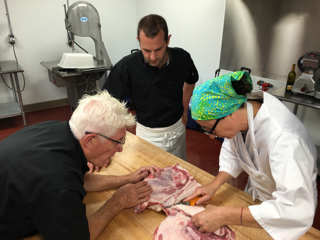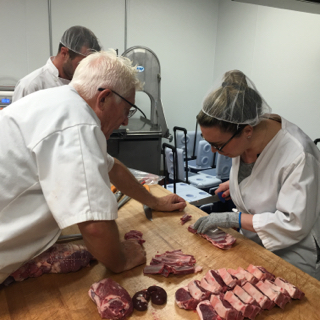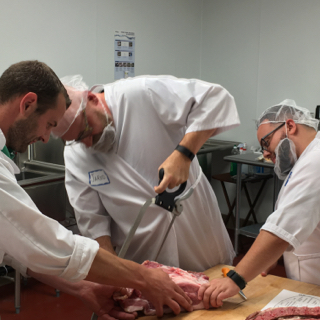 COURSE DESCRIPTION:
"GOING HALF-HOG" - HOG BUTCHERY 101 is 4 HOURS of professional-level French Butchery training that up until the creation of Le FRENCH BUTCHER, has never been availble in the US.  Limited to 6 participants max, the course is designed for amateur chefs and passionate foodies who like to get their hands dirty.  Lef by Instructors:  Master Butcher, JEAN-CLAUDE SETIN and Renowned French Charcutier, PIERRE CHANET from Lyon.  
 

9:00 a.m. - 1:00 p.m. -- 4 Hours 

 Interactive Up-Close Demonstration of breaking down a half-hog into primal & subprimal cuts.

 Detailed discussion of cuts and uses 

 Guided Opportunity to try your hand at cutting, trimming, tying and more

 All participants will take home a healthy sampling of their own handiwork

 
WHAT'S INCLUDED:
EVENT-BRITE SERVICE CHARGE! :)

All teaching materials 

Hand-Outs

Take-Home Cuts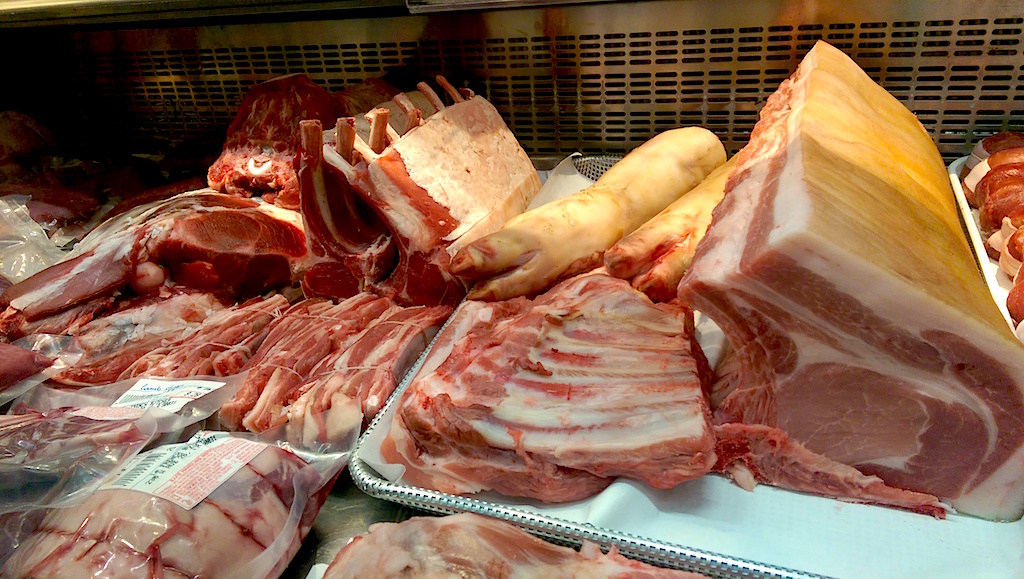 OUR PORK
Our pork comes from DG LANGLEY FARMS in Northern California and is 100% natural and sustainably raised.  We looked for many months to find pork that would be the right fat ratio for French Charcuterie (which is actually more lean than most Americans suspect) and moist enough for center cuts and chops.  DG Langley Pork is the perfect balance.  AND...it is DELICIOUS!  Once you try it, we think you will agree!
HOW TO DRESS: 
Very casual! Just a T-shirt and shorts or slacks as you will be wearing a smock as well. And comfortable shoes as you'll be standing for most of the event.  Dress to peel as the temperature in the kitchen can vary.
WHAT TO BRING:
Everything you need will be provided. But if you have a favorite boning or paring knife from your kitchen that you feel comfortable, feel free to bring it.  Come eager to learn, share, make new friends and have fun—because this is a super fun class and let's face it, learning how to cut a half-hog by a French Master Butcher right here in L.A. is a an amazing opportunity for any serious foodie!
ARRIVE A FEW MINUTES EARLY:
Please arrive early to "suit-up."  This is our store's private kitchen, County Health Approved, so we will ask you to wear a smock and apron--just as if you were working in our butchery!
About Le FRENCH BUTCHER:
Launched in July 2015 by Jean-Claude Setin and his wife, Susan, Le FRENCH BUTCHER is a multifaceted fine foods enterprise utilizing both the French reputation of culinary excellence and the talents of Master Butcher Jean-Claude Setin.  LFB brings the finest in 100% Grass Fed and Pastured meats, imported salamis and cheeses, in-house charcuterie and sausage, humane farming & responsible butchery to high-end and increasingly informed demographic. 
When & Where

Le FRENCH BUTCHER SHOP
6015 W. THIRD STREET
Los Angeles, CA 90036


Organizer
The STORY of Le FRENCH BUTCHER
Hailing from Nice, France on the French Riviera, JEAN-CLAUDE SETIN, apprenticed where he learned the old-school mastery: all cuts, respect for animal & whole animal maximization. Apprenticed at age 14, he was the youngest apprentice to ever pass certification in Nice only two years later, and at 24, he was hired to manage his mentor's butcheries including overseeing meats selection at the slaughterhouse & quality control. He purchased his first store at age 30 in an open market and went on to own two highly successful Gourmet Butcher shops.  In 2007, Jean-Claude met Susan Dane (now Susan Dane Setin) when she walked into his shop to buy some Parmesan. The rest is history. Inspired by the growing demand for healthy, grass fed meat in the US and with it the growing demand for qualified butchers, Susan and Jean-Claude moved to L.A. with the commitment to bring fine French butchery to local neighborhoods in Los Angeles.  In 2016, they opened Le FRENCH BUTCHER at 6015 W. Third Street (90036) in 2016, where you can find 100% Grass Fed, all California farm-raised meats and a vast array of imported cheeses, European specialties and made in-house sausages and charcuterie.
 Jean-Claude is the only French Master Butcher in Southern California and loves sharing his vast 4-decade + years of expertise with all meat lovers and foodies.  We hope to see you soon in the shop and at one of our classes!