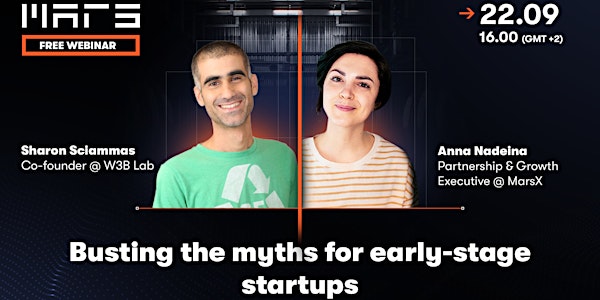 "Busting the myths for early-stage startups" - Mars Talks
"Busting the myths for early-stage startups" - Mars Talks
About this event
On September 22nd we are talking with Sharon Sciammas who has done all the things in the startup world and now is about to bust some myths for those at the beginning of their journey.
Sharon has worked with 40 startups in the last 18 years as a mentor, engineer, engineering manager, head of BI, head of growth, advisor, and product manager.
+Co-founded 4 startups... and counting ;)
Besides work - 3 kids, one happy wife, a cat, and a nice apartment in Amsterdam.
Spending his fun time with family, running, open water swimming, cycling, reading & watching Westworld!
🔸 Why you shouldn't send pitch decks
🔸 How long should your email to investors be
🔸 Web3 startups
🔸 Web3 Lab's community
🔸 The importance of community for startup growth