Buskin & Batteau Return to Westfield

Saturday, April 20, 2013 at 8:00 PM (EDT)
Event Details
The on line box office is closed, but there are plenty of seats left for tonight's concert, so COME ON DOWN!
***************************************************************
The Coffee With Conscience Concert Series
Continues its THIRTEENTH SEASON
By Proudly Presenting.....
Buskin & Batteau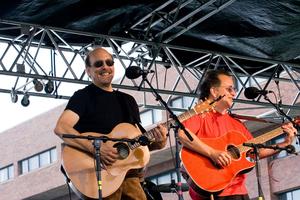 Proceeds from this show will benefit ....
Listen to a few of their songs on Myspace!
View a few of their videos on YouTube!
TBA will open the show.
Singer-songwriter-soloists David Buskin & Robin Batteau combine talent, humor and showmanship with the element of surprise to produce a crowd-pleasing performance. They forged their partnership over twenty years ago as professional jingle writers, Their voices and tunes have been heard in almost every American household in tunes such as "the heartbeat of America", "living in a Burger King Town", climbing "all aboard Amtrak" and "I'm Lovin' It" (for McDonalds) among many others.
In addition to their jingle-writing, Buskin and Batteau toured as a duo very successfully back in the 90's but took a break from the road to tend to other interests. Now, after a 13-year hiatus, they are back on the road together and have just put the finishing touches on their long-anticipated new CD, "Red Shoes and Golden Hearts" to be released by Nouveau Retro Media on May 1!
In their new album and in their live performances, Buskin & Batteau continue to offer their audiences, in the words of The Washington Post, "an irresistible amalgam of melodic, sensual pop, folkie grit and killer wit." This dynamic duo evokes a wide range of emotions in their audiences, ranging from light-hearted amusement at "ESPN", or the pun-filled "Death in Venice", to a gentle sense of loss expressed by their beautiful ballad for the late Kate Wolf, "Never Cry Wolf". This popular duo also brings their unique style and sound to the stage and the audience has come to expect the unexpected whenever Buskin & Batteau perform.
When & Where
1 East Broad Street (corner of North Ave)
Westfield, NJ 07090


Saturday, April 20, 2013 at 8:00 PM (EDT)
Add to my calendar
Organizer
Ahrre Maros is the owner of Ahrre's Coffee Roastery in Westfield & the Fair Trade Coffee Company on line. He has been presenting live musical events since 1992, when he first opened the Common Ground Cafe in Summit. The Cafe is gone now, but Ahrre continues bringing Professional Touring Musical Artists to the area for the benefit of the local community and several local Charities.
The Coffee With Conscience Concert Series in Westfield (currently on Hiatus) is unique in that it acts as a fund-raiser—raising much needed funds for worthy causes—while providing the participants with the opportunity to serve the larger community, providing artists with a venue to display their talents, providing an audience with a cultural experience and generally strengthening the local community by bringing a group of people together for an evening of music in a comfortable setting.
Buskin & Batteau Return to Westfield