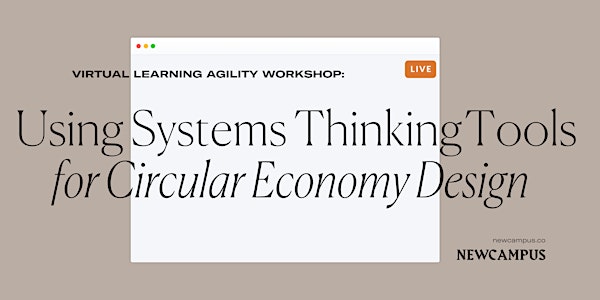 Business Workshop: Using Systems Thinking Tools for Circular Economy Design
Learn to tackle complex, multifaceted problems with systems thinking for high impact business outcomes.
Refund Policy
Contact the organizer to request a refund.
Eventbrite's fee is nonrefundable.
About this event
You are invited to join us in an intimate business learning agility workshop by Laura Francois, Co-Founder of The Spaceship and Founding Partner at Open Door Policy.
COVID-19 Update: All NewCampus sessions will be conducted remotely via Zoom. A link will be sent upon confirmation.
This is not a webinar. All NewCampus remote workshops are live, interactive and energising 90-minute sprints dissecting a practical tool, framework or methodology. Small class sizes for an intimate and interactive experience. Always includes hands-on exercises to start applying the new skill immediately.
Community learning: Learn together with other curious professionals from around Asia (or the world), who will become your future collaborators, clients or co-founders, as part of your weekly routine.
Led by an expert: Our workshops are hosted by industry practitioners and thought leaders shaping their fields.
____________________________
TODAY'S WORKSHOP
Either the future of our planet adopts a circular economy, or there may not be a future for our planet—and us, since the circular economy could also unlock $4.5 trillion worth of economic growth.
Regardless of industry, every business, designer and innovator has an important role in building a regenerative and sustainable economy. However, the rethinking and reinventing of deeply entrenched, resource-draining systems require systemic change—and the systemic thinking behind it. It all starts with thinking differently about our systems.
In this workshop, we learn to apply systems thinking to tackle complex and multi-faced problems such as building a sustainable business whilst tackling climate change.
By the end of this class you will be able to:
Understand the concept of systems thinking and how to apply it to complex problem-solving.
Make connections between sustainability and design to build sustainable businesses.
Apply the tried and true circular economy design strategies that will future-proof our world.
This class is for:
Team leaders or managers who want to learn the essential tools of business thinking.
Business leaders who are building sustainable businesses and want to remain profitable in the long run.
Anyone who wants to do their part in saving the planet.
Today's Speaker:
Learn directly from Laura, a social impact strategist and environmental creative, who has worked on impact projects India, Malaysia, Singapore, Cambodia, Vietnam, Egypt and Canada. At her company, ANEWKIND, Laura focuses on collaboratively designing circular economy models that dedicated to exploring new ways of thinking about systemic environmental problems through storytelling, technology and design.
____________________________
ABOUT NEWCAMPUS
NewCampus is a modern leadership school. We help rising execs, entrepreneurs and game-changers around Asia Pacific, take on the challenges of the unprecedented era ahead through skills, resources and community.
We host weekly business, tech and cultural events with industry leaders from companies like Grab, IDEO and Netflix. We also send a regular newsletter with curated business, tech and macro insights collected from our experts.
For more information, visit newcampus.co or follow @newcampushq.