Description
TN-China Network and the Nashville Area Chamber of Commerce International Business Council will jointly host a seminar on Business with China: Tax, Currency, and Getting Paid, on Wednesday, December 7, 2016, 7:30 – 10 am CT hosted at Belmont University's Massey Boardroom. The event will be $25 and continental breakfast will be provided. Jeremy Goldkorn of Sinica Podcast will moderate the discussion on various tax, currency, and payment considerations that companies face when exporting to, importing from, or investing in China. Presentations will be made by U.S. Bank, KPMG, and Gresham, Smith, & Partners. Representatives from the U.S. Department of Commerce will also be on hand to help answer questions about how your business can enter the China market. Thank you to event sponsor U.S. Bank and event partner Belmont University for helping make this event possible.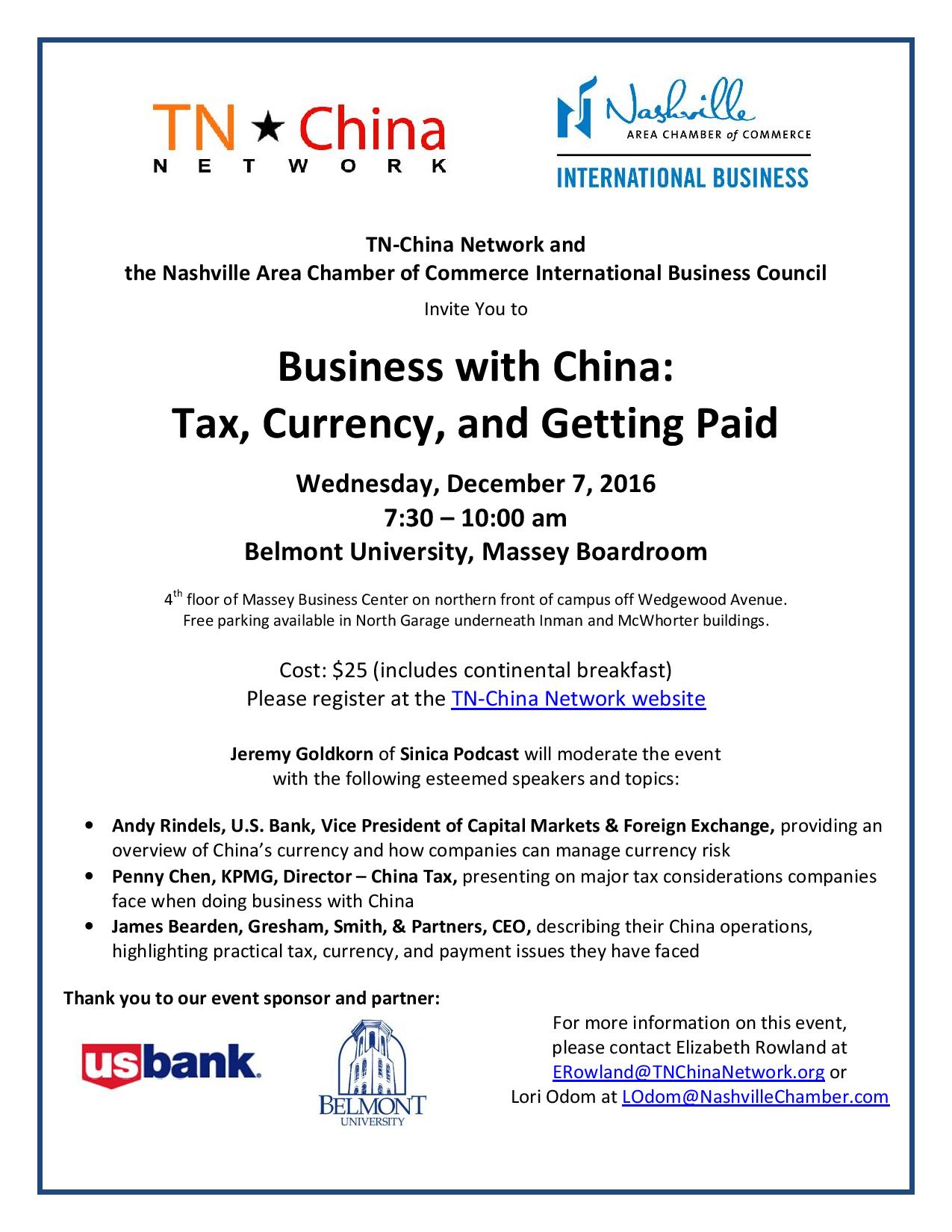 Location Directions and Parking Instructions

Belmont University is located in Nashville on Wedgewood Ave. between 12th Ave. and 16th Ave. Click this link for a campus map (Massey Business Center is Building #5).
Visitor parking is in the North Parking Garage (below the Inman and McWhorter Buildings, buildings #6 and #7). To access North Garage from Wedgewood Avenue, turn onto 15th Ave. Then take your first right. This street will take you past the Law School Garage and in between Inman and the Wedgwood Academic Building. Turn into the garage on the left (North Parking Garage). Parking Level 1 (P1) has been reserved for guest parking.
There are two sets of elevators (one for the McWhorter Building and one for the Inman Building). Walk to the Inman elevator, which was on your right as you entered the garage. Take the Inman elevator to Level 2 of the Gordon E. Inman Center. Exit the elevator and go left through the outside door, across the walkway between buildings, and enter the Massey Business Center. You will now be on the first floor of Massey Business Center.
Take the elevator to the 4th floor. The Massey Boardroom is located on the 4th floor.
Date and Time
Location
Belmont University, Massey Boardroom
1900 Belmont Boulevard
4th Fl, Massey Business Center
Nashville, TN 37212