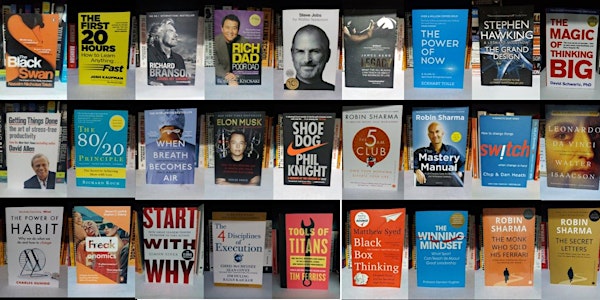 Business & Wellness Book Club
Location
The Westin Hotel
Westmoreland Street
Dublin
Ireland
One book per month, read and discuss online/offline. Share your thoughts and connect with like minded individuals. Dinner, wine, coffee...
About this event
March 2022 book selected:
**Lean Startup - Eric Ries**
We must rethink the way we look at business, creating a culture and environment that insists assumpted be stated and tested rapidly, to efficiently identify and validate value and growth hypothesis — to scientifically uncover how to turn a company vision into a sustainable business model.
Books in the pipline for the year:
Wellness:
The power of now - Eckhart Tolle
Emotional Interlligence - Daniel Goleman
The subtle art of not giving a f*ck - Mark Manson
The Art of Happiness - the Dalai Lama & Howard C. Cutler
Business:
Influence - The Psychology Of Persuasion - Cialdini PhD, Robert B
Ogilvy on advertising - David Ogilvy
How brands become icons - Douglas B. Holt
The 7 habits of highly effective people - Steven R. Covey
How to win friends & influence people - Dale Carnegie
Exponential Organisations - Salim Ismail
The effective executive - Peter F. Drucker
The art of war - Sun Zi
Finance & Money:
The Psychology of money - Morgan Housel