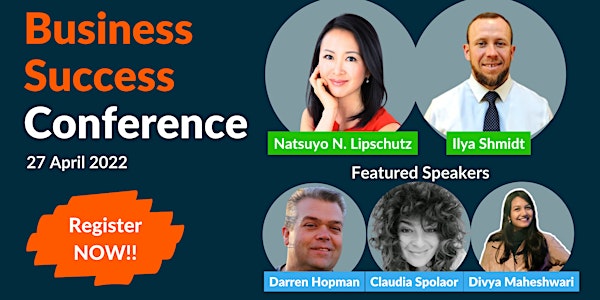 Business Success Conference
Connect with business professionals and entrepreneurs to make your business thrive. Eprenz's mega-event Business Success Conference.
About this event
The event is by successful business owners to make your business successful.
On 27th April 2022, connect with Ilya Schmidt, Natsuyo N. Lipschutz, Darren Hopman, Claudia Spolaor, Divya Maheshwari, and special hosts Claudeth Forbin and Philomena Moncoeur.
KEYNOTE SPEAKERS:
1) Ilya Schmidt.
Head of Operations at Careerist
Topic:– "Try before you hire" or why should you hire someone from the Careerist boot camp?
How to outsource QA Team?
Hiring SDR and Tech Sales for your company.
About the speaker: Ilya is a serial entrepreneur who started several companies in Biotechnology and EdTech. At Careerist, Ilya is responsible for operations and building teams.
Careerist is a Career-as-a-service learning platform that trains job seekers and automates their job applications.
2) Natsuyo N. Lipschutz
International Speaker | Trainer | Cross-Cultural Strategist
Topic: Say it in 10 words: How to find your One Big Message?
About the speaker: Natsuyo Lipschutz is an award-winning speaker, TEDx speaker, 5-time Toastmasters district 46 finalists, World Class Speaking certified coach, strategy consultant, author, competitive ballroom Latin dancer, mother, and cancer survivor, Natsuyo has been delivering powerful speeches in Japanese and English to the diverse audience.
BREAK-OUT ROOM SPEAKERS:
1)Darren Hopman
LLC Success Team Lead, Certified Organization Development Coach, Sales Coach
Topic: Sell it Like you Mean It: 4 keys to closing more sales!
About the speaker: Good People, doing Good Business, is Good for the World!
Experienced Team Leader with a demonstrated history of working in the professional training & coaching industry. Skilled in Coaching, Sales, Cold Calling, Sales Operations, and Investment Management. Strong information technology professional with a Master of Business Administration (MBA) focused in Business Administration and Management and Personal Finance from Fort Hays State University.
2)Claudia Spolaor.
High-Performance Coach.
Topic: The Success of your business: It's a reflection of your inner world.
About the speaker: Claudia uses energy to reprogram the mind and body in order to help people achieve their highest performance. She works with CEOs, entrepreneurs and leaders all around the world. Claudia is passionate about helping people achieve the best version of themselves by unlocking their full potential and about the effect that the mind has on the body. She believes that mindfulness is a great tool but when we become mindless is when we achieve our highest performance and quality of life.
3)Divya Maheshwari
Mental health ally, founder of Mental Health Allies account on Instagram
Topic: How To Be A Mental Health Ally?
About the speaker: She is a Marketing Associate by profession, and currently residing in Mumbai, India. She had a prolonged and tumultuous journey with mental health, which continues to date. She was diagnosed with clinical depression and general anxiety disorder. She learnt a lot about herself and mental health in general during those trying times. Ever since then, she was determined to contribute to this cause as and when she can. During the pandemic, she took a course to become certified as a Mental Health Ambassador and started her own page on Instagram called Mental Health Allies.