Actions and Detail Panel
Business Strategy MasterClass | NYC (Sold-Out)
Mon, May 22, 2017, 8:00 AM – Tue, May 23, 2017, 3:00 PM EDT
Description
Available LAS VEGAS MASTERCLASS PROGRAMS with Details and Secure Eventbrite Registration Links:


BUSINESS STRATEGY MASTERCLASS
Taking Your Business Strategy to The Next Level
The Human-AI Synergy Advantage
From Chess to Poker Strategy

2-DAY ADVANCED BUSINESS STRATEGY PROGRAM
What Every Senior Executive Must BE-KNOW-DO-DELIVER for Sustainable Success.
Upgrade your strategic management and leadership skills.
Our two-day Masterpreneurship® Business Strategy MasterClass for senior executives provides a comprehensive, total-team perspective on strategic competitive advantage, innovative marketing, tactical alignment effectiveness, operational excellence and utilization of the human-artificial intelligence (AI) synergistic approach to business strategy, plus proprietary advanced analytical techniques for superior strategy formulation, execution and sustained business success.
WHO WILL BENEFIT MOST: High-Potential Current and Future C-Suite Executives, Business Owners and Government Senior Executive Service (SES) Members.

PREREQUISITES
• Ability to deal effectively with chaos and complexity.
• Conscientiousness.
• Creative.
• Emotionally fit.
• Open-minded.
• Risk-taker.
• Sense of humor.
• Strong leader.
• Team player.
LIMITED SEATING: Maximum class size is 36 for optimum peer and group intera
COST
• Regular Registration: $3,500 USD per Person.
• Early Registration Discount: $3,000 USD per Person (Limit 12).
• Government Discount: $2,500 USD per Person.
• Registration includes all training materials and hot buffet lunch each day.
• Participants are responsible for their own travel, food, and lodging.
DEVELOPING THE RIGHT MINDSET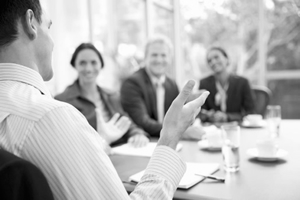 • Merger of Best Practices East-West-Business-Military
Know your enemy, know yourself, & your victory will not be threatened; know the terrain, know the weather, and your victory will be complete — SUN TZU
DETAILS:
The Human-AI Synergy Advantage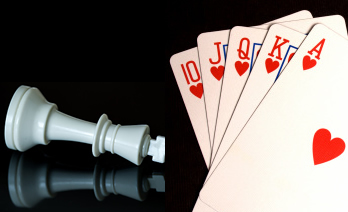 From CHESS to POKER Strategy
BEST OF THE BEST — Research-based, comprehensive, cutting-edge — Our world-class advanced business strategy program developed over the past 45 years provides through facilitator presentations, case studies, business analysis, action planning, group exercises, and extensive peer interaction, a best practices unified strategic management approach to sustainable business success. Held publicly in New York City, Chicago and Las Vegas | our 2-day business strategy masterclass is an intense, transformative learning experience developed over the past 3 years to fit the time constraints of busy senior executives in business and government.
Situation:
The current complex, continually changing, ever challenging domestic and global economic, ecological, political, cultural, social and scientific environments coupled with the threats of terrorism and natural disasters require exceptional organizational leadership.
Mission:
Success on the battlefield – military and business – requires timely collaborative strategic, tactical, and operational win-win asset allocation and alignment with flawless execution. Balancing multiple competing demands – most especially customer, employee and shareholder loyalty – within the context of finite resources is the business challenge of the day.
Concept:
What are the requisite senior executive competencies and business capabilities for sustained success in this environment? Our Masterpreneurship® Business Strategy MasterClass squarely addresses this question with actionable answers:
What every senior executive must Be-Know-Do-Deliver for sustainable career and business success.
Lessons in strategic leadership from East and West including Sun Tzu, Miyamoto Musashi, Elizabeth I, George Washington, Arthur Wellesley Wellington, and select current business moguls, military masters and more.
Moving to the right strategy | "Red and/or Blue Ocean."
Socratic, scholar, street-smarts decision-making methodology.
Executive-judicial-legislative-entrepreneurial mind-set modeling.
Human-AI Synergistics.
Benefits
Full Spectrum Capstone Strategic Management Development Program: From Chaos to Order – Putting All the Pieces Together through our proprietary Masterpreneurship® (Unified Strategy Development Model) and When MONEY Matters Most® (Crucial Strategic Outcomes Assessment Tool).
Bridging the gap between formal senior executive education and real world crucial decision maker effectiveness in highly volatile economic times.
Upgrading to a unified, holistic view of business that aligns and integrates all the major management disciplines synergistically with human and artificial intelligence.
Acquiring strategic, tactical, operational and contingency planning frameworks that are crucial for organizational alignment, execution and realization of critical success outcomes.
Improving personal and business decision-making.
Developing critical creative leadership and change management competencies.
Updating, broadening and optimizing your strategic leadership style and impression management.
Networking – Connecting with peers of similar experience and ambition.
DELIVERING THE RIGHT RESULTS
Bridging the Gap Between Business School and Business Success
However beautiful the strategy, you should occasionally look at the results — WINSTON CHURCHILL
Right-Results
Building and Sustaining Competitive Advantage. Our advanced business strategy program attracts senior executives from around the world with a variety of missions, goals and objectives each sharing in common the desire to effectively develop and deliver the "right" business results.
Crucial Strategic Outcomes. Highly effective senior executives start with identifying and end with delivering Crucial Strategic Outcomes (CSOs)—the frequent fatal missed-steps in strategy development and delivery. CSOs represent criteria executives must give special and continued priority attention. The focus of our two-day Business Strategy MasterClass is on Crucial Strategic Outcomes and five in particular.

When MONEY Matters Most®: Our research over the past four decades clearly indicates that among CSOs—5 stand-out as mission critical. We characterize these 5 CSOs as "The 5 CSOs for Sustained Business Success" and have created a mnemonic device "MONEY" for remembering them.
Maximizing Customer Loyalty is the first; what are the other four?
Optimizing?
Neutralizing?
Excelling?
Y-Style?
ANSWER: Attend our Masterpreneurship® Business Strategy MasterClass
Identify your organizations 5 CSOs.
Prepare to deliver your 5 Crucial Strategic Outcomes for Sustained Business Success.
AGENDA | Two-Day Business Strategy MasterClass
MasterClass TIMES

Masterpreneurship® Business Strategy MasterClass begins at 8:30 AM and ends at 4:30 PM each day.
Break at 9:30 AM-10:00 AM
Lunch: 12:00 PM-1:00 PM
Break at 3:00 PM-3:30 PM
MasterClass MODULES—Masterpreneurship® Business Strategy MasterClass includes facilitator presentations, extensive peer interaction, case studies, business analysis, crucial action planning, and is presented sequentially in five modules following our proprietary When Money Matters Most® protocol.
WORLD-CLASS FACILITATORS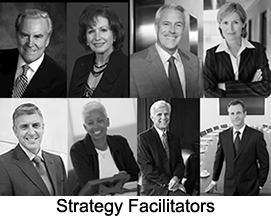 Trust-Experience-Integrity-Expertise
All of our Masterpreneurship® Business Strategy MasterClass presentations are led by two senior strategy facilitators:
1. Masterpreneurship® Certified Business Strategy Facilitator-Coach-Consultant with:
Five or more years of CEO or business owner experience.
Ten or more years of profit-center general business management service with P&L authority and accountability.
Commissioned service in the Armed Forces of the United States, Canada or other NATO member countries with both command and general staff experience.
International business and/or government experience.
Ph.D. (or at a minimum a masters degree in business or public administration - to include military science, system science, public service or health care administration) from a major international public or private university.
At least two years of Ph.D. level studies/research in executive leadership development.
2. Masterpreneurship® Certified Business Development Facilitator-Coach-Consultant with:
Ten or more years of business ownership experience.
Five or more years of c-level executive experience.
Five or more years of profit-center strategic business management experience including P&L authority and accountability.
Entrepreneur and intrapreneur expertise.
ECQ CROSSWALK
Our Masterpreneurship® Business Strategy MasterClass and our When MONEY Matters Most® crucial business outcomes assessment tool are specifically designed to crosswalk with the U.S. Office of Personnel Management (OPM) Executive Core Qualifications (ECQs), namely, ECQ 1: Leading Change, ECQ 2: Leading People, ECQ 3: Results Driven, ECQ 4: Business Acumen, and ECQ 5: Building Coalitions that especially align with competencies and requisite personal, team and organization capabilities related to creativity and innovation, external awareness, flexibility, resilience, strategic thinking, vision, conflict management, leveraging diversity, developing others, team building, accountability, customer service, decisiveness, entrepreneurship, problem solving, technical credibility, financial management, human capital management, technology management, partnering, political savvy, and influencing/negotiating.
Highly recommended for current and future SES members.
CERTIFICATE
Awarding of the Masterpreneurship® Advanced Business Strategy Certificate upon successful program completion.
ATTIRE
BROCHURE
REGISTRANTS TERMS & CONDITIONS
By registering for an Masterpreneurship® Business Strategy MasterClass, you acknowledge that you have read, understand and agree to be bound by the REGISTRANTS TERMS & CONDITIONS at the following link:
HOW MAY WE HELP?

New York City - Chicago - Las Vegas
ABOUT US | CONTACT | BUSINESS STRATEGY SOLUTIONS | BUSINESS STRATEGY MASTERCLASS | BUSINESS STRATEGY COACHING| BUSINESS STRATEGY CONSULTING
©1972-2017 MASTERPRENEURSHIP LLC. All Rights Reserved. Masterpreneurship® Proprietary Information.