Business Storytelling for Impact | 3 StoryHacks to Create Better Content
Event Information
Refund policy
Refunds up to 7 days before event
Learn 3 StoryHacks to create better content faster, even if you have writer's block, freeze up in public, or the teleprompter goes out.
About this event
First, Our Happiness Guarantee
Our #1 priority is your happiness with our training. So, if for any reason, our course doesn't meet your expectations, please let us know and we'll refund your money in full. No matter what. No questions asked. Now, on to some storytelling goodness!! : )
Learn to Get Out of Practically Any Communications Jam!
As businesspeople, we often have to create written or spoken content at a moment's notice. This can be challenging, especially when writer's block kicks in, deadlines are tight, the teleprompter goes out, or we just weren't prepared to speak when called upon.
But why does this happen?
It happens because when we're under pressure, even the most familiar things become difficult to talk about. For example, think about the last time you were asked the question, "What do you do?"
Did you struggle to answer in a clear and meaningful way? Did you fall back on jargon or acronyms that weren't understandable or relatable to the person who asked? Or maybe you just said, "It's complicated."
It happens all the time.
That's why, we've created simple but powerful business storytelling training around exercises that help you answer, "What do you do?"
Because we believe that if you can answer "What do you do?" successfully, you can also create other content successfully.
Our training is based on story structures (we call them StoryHacks) used by Oscar, Emmy, and Golden Globe award winners. And our training can work for you, too!
Register now!
Here's What You'll Walk Away With:
A practical understanding of story structure and how it applies to business.
The storytelling skills and techniques you need to create better content faster that connects, captivates, and converts.
3 StoryHacks to have in your back pocket for when you're stuck, under pressure, or struggling with a pitch.
Your best personal elevator pitch ever that answers the question: "What do you do?"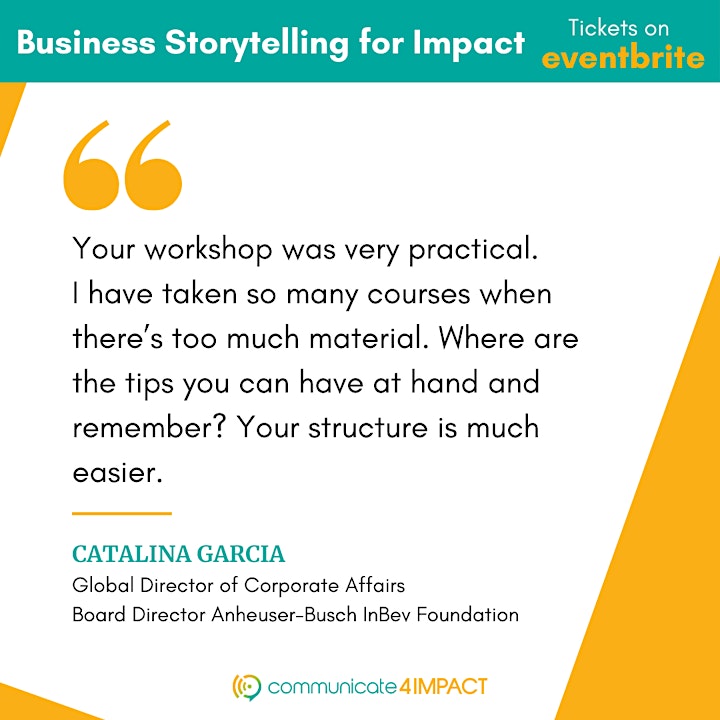 Date and time
Location
Refund policy
Refunds up to 7 days before event
Organizer of Business Storytelling for Impact | 3 StoryHacks to Create Better Content
DOUGLASS HATCHER ∣ C4I CO-FOUNDER AND INSTRUCTOR
Former speechwriter, trusted by CEOs and politicians, now trains businesses to incorporate storytelling in everything they do.
I co-founded communicate4IMPACT (C4I) after a long career as a speechwriter to politicians and captains of industry. While I've always believed in the power of words to drive change, it wasn't until a few years ago that I began to see the power of storytelling to drive competitive advantage and brand differentiation, especially in business. It was during my time at a Fortune 500 company that I began to see the role of storytelling in making products and services matter to the audiences you want to reach.  I had an opportunity to train hundreds of employees as part of a global workforce in the art and science of business storytelling.  
Before co-founding C4I, I led thought leadership, executive communications, and storytelling at Mastercard in Purchase, New York.  Prior to Mastercard, I spent two decades in Washington, DC, where I worked on Capitol Hill in senior positions in both the U.S. Senate and House of Representatives. Early in my career, I was the speechwriter for the CEO and Chairman of the Board for the Corporation for Public Broadcasting which helps fund PBS and NPR. Immediately prior to Mastercard, I was senior advisor and speechwriter to U.S. Senator Olympia Snowe of Maine.
LISA-MARIE HATCHER ∣ C4I CO-FOUNDER AND INSTRUCTOR
Highly-successful sales and account development professional now trains business leaders to use storytelling to differentiate their brands and create competitive advantage.
I've always been drawn to jobs that involve the use of language and creativity to persuade others. Throughout my career, I've given marketing and sales presentations in some capacity in both public and private sectors. Those roles ranged from preparing global U.S. Army budget reports for review by the Joint Chiefs of Staff to developing global account presentations for American Express Corporate Services to promoting various products in one-on-one sales pitches in the pharmaceutical space. In each role, I was using data and information to persuade people to take some kind of action, long before the term "business storytelling" was a coined phrase.  
As co-founder of communicate4IMPACT, I'm using all those experiences on both the operational, creative and training sides of our business. But most importantly, I'm getting to use those experiences to help others achieve success through the art and science of business storytelling.