Description
Business Speed Dating: Networking Made Easy! Meet 20 people in 60 minutes!
Join us for a new edition of our now famous BUSINESS SPEED DATING!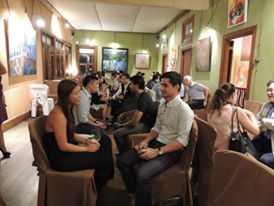 Networking made easy! Sit and talk: Face-to-face speed meetings: 20 people in 60 minutes (3 minutes per meeting).

How does it work?

Join our 60-minute Business Speed Dating Session:

- Sit in front of a random person
- Introduce yourself and get to know them in 3 minutes
- When the bell rings, rotate to the next seat and start again
- Repeat 20 times

Who is it for?

Any professional who wants to meet like-minded professionals, grow his/her business network and have fun!

Venue:

Our venue for the Business Speed Networking Session is the Aloft Sukhumvit Bangkok Hotel. Easy access by BTS (Nana) or taxi.

Price:

- Online / Prepaid Ticket: 350 baht only (Includes 1 Drink Voucher*)
Buy it now on Eventbrite or contact us for payment by Cash or Bank Transfer!
- Group Ticket: 300 baht per person (Includes 1 Drink Voucher*): Minimum of 5 tickets. Online Ticket or Prepayment only.
- Ticket at the door: 500 baht (Includes 1 Drink Voucher*)

*Drink voucher = 100 baht valid for 1 draft beer. For wine, please add 50 baht.

This event is brought to you by Bangkok Entrepreneurs !