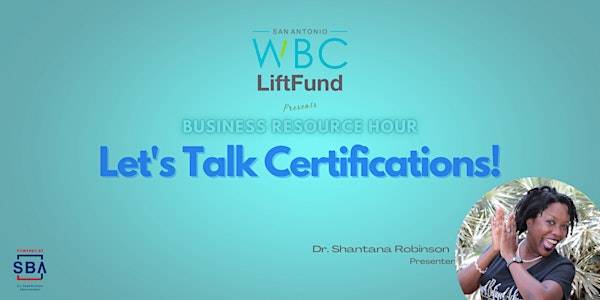 Business Resource Hour: Let's Talk Certifications!
Join Dr. Shantana Robinson (Dr. Bridge Builder) as she shares essential resources to help your business reach capacity.
About this event
Is your business certified? Do you know the benefits of being certified? What about where to get certified? Join Dr. Robinson as she walks you through the certification process to include the application process, the different certifications, expiration dates, and the local certifying body - the SCTRCA.
This training is best suited for existing business owners in South Central Texas. Please register in Eventbrite to complete your registration and obtain the details for joining the session on Zoom.
About the SA WBC
The LiftFund San Antonio Women's Business Center (SA WBC) is funded in part through a Cooperative Agreement with the U.S. Small Business Administration. This institution is an equal opportunity provider and employer. Reasonable accommodations for persons with disabilities will be made if requested at least two days in advance. Contact SA WBC Customer Service at 888.215.2373 ext. 3000 or wbc@liftfund.com.
Are you new to the Women's Business Center? The SA WBC is dedicated to supporting entrepreneurs, especially women and underserved communities. We invite you to become our client. Our services are FREE. From pre-venture to established businesses, you'll find plenty of valuable information as well as next steps and special WBC Insider tips.
If your business operates within our service area (see below), then we'd love to help! Sign up HERE.