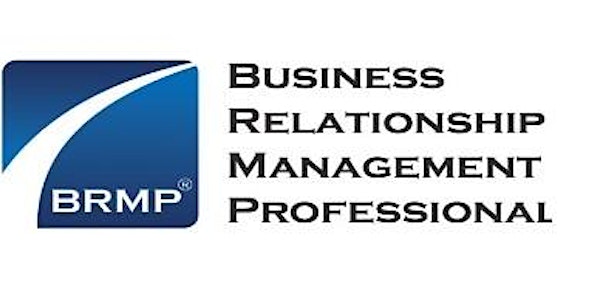 Business Relationship Management Professional Training - Online/Virtual
This is the new and evolved BRMP training and certification class.
Refund Policy
Refunds up to 7 days before event
Eventbrite's fee is nonrefundable.
About this event
BRMP® : Purpose
This certification training provides the fundamental concepts necessary for you to prepare for your future as a valued partner within your organization and expand your understanding of the positive effects of creating a relationship-centered organization.
BRMP® : Target Audience
Business Relationship Managers and/or business partners in any industry or function.
Leaders who need to understand more about how to evolve culture, build partnerships, drive value, and/or satisfy purpose in organizations.
Leaders who are ready to step into a BRM role or advance their BRM capability.
Anyone who recognizes the importance of relationships and measuring value in their organization.
BRMP® : Learning Objectives
Feel confident knowing you are using proven industry best practices to build effective relationships and drive value.
Be able to articulate the value and impact of BRM within your organization.
Have the necessary information to begin growing the BRM capability in your organization.
Feel more confident in your role as a Business Relationship Manager.
Have the information you need to prepare to take the BRM Certification exam.
BRMP® : Training Overview
What BRM is and the value it provides to an organization.
Why an organization should move beyond profit and products to encompass people, purpose, and planet.
Why BRM should be completely integrated into every element of your organization.
The contribution of the BRM role to your organization's purpose.
The basic knowledge, skills, and mindsets of the BRM role.
The core BRM approaches, tools, and templates used to achieve results.
How a BRM team can advance the BRM capability to evolve culture, build partnerships, drive value, and satisfy purpose within your organization.
Training and Certification Approach
The course will be delivered over 5 days, in four 5-hour sessions (9:00-2:00 pm EST) and then concluding with the exam on the last day (w/total class time 9:00-11:00am EST).
Upon course completion, participants will be eligible to schedule for the BRMP® exam, which will be offered online on the last day of class. The exam can also be scheduled later to be done at an APMG center or online through the APMG remote proctoring capability. The exam takes 50 minutes, comprises 50 questions, with a passing grade of 60%.  
Along with a practice exam, we will have quizzes and plenty of time for class discussion to help in your learning.  I will enrich the course with valuable anecdotes from my many years as a BRM, along with time training and consulting in this area across a variety of companies.
Upon enrollment, you will receive a free 3-month trial BRM Institute Professional Membership. This membership provides you with an opportunity to get involved in the global BRM community, interact with peers, gain access to valuable tools/templates, and shape the future of the BRM discipline.
FAQs
What do I need for the training?
Of course you will need to join remotely with a strong audio and video connection.  All material required for the class will be sent to you ahead of time (via soft copies of pdf files), which you can either print out locally or simply have available to you online. In total, you will receive electronic copies of the following:
Course syllabus
Pre-course assignment
Textbook/Study Guide
Participant Guide
BRMP Sample Exam Paper and Rationale
BRM Capability Workbook
BRM Capability Impact Report Workbook
How can I contact the organizer with any questions?
If you have any questions, please contact the instructor, Kip Fanta, at kip@kipfanta.com.
What's the refund policy?
You will receive a full refund (minus Eventbrite fees) if you cancel before 7 days before the start of the course.  In the event we are unable to fill a class, we will notify you 10 days before the scheduled start of the class and you will receive your full refund.
Is my registration fee or ticket transferrable?
Yes...at anytime, you can have someone else attend in your place.  Please contact Kip Fanta (kip@kipfanta.com)if that is something you want to do.
------------------------------------------
Detailed Course Content
BRM Introduction - The Bigger Picture
Why BRM? Why now?
Relationship-Centered Organization
Theory of Relationshipism
Triple Bottom Line
BRM Defined
Capability
Discipline
Role
Activity Domains
BRM Challenges
Tools included: BRM Role Competency Model
BRM Capability
BRM Capability Framework
Organizational Purpose and Strategy
Organizational Factors
Core Values
Now-to-New
Evolve Culture
Build Partnerships
Drive Value
Satisfy Purpose
Limitless Growth and Improvement
Tools included: BRM Capability Workbook, BRM Capability Impact Report Workbook, Strategic Relationship Plan
BRM Capability: Evolve Culture
Evolve Culture Framework
Purposeful Narrative
Desired Behaviors/Shared Ownership, Leadership-as-Practice
Influential Relationships
Personal Growth/Growth Mindset
Tools included: Storytelling, Language Matters, Relationship Network Directory
BRM Capability: Build Partnerships
Build Partnership Framework
BRM Role Competency Model
Relationship Maturity and Quality
Partnering Mindsets
Relationship Discovery
Relationship Nuturing
Tools included: Relationship Maturity Model (RMM), Relationship Strategy on a Page (RSOAP)
BRM Capability: Drive Value
What is value?
Types of value
Sources of value
Drive Value Framework
BRM Role Competency Model
Value Discovery
Value Realization
Value Results
Tools included: Idea Document, Value Plan, Value Optimization Report
BRM Capability: Satisfy Purpose
Satisfy Purpose Framework
BRM Role Competency Model
Through the BRM Capability
Through the Triple Bottom Line
Social Value
BRM Role
Our purpose and what we believe
Role clarity
Single Point of Focus
BRM Code of Ethics
BRM Role Competency Model
BRM Mindset
Scope of BRM Role
BRM Role with Organizational Factors
BRM Team
Our purpose and what we believe
BRM Team definition
BRM Team purpose, mission, and vision
Assessing the value of a BRM Team
Organizing a BRM Team
Leading a BRM Team
Transition Management
Coaching BRMs
BRM Key Learnings
A review of the key concepts from each of the preceding modules.
Course Wrap-up
What to do in the next 30/60/90/365 days
Digital badge
After passing the exam
Recap learning objectives
Review learning objectives
Review expectations
Course Feedback