Description
Stelzl's Business Planning & Strategy for Resellers Workshop
Hands-on, intensive collabortation and planning for business owners and key personnel, specifically in the high-tech, consulting/reseller business
November 29 - December 1
Charlotte - Ballantyne, NC
Exact Meeting Location TBA

Commit in October and the fee is only $650 ($550 for Mentor Program Alumni), bring one of your key associates for an additional $350. I am only accepting 11 companies for this hands-on 2013 strategy meeting!

Are you ready for 2013? Are you ready to grow your annuity business, attract higher level clients, and get involved in more strategic IT projects? Do you have a plan to grow services profits, increase fees, streamline your sales process, and provide better leadership to your team? Join me (David Stelzl) for 2 1/2 days of incredible hands on collaboration and business planning to prepare for 2013. In just a few days you'll have a plan, solid goals, and a vision to share with your team for the coming year.

For over 20 years I have been working in the high-tech reseller business, in just about every role you can imagine - from installing to owning, and for very large and very small firms. Regardless of size, companies that do this type of planning each year outgrow those that don't. Employees with a clear vision will outproduce those without.

What's In it For You?
**Renew Your Vision and Prepare to Lead. Your ability to lead is your most important takeaway from this weekend. Getting in front of your team with a clear and compelling message for 2013 will make all the differerence!

A one-hour intensive follow up coaching session with David Stelzl. We'll cover a lot of ground in these 2 1/2 days, but I want you to be ready for 2013 - so I am committing to reconnect by phone (one-on-one) to make sure we have a plan that will take your business to the next level in the coming year (this alone is a $500 coaching session - and it's included in your workshop tuition.)

Determine your unique value proposition and marketing/branding strategy for 2012.

Review and refine your solution strategy whether it involves higher level consultation, more annuity business, upgrading fees, or a total reworking of your product set.

Make sure you have the right people on the bus, the wrong people off, and your core team in the right seats - Jim Collins, in his well known book, Good to Great, makes it clear that this one principle can make or break your business.
Develop your goals, leadership team, organizational alignment, best opportunities, and marching orders, in writing before you leave. You'll have everything you need to set things in motion before returning to the office.

Walk away with an immediate growth plan to kick off your new year. The goal is to leave this meeting with the Power Point (or whatever you use) to kick off your new year with your team.
BONUS: Plus I will be giving you life-time** access to my online mentor program forum (Normally a $500 subscription fee).
Business owners will also receive over $150 in materials just for attending

If you have been to one of my workshops - you know this will be content rich - no wasted time, no filler. I believe in giving step-by-step methods. If you're not completely satisfied, I'll refund your money - no questions asked. (Note: registration is non-refundable for planning purposes).


This intimate weekend is limited to 11 business leaders (with the option of bringing one key employee or partner). In this tight, mutually respectful setting, you will learn more quickly, and have the opportunity to build personal relationships with other attendees, and myself - that will most likely last for years.
Plan to arrive by 5:30 PM on Thursday for a relaxed dinner with my wife and I at our favorite Chinese restaurant (followed by our opening session), join our family for dinner on Friday, night, and we'll have you on your way home, equipped for the new year by late afternoon on Saturday.

Here's The Schedule:
Thursday Evening, Nov 29, 12; 5:30 - 9:00
5:30 PM - Dinner at Wan Fu in Pineville, NC

SESSION: Essential Topics - Moving From Vendor to Adviser...David Stelzl. We'll kick off our three days with insights from my workshop, From Vendor to Adviser, to create a foundation for strategies that are working to build successful businesses right now. I'll show you what companies across the US are doing to market more effectively, create larger opportunities, call higher in the accounts they are working on, and create differentiation in a crowded market place. We'll also take some time to review our goals and get to know one another as we move into some intensive planning time on Friday and Saturday.

Friday, Nov 30, 12; 8:30 - 5:00
Morning - Intensive Planning Session 1 - Setting Your Course For 2013; Hands on, collaborative, and facilitated using The 6 Thinking Hats Process

Lunch - provided...

Afternoon - Intesive Planning Session 2


Dinner hosted by the Stelzl Family - Transportation Provided to Waxhaw NC. Take time to meet my wife and 7 children, all of who are involved in building their own businesses (including The Sugar Nook - which will be catering our dessert!)
Saturday Dec 1, 12; 8:30 - 3:00
Morning - intensive planning session number 3

Lunch - Provided

Afternoon - Setting goals, organization, and final comments


3:00 PM - Heading back to your families.
Sign up now and you'll be receiving:
A one hour personal coaching session to review your future event plans.

Access to my private online forum.

Over $150 worth of materials.

__________________________________________________________________
**Life-time is defined as, as long as the forum exists. While I have no plans to remove this offering, I reserve the right to phase it out of my program.
Here's What People Are Saying...
_______________________________________________________________________________
Doug Baker

President, ICE
"Your stuff works Dave, Thanks for the advice! I like to deal with CEO's only, in the SMB space, because they have the checkbook; they are the asset owners.
Talking to them about technology is really tough. But when talking about Operational Efficiencies, Data Risk, or obtaining those efficiencies and Costs reductions, I can tell you my margins have doubled, sales are taken to a higher level, and the CIO/IT guy and the CFO are now only supporters or influencers, not decision makers.
This has opened up a whole new sales discussion and approach."
Top qualities: Doubled margins, Dealing with Business Owners, Advice
_______________________________________________________________________________
Norm Sklar
Partner/Owner, Sklar Technology Partners
Sometime you forget just how valuable someone is. I just want to let you know how we feel about our working relationship.
Working with Stelzl Visionary Learning Concepts over the past five years has been the best investment Sklar Technology Partners could have made. Our investment with you has been paid back many many times over. My son Randy learned more about running our business than he would have by getting a masters degree in collage. I honestly believe that with your help our company not only survived the recent recession but actually thrived and grew over the past two years. And did I mention what a pleasure it is to work with you? You have become a very important part of the Sklar Technology Partners' management team and we thank you.
_______________________________________________________________________________
Nate Freeman
President, Network People
We recently held an educational event with David Stelzl as our keynote speaker to explain the 7 Essential Mindsets of securing critical data. The event was held at the right time, with the right people, and at the right place and was a great success! We had 74 people in attendance which represented 31 actual companies. Of those, 65% signed up for a Risk Assessment that night and an additional 5 companies wanted project work done. Since then, we've had two of 31 companies actually call us for help with security issues. Both have engaged for project work. They definitely would not have called without us doing the event.
Judging the success of the educational event alone, I would be thrilled. But something very powerful happened afterwards that I did not expect. A "Security" specialty opens doors even when my competitors are standing in them. In two meetings last week, I was discussing critical data with business owners as a follow-up to the event. Those owners gave me access to the entire network, passwords, interviews with staff, and most importantly TIME with themselves. I never could have had quality appointments like that without first delivering quality and value to those owners through the educational event with David Stelzl. When time is money and every second counts, the meetings I choose to attend must be valuable. The security specialty and Stelzl's message has given me an open door to pinpoint the holes in security that businesses have and allows me a quality conversation to remedy those holes. The specialty eliminates the typical roadblocks from internal/external IT people protecting their domains—even at the risk of the business being insecure. The result: meetings that get to the REAL problem, proposals with a higher close rate, solutions that are custom designed and valuable to the owner. Now that is a win-win.
_________________________________________________________________________________
Organizer of Business Planning & Strategy For the Reseller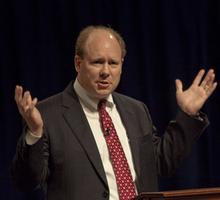 Keynote speaker and technology sales trainer, David Stelzl is an innovator in sales & marketing - He brings a fresh perspective on the high-tech consulting business - He believes the sales business should be exciting, helpful to clients, and highly successful. He believes there is a better way, as sales & marketing professionals embrace his vision and passion for helping solve today's complex business problems rather than vending point products.
Described as a visionary thinker and entrepreneur, David teaches his clients to function more like high-priced consultants and less like "sales" people. With a vision to bring back the concept of "Trusted Adviser", David is leading a movement where sales people embrace integrity, deliver value, and learn how to truly advise at the executive management level.