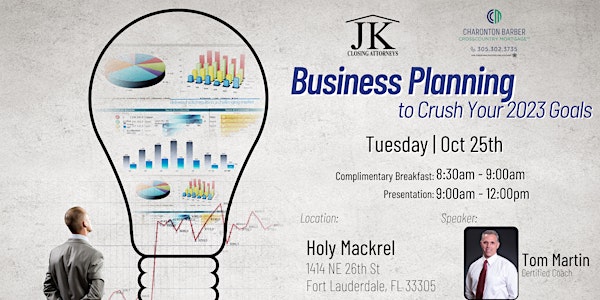 Business Planning Seminar "Crush your 2023 Goals"
Join JK Closing Attorneys & Cross Country Mortgage as we introduce Tom Martin a Certified Buisness Coach and Speaker.
When and where
Location
Holy Mackerel 1414 Northeast 26th Street Fort Lauderdale, FL 33305
About this event
Real Estate professionals, are you ready to up your game in 2023?
JK Closing Attorneys & Cross Country Mortgage are proud to present certified business coach Tom Martin. His three-hour informative coaching seminar will benefit any agent, experienced or new, and help to strategically plan and execute a master game plan for 2023. We guarantee you'll find tremendous value in this session.
Get Real Business Planning for 2023
Presented by Real Estate Business Coach Tom Martin
When it comes to plotting a course for your business
you need a real plan that you can follow that
keeps your business on the straight and narrow so
that you can build the business you're capable of.
A Real Business Plan
1. Starts with a foundation you can build continually - not something you have to keep re-doing
2. Is a blueprint you can follow daily to stay focused on the most important things that will grow your business.
3. Sets real short term goals so that you can constantly measure your growth
Breakfast will be served between 8:30-9 am. Tom Martin speaking from 9-12 pm.