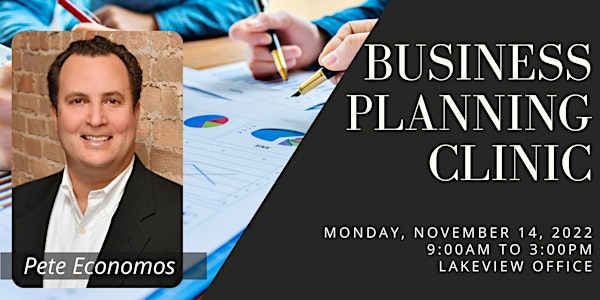 Business Planning Clinic
Do you want to learn more about how to stay on track throughout the next 12 months with your business?
When and where
Location
Keller Williams ONEChicago - Lakeview 1525 W Belmont Ave Chicago, IL 60657
About this event
Join our special guest, Pete Economos for Business Planning Clinic on Monday, November 14, 2022 from 9:00AM to 3:00PM. This is an IN-PERSON event only that will be held at Lakeview Office. Business Planning Clinic is designed to help you and your team design and implement systems that will propel your business for the next year.
Pete Economos is the owner and operating principal of five Keller Williams Realty franchises in the western suburbs of Chicago and the Eto P Group is now ranked in the top 100 brokerages in the nation in 2021. Pete obtained his real estate broker's license in 1998 at the age of 23 and quickly ascended to a top producing agent within 12 months. By 2010 Pete had sold over 500 homes and partnered in a development company.
In 2010, Pete purchased Keller Williams New Horizons of Illinois and rebranded the franchise to Keller Williams Infinity. In that first year, the company closed just over $37,000,000 in real estate. Currently, his Keller Williams E to P Group franchises encompass over 1200 agents that produce over 8000 closed units totaling over $2,600,000,000 in sales. In 2019 Pete launched Summit Title, which will close over 1000 transactions in 2021 in its' first full year of operation. Pete also launched, in 2021, Peak Digital Design which is a marketing platform serving Realtors needs across the country.
In his free time, Pete enjoys family time and is an avid skier and outdoorsman, in addition to being a loyal Purdue alumnus.
Click here to download the Business Planning Clinic Pre-Work: