RSVP for the final First Friday Business Breakfast event for 2021. Details to follow. Stay tuned!
About this event
Attendees will understand why having a business plan is important and receive guidance on how to create an effective business plan.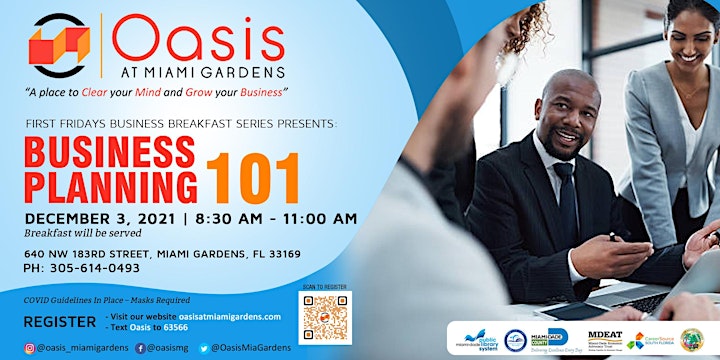 Organizer of Business Planning 101 - December 2021 First Friday Business Breakfast
The
Oasis at Miami Gardens
is an inspiring co-working and meeting office space that provides a growth-haven for everyone – from emerging entrepreneurs to seasoned business executives. We offer an array of options to suit the needs of brand new startups, freelancers, second career entrepreneurs, and well established enterprises. Whether you just need a virtual presence in the area, an inspiring work space or the privacy of a meeting or conference room, we have the accommodations to fit your desires. Memberships vary according to your needs - from our open and collaborative community space to private day offices, meeting or conference rooms.
Take your skills to the next level at
Oasis at Miami Gardens
! We don't stop at providing great working space. We are growth-driven and education centered. Through technical assistance, workshops, training and mentoring by business leaders and educators from across the country, our members become empowered and equipped with the resources needed for continued growth and success. Whether it's our workshops on "Business Structure" and "Funding Your Business" for newbies; or "Marketing and Branding" and "Staffing your Biz" for businesses that have been around a while; or even "Government Contracting" for our seasoned business owners wanting to enter new markets, there will be something for all entrepreneurs to grow to the next level.
Inspired by the early, tech-driven co-working concept, it has been documented that co-working space increases the success of startups with its lean costs, collaborative community and social environment. At
Oasis at Miami Gardens,
networking is built in by design. Along with meeting other businesses in the community, you can increase your exposure, brainstorm with other professionals and develop new friendships, partnerships and collaborations. No leases or long-term contracts are required; however, membership has its privileges. Visit
www.oasismiamigardens.com
to get more information, schedule a tour and check out our membership plans.
Oasis at Miami Gardens,
the place to go and grow!