Business Owners and Sales Managers' Forum (Hingham)
Description
Click here to watch video

It seems like more and more Sales Managers are challenged with higher goals in a tightening economy. So, we have created a Forum in which Sales Managers, Owners and Chief Executives can come together and have their sales management challenges heard, as well as leave with solutions.

Even though we may sell in different verticals, marketplaces and territories, and even though we may all come from different businesses, sales management problems are pretty universal.

The Managers' Forum is a fast, efficient and effective way to address sales management problems. So we invite you to participate in one session as our guest. Below are the purposes, logistics, format and what you can expect for results.

Managers' Forum Purpose: To help people that manage people that sell, sales teams and representatives, to improve sales management skills and competencies. Topics are varied covering a wide range, including coaching, training, mentoring, supervising, motivating, recruiting, staging sales meetings, employee reviews, conflict resolution, communication, surveying customers, goal setting for self and team, correcting negative behavioral patterns and "growing team members to the next level".
Managers' Forum Logistics: Managers' Forum meets monthly one Thursday evening per month. Meetings start at 5:30p and ending at 8:30p. Dates are scheduled 90 days out. It meets over dinner and is preceded by an informal "meet and greet". Meals are included. Guests are welcome to participate in one meeting at no charge.
Managers' Forum Format: Participants share problems, challenges, goals and agenda prior to each meeting. These become topics of the next Managers' Forum meeting. Meetings are facilitated by Greg Nanigian – an accomplished sales and sales management trainer. There are usually one or more hand-outs based on the topics. Participants share a 30 day implementation at the close of each meeting. Results of 30 day implementations are shared at the next Managers' Forum.
Managers' Forum Results: Participants from different industries are co-mingled in Managers' Forum Meetings and the one thing they have in common is that they manage people that sell. Through the sharing and training that takes place the average manager achieves a 50 percent increase in sales management competency in one year of participation. Given that meetings are fun, no fluff and based on the Sandler Sales Management System, results are extraordinary.

We invite you to join us once for a commitment fee of only $5 which will be refunded upon arrival.

You will also receive a FREE copy of:
Lead When You Dance: 14 Success Secrets from Sales Managers for Sales Managers!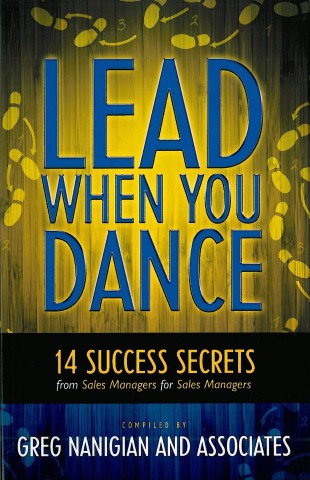 * Please note: This program is only for people who manage a sales team.