Learn the complexities of becoming an international organization.
About this event
The purpose of the series is to expose entrepreneurs to the benefits and complexities involved in doing business overseas.
Objectives
For small businesses to start to prepare themselves for the global marketplace.
For community colleges to create programming around the needs of the businesses and then ultimately build enrollments.
Create an ecosystem for businesses to connect with the colleges to then be able to hire students within our programs that we have properly prepared to help them go and grow global.
Format:
5 minute Welcome/Intro
40 Minute Presentation
15 minute Q&A
Course Schedule
August 5 - E-commerce - eCommerce is Not a Monolith - Perry Goldstein
August 12 - Logistics and Supply Chain - Getting a Widget from Here to There Takes Care. - Alpha Lewis
August 19 - Digital Marketing - Increasing Your Business Presence Overseas. - Brandon Church
August 26 - Finance & Insurance - The Grand Slam - You Want All Four Shots! - Bob Komoto
September 2 - Everyone Needs R&R - Risks and Regulations in EXIM - Fatima Guadamuz-Cabral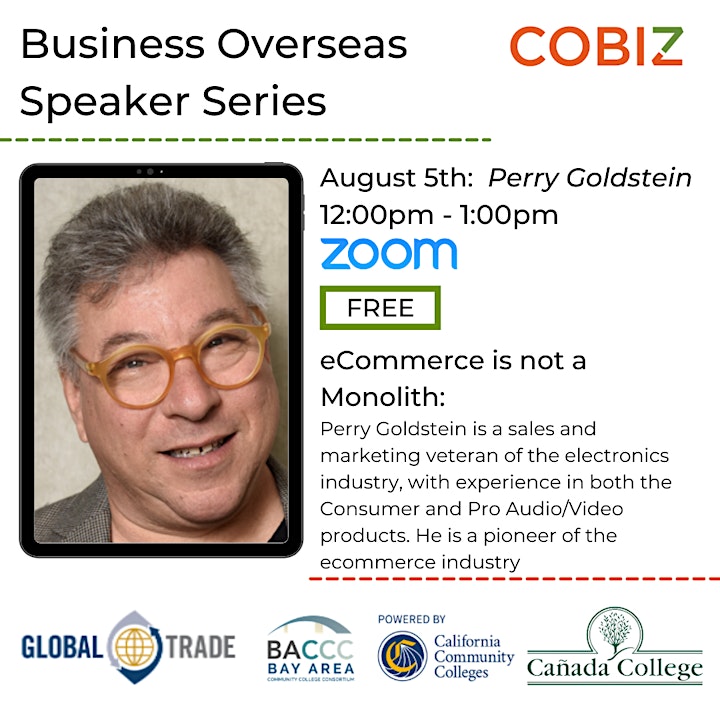 Perry Goldstein is a sales and marketing veteran of the electronics industry, with experience in both the Consumer and Pro Audio/Video products. He is a pioneer of the ecommerce industry, working with ecommerce platforms since the advent of the channel in the mid 1990s. He has extensive experience working with Amazon since their entry into the electronics industry. During his 23 years at Panasonic, he assisted many of the biggest electronics industry retailers entry into eCommerce. He managed the Amazon Worldwide initiative at Marshall Electronics, expanding their presence from the U.S. site to all of the Amazon affiliates globally. He is a professional writer, and is widely published on many topics relating to eCommerce and technology. His specialty is Content Marketing, and sales channel management strategy.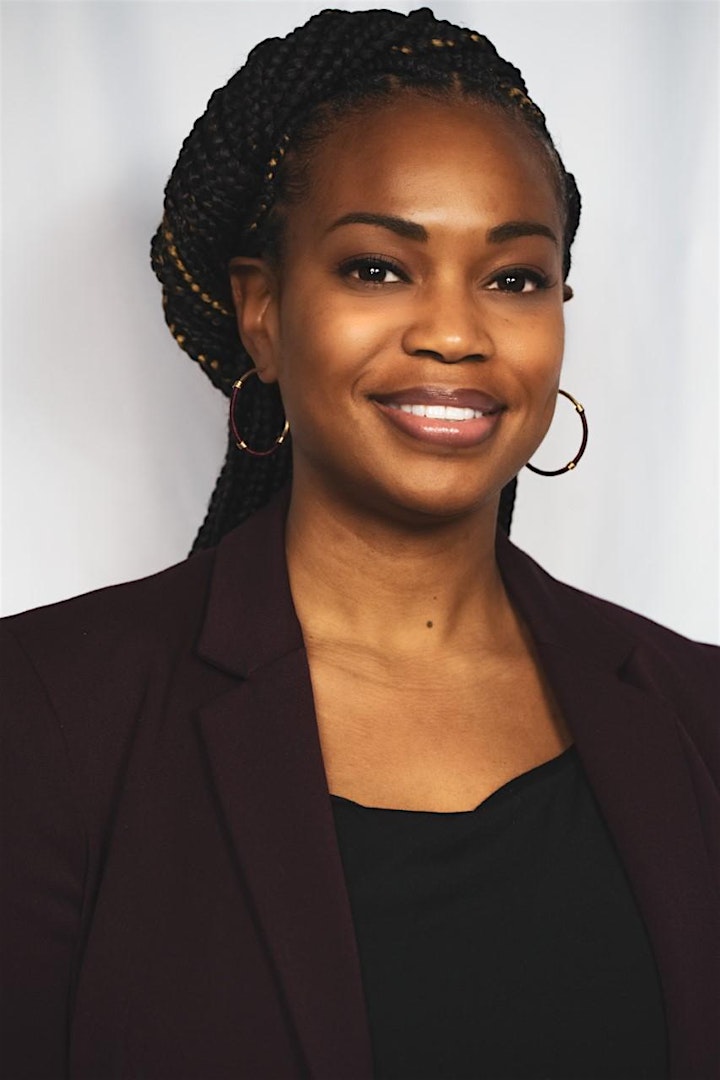 Co-Organizer: About Nicole Kelley
Nicole Kelly has over 15 years of professional experience with a diverse background in higher education, city and state government, non-profits, and K-12 institutions. She has taught in Costa Rica and led study abroad trips for community college students to China. Ms. Kelly also participated in a doctoral-level study abroad examination of political, social, and economic contexts in South Africa. With her passion for international relations and serving marginalized communities at home and abroad, Ms. Kelly is using her interagency acumen to help small business entrepreneurs expand internationally.
Register for our Go Global Speaker Series, where Ms. Kelly brings industry experts together to discuss key elements of doing business overseas.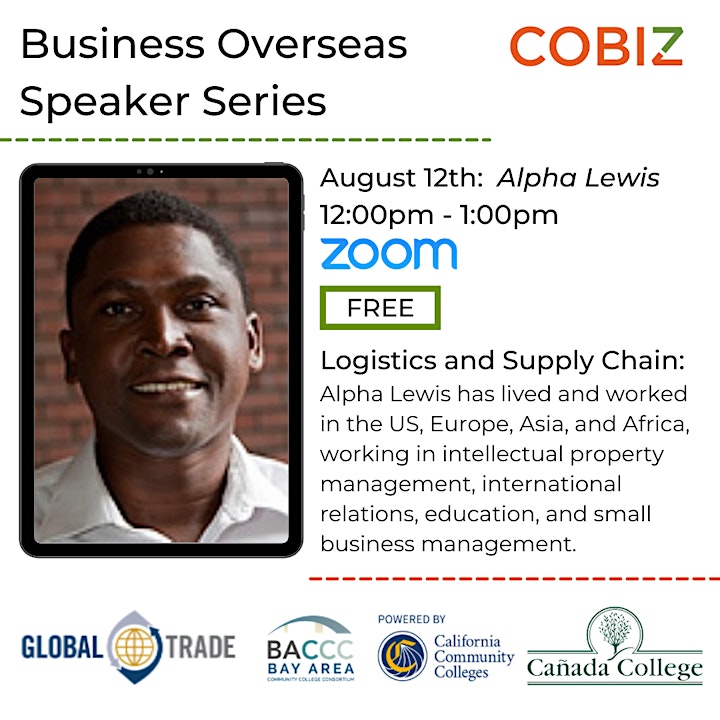 Alpha Lewis has a Bachelor's Degree in Foreign Trade and Development from UC Davis and a Master's Degree in Business Administration from Golden Gate University. He has lived and worked in the US, Europe, Asia, and Africa, working in intellectual property management, international relations, education, and small business management. In addition to his business interests, Alpha teaches International Business at Skyline College in San Bruno, CA.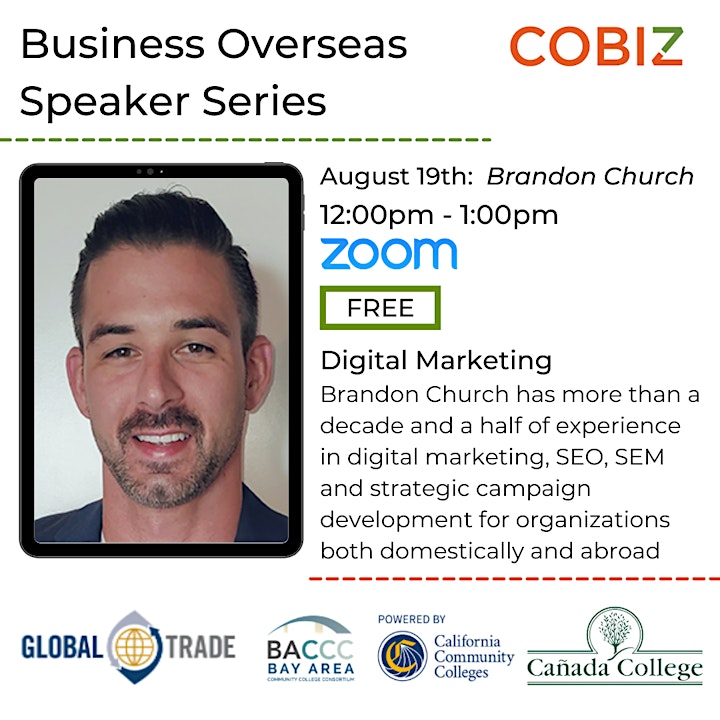 Brandon Church has more than a decade and a half of experience in digital marketing, SEO, SEM and strategic campaign development for organizations both domestically and abroad. Originally from New York, Mr. Church has a degree in Marketing from The University of Tampa and currently resides in San Diego . Mr. Church has worked across many verticals and has produced award winning strategies while working for some of the most prestigious digital marketing agencies in the country.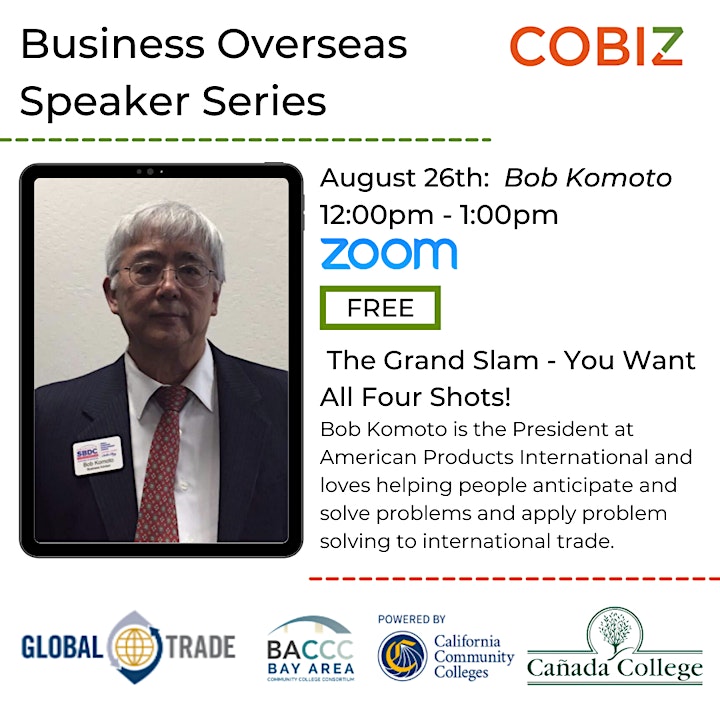 Bob Komoto is the President at American Products International and loves helping people anticipate and solve problems and apply problem solving to international trade. He has spent the majority of his career in the electronics industry, gaining experience in areas such as process development, new product introduction and program management. While business and international trade advising is his primary job function, Bob also spends time with his family and hundreds of orchids and roses.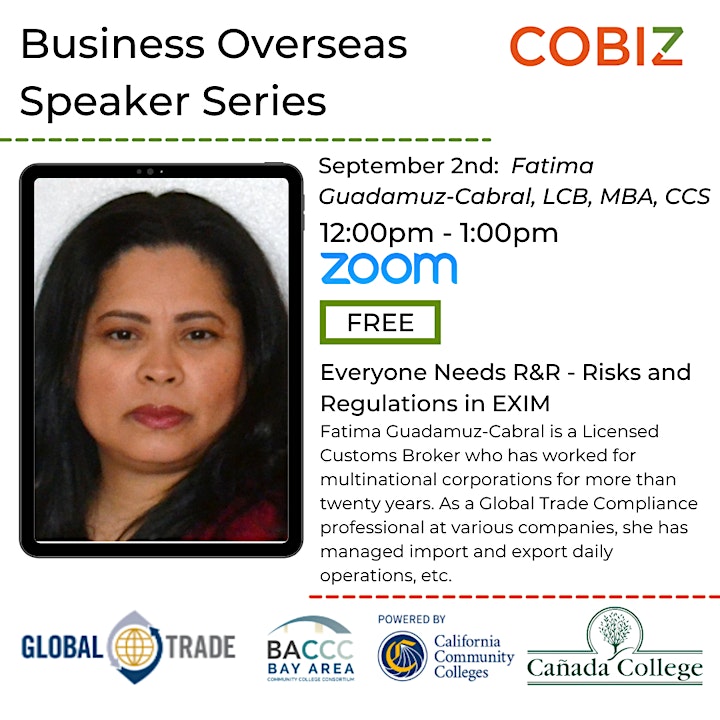 Fatima Guadamuz-Cabral is a Licensed Customs Broker who has worked for multinational corporations for more than twenty years. As a Global Trade Compliance professional at various companies, she has managed import and export daily operations, import and export compliance programs, conducted internal control audits at various overseas locations, managed CTPAT certifications in the US and abroad, and supported AEO recertification. Her previous work history includes customs brokerage and high-tech companies in the Silicon Valley. She has been a featured guest speaker for trade associations, non-profit organizations, and adjunct faculty at San Francisco Bay Area Community Colleges. She also served on the Board of Directors for the Professional Association of Exporters and Importers (PAEI) and Women in International Trade – Northern California Chapter (WIT-NC).