Patented Patch Technology from LifeWave Activates Your Own Stem Cells! Pain Relief and Regeneration at the speed of light! 100% Money Back
About this Event
You are invited to join us for this exciting event and check out what is possible NOW!
Please register to receive the meeting ID to join this interactive Zoom webinar or text VIP to 951 288 5232 to get the webinar link
LIFEWAVE for Health & Wealth! GLOBAL HOME BASED BUSINESS!
1st Tuesday at 7 pm Pacific (Philippines Wed 11 am)
every Friday at 6 pm Pacific (Philippines Saturday at 10 am)
every Saturday at 4 pm Pacific (Philippines Sunday at 8 am)
LifeWave is THE Business Opportunity for NOW & the FUTURE
LifeWave did it! New, Patented Patch Technology from LifeWave Activates Your Own Stem Cells!
Multiple benefits from the LifeWave X39™ patch including the support of wound healing, rapid pain relief, more energy, hair growth and better sleep – must be experienced to be believed!
What most companies are working on in the field of stem cell medicine is to inject stem cells from a younger donor person into an older recipient. While this is promising, the problem is that this is potentially dangerous (uncontrolled cell division), costly (in excess of $ 10,000 for a single treatment) and not legal (most countries have not approved stem cell therapy). But what if there were a way to "reset" our own stem cells and get them to start acting like younger, healthier cells. This would be incredibly safe, incredibly effective and extremely inexpensive.
Now, we can. Welcome to LifeWave X39 - the patch that allows you to activate your stem cells and provide support for your body.
Backed by multiple clinical studies and 20 years of development, the LifeWave X39™ patch has been demonstrated to provide an abundance of health benefits.
Connect with us! Click and LIKE our Facebook page ADVANCED WELLNESS SPECIALIST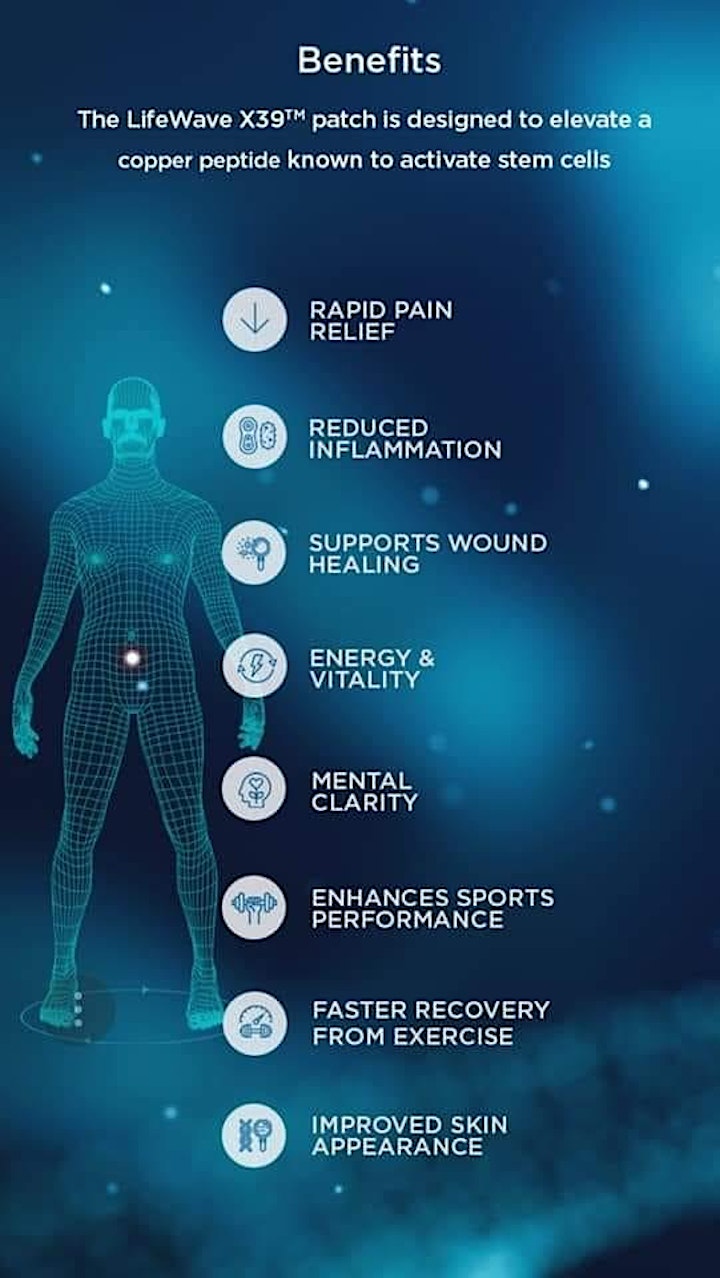 Are you a prospective member looking for guidance in getting the best result from the patches and building the business?
Join LifeWave Leaders
1st Tues 7pm Pacific
Sat 4pm Pacific
Wed 11am Pacific
Text VIP to 951 288 5232 to get the webinar link
Connect with us! Click and LIKE our Facebook page ADVANCED WELLNESS SPECIALIST