Business Opportunities for Women (BOW) - FREE Networking - Lutherville, MD
Sales Have Ended
Registrations are closed
Thanks, but RSVPs have closed for this event. Please join us next month, on the 2nd Friday.
Sales Have Ended
Registrations are closed
Thanks, but RSVPs have closed for this event. Please join us next month, on the 2nd Friday.
Description

This event is FREE, so please take 90 seconds and read! :-) :-)
---

---
Connections, Conversations & Collaboration
Are you looking to build relationships with the amazing business women you know plus to get to know some fresh connections?


---
LIMITED SPACE.
PLEASE RSVP EARLY TO SECURE YOUR SPOT!!!
EVENT TIME: 11:30am - 1pm • UPCOMING DATES:


---
We have a fantastic group and an opportunity to build a supportive network of referral partners & friends.
We want to build relationships with our attendees, so this group is NOT for you if you just want to come once, collect business cards and never return or follow up with the women you meet.
Our goal is to help each other grow our businesses & have fun. Our group is friendly, professional and supportive.
Attendees are business professionals & entrepreneurs who are looking to build quality relationships, not sales pitches.
Everyone gets the chance to introduce themselves to the group. We also have time to do more than the standard 30-second introduction to develop deeper connections.
We encourage you to meet 1-on-1, participate in our Facebook group and invite guests.
WOMEN ONLY PLEASE (except if a member know a really great guy who specifically helps women grow their businesses - if so, contact us!). Otherwise, check out other events here.

BE SURE TO CHANGE TO NO IF YOU CAN NO LONGER MAKE IT, AS WE WILL HAVE A WAITLIST.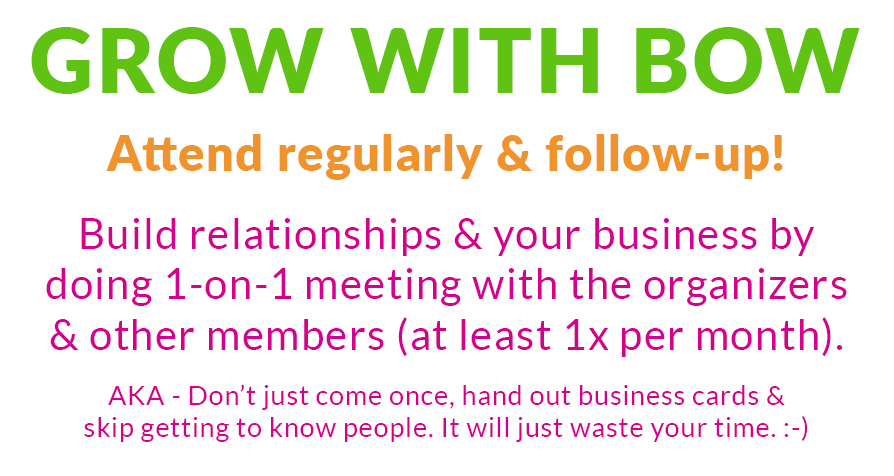 ---
Late arrivals after 11:45am will disrupt the group, so please come before then. If you need to leave early, arrive early, you can get a seat by the door. Thank you!
Open networking from 11:30-11:45am
Meeting will start promptly at 11:45
It officially ends at 1pm (you can linger).
Bring your own lunch or drinks (optional). We no longer have a cafe in the building.
Bring business cards or marketing materials to put on our table to share.
FREE parking!
There is no membership fee or cost to attend.
Please plan on following up with the women you meet.
We invite you to also bring a guest!
RSVPs + CANCELLATIONS are required
---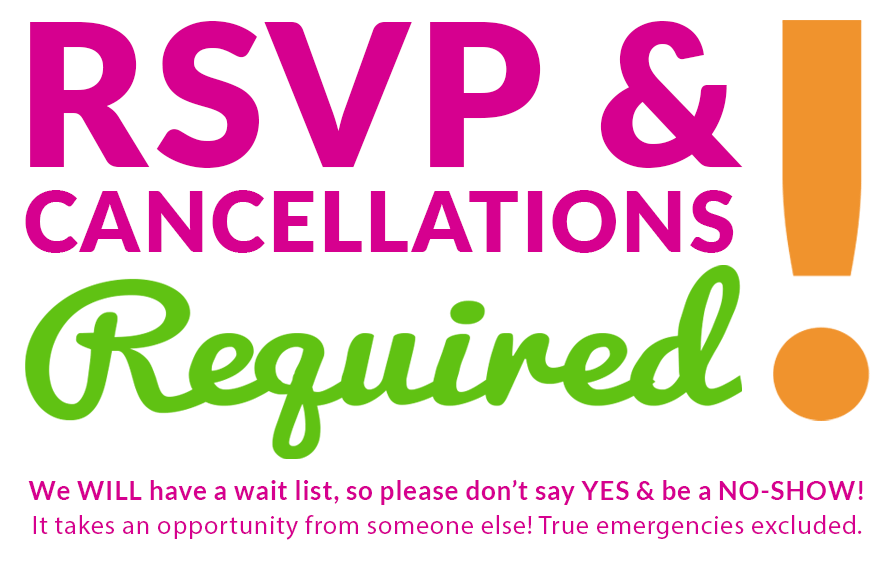 WHOO HOO! We have been filling up + our new room is much smaller! That means that our RSVP policy is going to be strictly enforced. :-)
You MUST RVSP to hold your spot (and also to be notified of weather-related cancellations).
If you can't make it, update by Monday at 12pm to release your spot to the waiting list.
If you have a true emergency, contact us ASAP - we are reasonable, but please check in.
If you are NO SHOW & you don't contact us, you will be taken off the invite list. Here's why:
Following this policy is what allows the group to run smoothly and be available for women who want to attend. A room full of committed women that you can trust will help you to grow your business!!
We have limited space, so if you say YES, it says NO to someone else. The RSVP is your "price" for admission.
This group is for responsible women. If you don't show up or contact us, you are telling us that you're OK with taking someone's opportunity to attend, you don't value the group, the time we put into organizing it, and we can't trust your word. I don't mean this to be harsh, but as a challenge to step into being part of a group of quality business women.
All of the women who attend are helping to build something special - a low-cost but highly effective way to support each other. We WANT YOU to be a part of it, so please RSVP & come!


---

YOU NEED APPROVAL BEFORE ATTENDING FOR MARKETING & FINANCIAL SERVICES!
If your business is marketing (including, but limited to branding, marketing messages, websites, graphic design, tech) OR financial advising (including managing assets, retirement plans, mutual funds, annuities, long term care, disability and life insurance).
Email me or call 410.262.0871 and we will set up a 1-on-1 call with me or our host to make a decision.
We DO connect with people in related fields, and will often see how we can support each other, but this event is exclusive due to the amount of work we put into organizing.

I'll also let you know if your business overlaps with other active members who already have deep connections with the group. Strategic networking is a key part of BOW, so if this is the case, this event isn't a good fit.

Thank you for your understanding!


---


DIRECTIONS:
Very close to the intersection of 695 and York Rd.
Turn off York Rd. at traffic light towards Lincoln Building (oppostite side of Greenridge Rd.) - look for the Peppermill Restaurant - Lincoln is on the opposite side of the road.
Building A - the 2 story brick one in the front of the complex.
Take elevator to 2nd floor, directly to the Lincoln office.

The room is directly behind the receptionist station. The receptionist is named Amanda and will kindly guide you.

There are restrooms inside the office directly to the left of the training room.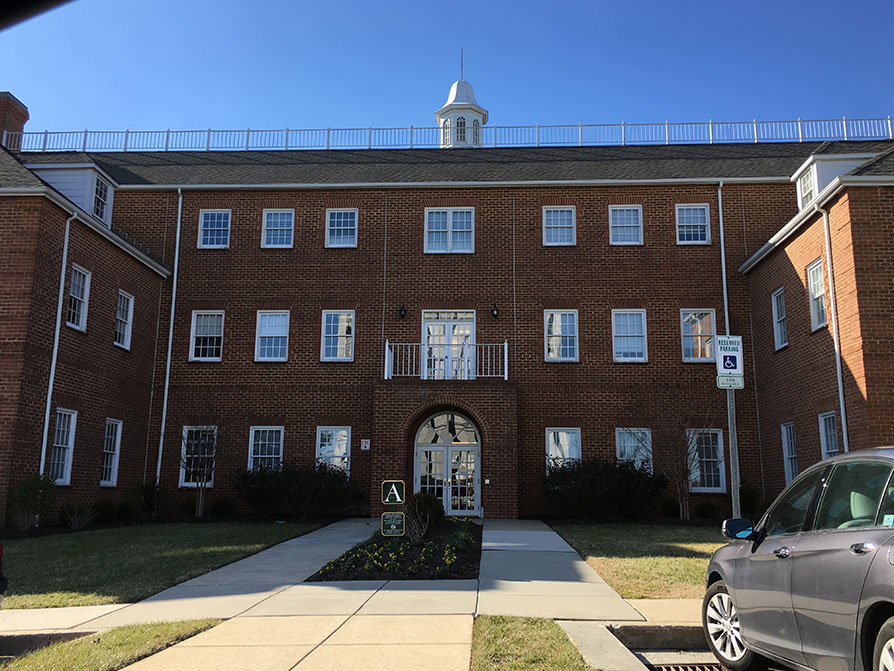 ---
BEFORE & AFTER:
Schedule a 1-on-1 with Linda here: www.virtuallinda.com/coffee. If this is your first time coming, you can do this before you attend, too!
Or get on Linda or Lauren's calendar at the meeting.
Schedule 1-on-1 meetings before and/or after the event so you can continue to build relationships. Timonium / Lutherville / Towson has plenty of locations to meet for coffee & food. It's an easy way to keep the conversations going.
We also have a private Facebook group for connections between our monthly meeting. You must attend 1 event before joining. Ask Linda for details.
DO NOT ADD NAMES & EMAILS TO YOUR EMAIL MARKETING LIST WITHOUT PERMISSION! Here's why...
---