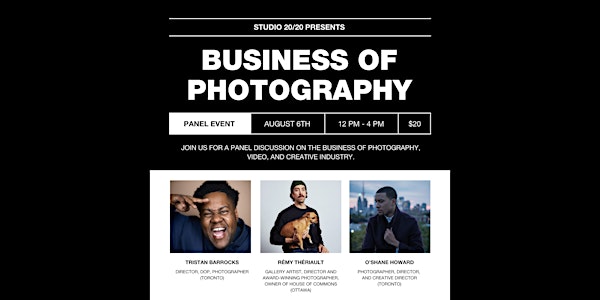 Business of Photography
Join us for a panel discussion on the business of photography, video, and creative industry.
Date and time
Sat, Aug 6, 2022 12:00 PM - 4:00 PM EDT
Location
Studio 20/20 299 Bank Street Ottawa, ON K2P 1X7 Canada
Refund Policy
Contact the organizer to request a refund.
Eventbrite's fee is nonrefundable.
About this event
Studio 20/20 presents a panel of professional industry creative entrepreneurs that have been in the game, and full of experience to share. Join us on August 6, 2022, for a panel discussion with celebrated and published creatives Tristan Barrocks (Toronto), Rémi Thériault (Ottawa) and O'shane Howard (Toronto) as they share valuable insights into the business of photography, video, and creative industry.
So you take great photos but your clients are paying you with shoelaces. You want to be noticed by top brands but you're stuck on the first slide of your pitch deck. You've amassed all the right gear, but you're still treating photography like the middle child. Are clients still asking you for the raws? And what about your style? Have you narrowed that down? We'll get to the nitty gritty and share the tools you can use to get your business to the next level!
Tristan Barrocks
Tristan is a writer, director, and digital storyteller are some of the ways creative Tristan Barrocks describes what he does. For the past 25 years, Tristan has been internationally recognized as an accomplished film director, producer, and cinematographer focusing on digital storytelling, which is the art of telling human-centred stories using new media platforms. He has produced several award-winning films that have premiered at international film festivals worldwide. As an established commercial director, Tristan has worked with organizations like Youtube, Ikea Canada, Top Shop, ROOTS Canada and Footlocker Canada.
His unique and authentic storytelling approach has also opened up tremendous opportunities to work on projects in South Africa, Jamaica, St. Lucia, Bermuda, and all across the United States. Tristan continues to develop creative ideas through his company, wanting to tell some of the most critical stories in society today. Tristan's focus on preserving his client's voice while making genuine connections is his secret sauce.
Rémi Thériault
Rémi is a gallery artist, director and award-winning photographer best known for his engaging visual storytelling. Whether he's capturing intimate moments for personal projects or the vibrant expressions of his commercial clients, the finely curated aesthetic and attention to detail that have propelled Rémi to the top of his field are always present. He is also well-versed in leading production teams on large video projects, both in Canada and in the United States. His clients include Shopify, the Government of Canada, the National Arts Centre and a diverse number of magazines.
O'shane Howard
O'shane is a Canadian photographer, director, and creative director based in Toronto. His experience in the industry as a young model introduced him to various creative roles, prompting him to consider what he wanted out of his career. He took classes in college, which allowed him to try his hand at photography and video editing before taking a big leap of faith. O'shane quit his retail job, dropped out of college, and fully devoted himself to building his business, making connections, and establishing his unique perspective. O'shane's work has appeared in publications such as Women's Wear Daily, Forbes, CRWN, Ekstasis, Paper & Coin, City Life, Splendor, and Blanc Magazine, Vogue Italia, L'Uomo Vogue, CNN Africa, CBC Life, and Amplify Africa Inc. In 2017, O'shane was named one of the top five artists featured at Ollie Quinn's Photography Exhibition, and in 2021 was featured by BuzzFeed as one of 27 Black Canadians You Should Be Following On Social Media. O'shane has collaborated with brands including Nike, Adidas, Foot Locker Canada, Universal Music Canada, CBC, Red Bull Canada, Joe Fresh, Kardinal Official, Shamier Anderson, Simon Marcus, Dan Kanter, TEDx Toronto, New York Times bestselling author Rupi Kaur, and GymShark.
This panel will be moderated by Thomas Cumberbatch, CEO and Chief Strategist, Godzspeed Communications.
Timeline
12:00-12:15 Registration check-in
12:20-12:30 Introduction of panel
12:30-1:30 Presentations
1:30-2:30 Deep dive
2:30-3:30 Q&A
3:30-4:00 Closing remarks, light refreshments, and mingling