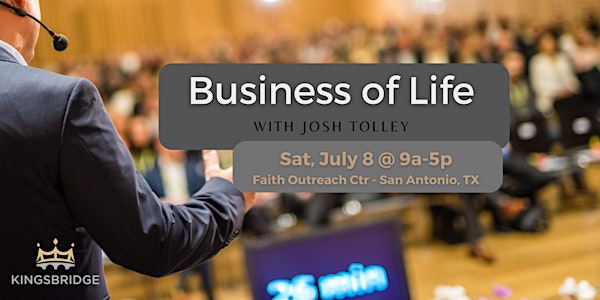 Business of Life Event with Josh Tolley - San Antonio, TX
Taking one full day to dig deep into your life, redefine many life words, and get you to your potential! Look inside for more...
Date and time
Saturday, July 8 · 9am - 5pm CDT
Location
Faith Outreach Center International 3806 Sunshine Ranch Rd San Antonio, TX 78228
About this event
Many in this life are wandering around in repetitive routines but not actually progressing much. Others are progressing, but just a little stuck. Others think they're going fine, but their relationships are suffering.
What should they do?
The Business of Life event is a more complete seminar than you've ever been to before. Josh Tolley will hit every single area of life that matters to you - guaranteed! And, if he doesn't hit it, ask him directly in the Q&A!
Despite everything happening and that has happened in our world right now, this is the time to move forward with REAL answers and tangible and practical strategies. This is the time to learn how to spot and create opportunities and walk down the path you know you were destined for.
This single-day event features Josh Tolley's foundational "Business of Life" intensive course tailored to and for you! Josh is world-famous for empowering people to achieve their life objectives and for strategically positioning businesses for REAL, sustainable growth. He is also a creative relationship coach helping people achieve better relationships while growing their business and bettering their livelihoods.
Here are just some of the topics that will be covered during the seminar:
· How your business can thrive in the aftermath of a pandemic
· Are you even going in the right direction in life?
· How your mind actually works and how to change it
· Marketing & Advertising – What's the difference and how does it help you or hinder you?
· How employment has contributed to church decline
· How to leave a legacy for your children and grandchildren
· Should you really work with friends and family?
· How to massively increase sales and clientele
· Improving non-profits and helping them succeed
· How do you fix a failing business? How do you grow
· What custom, creative strategies for higher-level growth do you need?
· How do you effectively improve communication skills for everyone you talk to?
· Wealth-protection strategies for your income
· The power of buying and selling businesses to create higher wealth
PLUS 50+ more topics on life, interrelationships & business!
Other seminars charge up to $10,000 extra to ask just one single question! We think that's crazy. Josh encourages questions throughout the conference providing custom answers to your specific questions at no additional charge. You are guaranteed to walk away with powerful strategies for your business and your life.
Corporate ticket prices are normally $599; however for a free ticket, Kingsbridge is sponsoring your attendance to this. Attendees must register by July 6 for a clear head count.
Join us for this life-changing event that is unlike any other!
**SEATING IS LIMITED to 75 spots!!**
Register now!
Make sure to come all day so you understand the flow of content. And if you're worried about missing church, this content will meet your needs more than a 30-min service!
Location: Faith Outreach Center International
3806 Sunshine Ranch Rd
San Antonio, TX 78228
Saturday, July 8 - 9:00a - 5:00p
Open Q&A to follow
If you have any questions, please contact us at (833) 865-4647 or by email at info@kingsbridgebrokers.com.
Frequently asked questions
What if I can't be there by 9:00am?
Can I record this event on my phone?
Is this information available elsewhere?