The 2-day event that digs deep into your life to get you to your potential!
About this event
You asked, and we listened!
The Business of Life event is coming to Houston, Texas! Inspire Church is partnering with Josh Tolley in sponsoring the delivery of this caliber of entrepreneurship to the city of Houston.
Despite everything happening in our world right now, this is the time to move forward with REAL answers and tangible strategies. This is the time to learn how to spot and create opportunities and walk down the path you know you were destined for.
This 2-day event features Josh Tolley's foundational "Business of Life" intensive course! Josh is world-famous for empowering people to achieve their life objectives and for strategically positioning businesses for REAL, sustainable growth.
Here are just some of the topics that will be covered during the weekend:
· How your business can thrive in the midst of a pandemic
· Are you going in the right direction in life?
· How your mind actually works
· Marketing & Advertising – What's the difference?
· How employment has contributed to church decline
· Should you really work with friends and family?
· How to massively increase sales and clientele
· Improving non-profits and helping them succeed
· How do you fix a failing business?
· Why are churches and attendees on the decline?
· Providing custom, creative strategies for higher-level growth
· Effectively improving communication skills.
PLUS 50+ more topics on life, interrelationships & business!
Other seminars charge up to $10,000 extra to ask just one single question! Crazy...right? Josh encourages questions throughout the conference providing custom answers to your specific questions at no additional charge. You are guaranteed to walk away with powerful strategies for your business and your life.
Corporate ticket prices are normally $599; however for any size donation, sponsors Inspire Church and Purple Monkey Garage will give you a free ticket to this event. Donations will be to offset and inferred cost to host this. Attendees must register by Nov 30 for a clear head count.
Join us for this life-changing event that is unlike any other!
**SEATING IS LIMITED!!**
Register now!
Make sure to come to Friday's seminar so you understand Saturday's content much better!
Location: Inspire Church Houston
11727 E Sam Houston Pkwy N, Houston, TX 77044
Friday, December 3 - 9:00a-5:00p
Saturday, December 4 - 9:00a-3:00p
Hotel rooms are available for a reserved $89 rate here:
Hampton Inn & Suites Houston East Beltway 8
Copy and paste this link or call (281) 741-3816:
https://www.hilton.com/en/book/reservation/deeplink/?ctyhocn=HOUEBHX&corporateCode=0003327283
Company Name: Inspire Church
COVID PRECAUTIONS:
The safety of our guests is of the upmost importance. Areas will be disinfected throughout the event, masks and social distancing are encouraged but not required. If you are experiencing any flu-like symptoms or have recently been exposed to someone who has tested positive for COVID-19, please stay home. If you have any questions about our COVID guidelines or procedures, please contact us at 314-297-0027 or by email at info@purplemonkeygarage.com.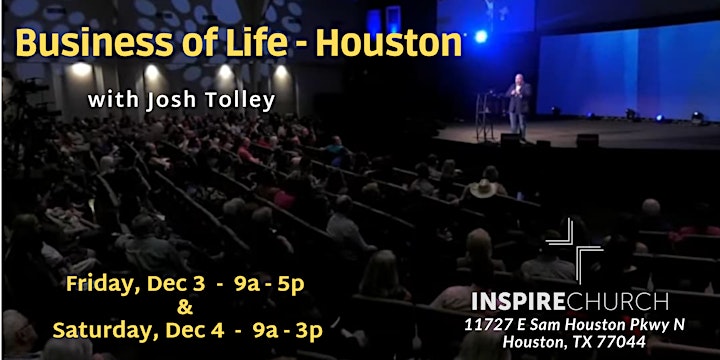 Organizer of Business of Life Event with Josh Tolley - Houston, TX
Our founder, Josh Tolley, after becoming world famous for building his own companies, recognized that the most vital department in any company, the Strategic Growth Department, didn't exist in most companies. Not only that, most businesses cannot afford to hire the staff to create a Strategic Growth Department, so Josh, decided to take his staff and his expertise and created the first ever plug-n-play growth department.
Do you have your own internal Strategic Growth Department? Probably not. Plug our team into yours to generate guaranteed growth, yes, guaranteed.
Let's talk about your business today and get it set on a path towards life-changing growth!