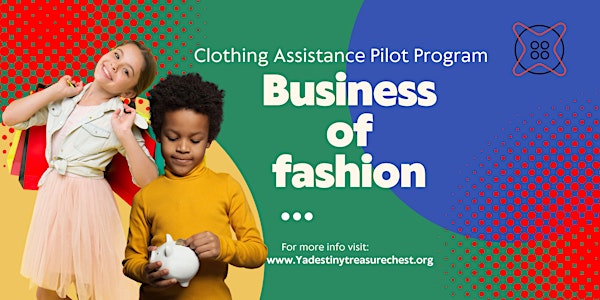 Business of Fashion
Empower Children's Futures with YTC's Clothing Assistance Pilot Program! Join our Business of Fashion course and make a difference.
By Yadestiny Treasure Chest
Date and time
Tuesday, May 30 · 3:30 - 4:30pm EDT
Location
Building 92 63 Flushing Avenue Brooklyn, NY 11205
About this event
Course Description: This course is designed to introduce youth ages 10-21 to the world of fashion and the business behind it. Students will learn about the different aspects of the fashion industry, from design and production to marketing and retail. Through a combination of lectures, case studies, and hands-on projects, students will gain a deeper understanding of the industry and the skills needed to succeed in it.
Course Outline:
Week 1: Introduction to Fashion Business
Week 2: Marketing and Branding
Week 3: Production and Manufacturing
Week 4: Retail and E-commerce
Week 5: Fashion Entrepreneurship ( June 13)+and shadow 16th-18th)
Week 6: Presentation
Week 7: Final Project (July 15th)
Students will work on a final project that applies the knowledge and skills gained throughout the course. They will present their Brands in our first annual Treasure Fest, showcasing their understanding of the fashion business and their creativity.
Duration: May to June
Language: English
Frequently asked questions
What is the Fashion of Business course?
Who is eligible to participate in the program?
When does the program start?
Is there a fee to participate in the program?
About the organizer
Yadestiny Treasure Chest, Inc. is a 501(c)3 operated not for profit whose mission is to help every child to become confident and educated on how to properly maintain and improve one's health, talents, skills and overall appearance. Through innovative fashion, wellness, financial literacy and media events and activities Yadestiny Treasure Chest will help to develop young leaders of tomorrow.