Business of Fashion Seminar Series: "THE FOUNDATION OF STYLE" Mar. 12th 201...
Description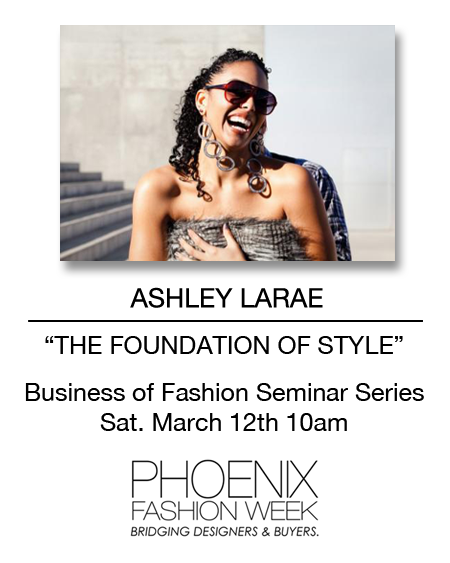 THE FOUNDATION OF STYLE! - How To Succeed As A Fashion Stylist!
Speaker: Ashley LaRae, Celebrity Fashion Stylist
This seminar will focus on the (7) MUST DO steps to succeed at fashion styling and create The LIFESTYLE you desire. Ashley will share the key steps to creating truly measureable success as a stylist.
Only 20 seats available! Sign up today!
Learn firsthand from a celebrity stylist (that counted Jay-Z, Kanye West, Keyshia Cole and The Dream as past clients) how to strengthen key areas that will propel your styling business to another level.
Key Areas Include:
* Gain the RIGHT MINDSET
* Managing the NOT SO Glamorous Llife
* Mastering the Craft, IT'S ALL IN THE DETAILS
* Relationship BUILDING & MAINTAINING BRIDGES
* Competition WITH YOURSELF, NOT OTHERS
* Marketing...BE A WALKING BILLBOARD, in every way
* Humble confidence (very humble)
Your fashion expert, Ashley LaRae, a native to the Phoenix area, began her professional career as a Fashion Stylist for superstars such as Jay-Z, Kanye West, Keyshia Cole and The Dream as well as independent films, commercials, music videos, local magazines, athletes and fashion-related books. After transitioning into consulting for local Arizona creatives, she continues to offer her expertise and experiences to help others through speaking engagements and workshops. After spending the past 4 years in Los Angeles, Ashley is back in the Valley, pulling together her vast experience in relationship building and fashion consulting as the Director of Campus Relations for the Art Institute of Phoenix.
Be prepared to be challenged and inspired! You will leave with a "toolbox" of ideas that will ensure success in your fashion styling business. * Of course there will be HOMEWORK!
When: Saturday, March 12, 2016 from 10:00 AM to 11:30 AM (MST)
Where: The Fashion Hub - 3316 East Washington Ste. 201 Phoenix, AZ 85034
Cost: $39.00
Only 20 seats available! Sign up today!
For More Information: 1-888-591-2270
Ashley LaRae

StylePHX

Fashion Stylist