Business Networking Mixer Hosted by FACC & Care Indeed
Sales Have Ended
Ticket sales have ended
Marketing and Networking Opportunities 1. Donate a Raffle Prize to promote your business. Get a chance to announce live a promotion or event prior to the Raffle Draw. 2.We would have a table for your business cards, flyers, give-away samples and other marketing materials. Space is FREE and available on a first-come-first-served basis. So please come early. Kindly collect your left over literature when you leave. Thank you for choosing to join us in this event. We look forward to networking with you and learning about your business. For any question or inquiry, please call us at 408-283-0833 or email us info@filamchamber.org
Sales Have Ended
Ticket sales have ended
Marketing and Networking Opportunities 1. Donate a Raffle Prize to promote your business. Get a chance to announce live a promotion or event prior to the Raffle Draw. 2.We would have a table for your business cards, flyers, give-away samples and other marketing materials. Space is FREE and available on a first-come-first-served basis. So please come early. Kindly collect your left over literature when you leave. Thank you for choosing to join us in this event. We look forward to networking with you and learning about your business. For any question or inquiry, please call us at 408-283-0833 or email us info@filamchamber.org
Description
Please join us for our MONTHLY BUSINESS MIXER! Register now to be entered into Early Bird Raffle Draws!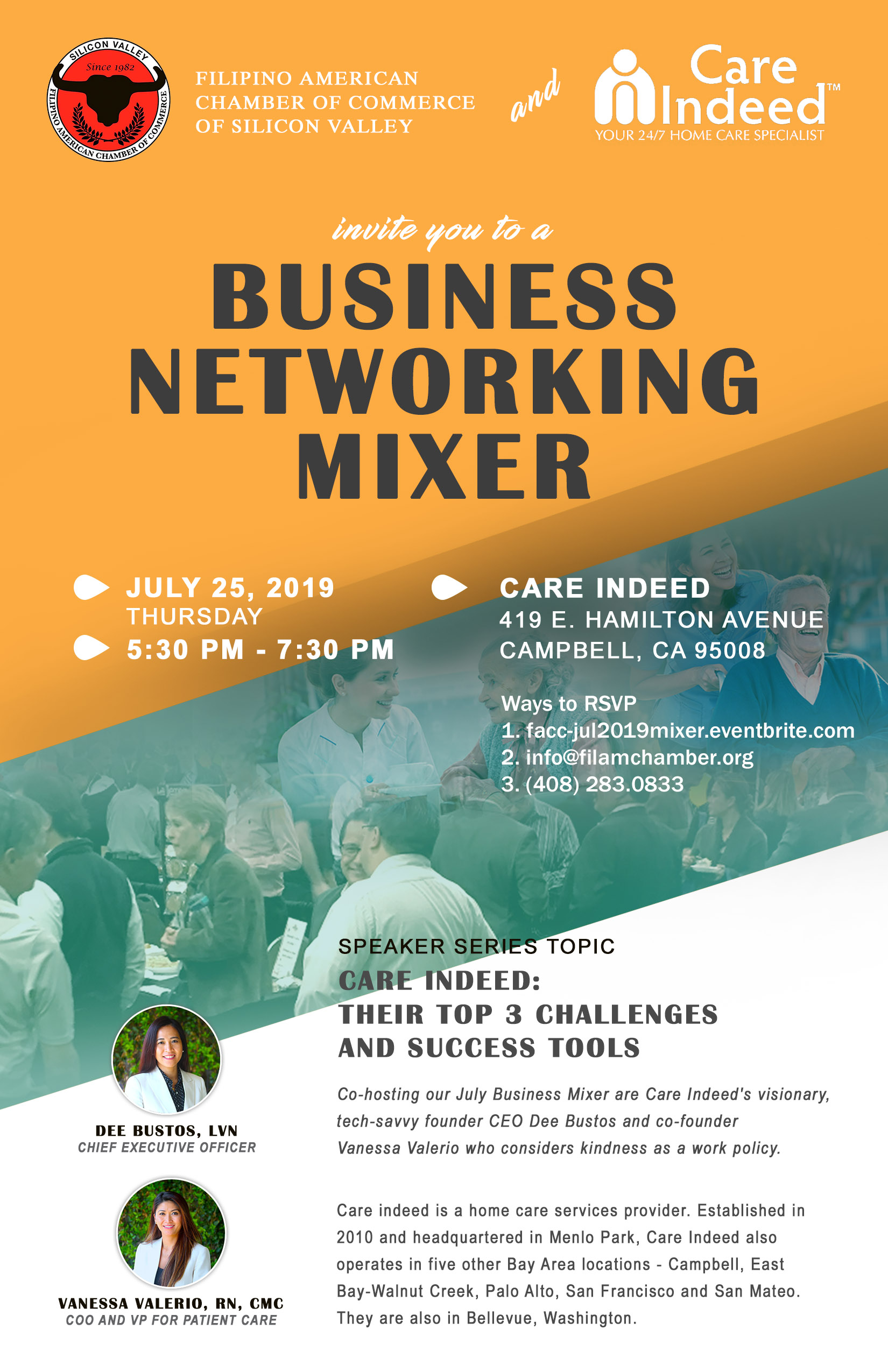 Marketing and Networking Opportunities


1. Donate a Raffle Prize to promote your business. Get a chance to announce live a promotion or event prior to a Raffle Draw.

2. We would have a table for your business cards, flyers, give-away samples and other marketing materials. Space is FREE and available on a first-come-first-served basis. So please come early. Kindly collect your left over literature when you leave.

Admission is FREE. RSVP now for easy on-site check-in and a chance to win door prizes exclusive for pre-registered guests.


To learn how to become a member, an event co-host and for other inquiries, please visit our Membership web page or contact us via 408-283-0833 or info@filamchamber.org.

Thank you for choosing to join us in this event. We look forward to networking with you and learning about your business.


Filipino American Chamber of Commerce of Silicon Valley

www.filamchamber.org
info@filamchamber.org
Tel. (408) 283-0833