Description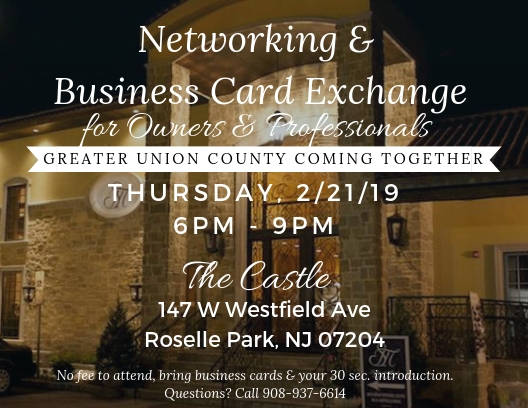 On Thursday, February 21, 2019 from 6pm to 9pm we are hosting a Goal Driven Professionals Networking Event and Business Card Exchange for local NJ Professionals and Business Owners at The Castle in Roselle Park, NJ. All are welcomed, no category specific restrictions. No fee or membership required. Light refreshments and appetizers will be provided. Cash bar, and menu will be available for additional charge.
For more information contact John Bermudez at 908-937-6614, call or text is fine.
This is event is perfect for you if you are....
- a seasoned professional that attends networking events regurlarly
-if you started a new position and looking to make more relationships in the area
- if you are new to networking all together and have some great things about your business or how you can help others and want to get the word out.
You do not have to live or work in Roselle Park, NJ to be part of this event, it is open to professionals within and the surrounding area. As long as you bring a smile and value, we welcome you!