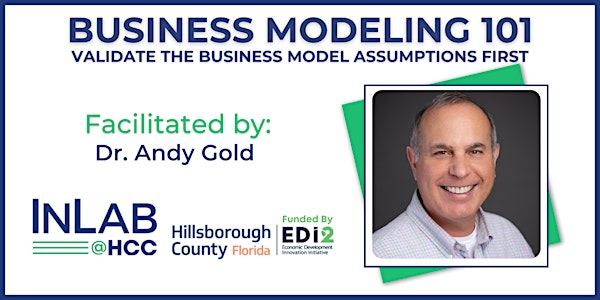 Business Modeling 101: Validate the business model assumptions first
This free workshop is for those who are interested in learning more about the business model canvas. Beginners and experts are welcome!
About this event
ABOUT THIS WORKSHOP
In this workshop you will learn about the business modeling process, its nine building blocks and how to use this tool to validate business model assumptions. This workshop is designed for individuals that are new to the business modeling framework or want to increase their understanding of ow to develop and design a functional business model.
ABUT THE INLAB
The InLab@HCC is Hillsborough Community College's Interdisciplinary Institute for Innovation. The center offers college credit academic certificates and degrees in entrepreneurship, community programming like this workshop, military veteran entrepreneurship support, and research and design thinking services for the community at-large.
HOW DOES THIS WORKSHOP CONNECT TO THE BUSINESS MODEL CANVAS?
All InLab Workshops align with The Business Model Canvas, a tool used by entrepreneurs and business owners to validate their ideas. If you are not that familiar with the business model canvas, and/or the business modeling process, here are a few resources that may be of interest.
a) How to use the business model canvas, an introduction: http://www.spikelab.org/blog/correctly-use-business-model-canvas.html
b) Additional resources related to the business model canvas (books, videos, free courses, websites etc.): http://www.spikelab.org/resources.html
This workshop covers concepts related to the following business model canvas building blocks: Customer Segments, Value Proposition, Channels, Customer Relationships, Revenue Streams, Cost Structure, Key Activities, Key resources, and Key Partners.
ABOUT THE FACILITATOR
Dr. Andy Gold is a longtime social entrepreneur, educator and cofounder of The InLab@HCC and Operation Startup. Dr. Gold is a full-time business faculty member at Hillsborough Community College and teaches in the graduate school at the University of Tampa, and the University of South Florida. He is also a co-founder of the HCC Innovation and Entrepreneurship Program, serving as an internal entrepreneurial evangelist at HCC.
(This workshop is delivered virtually, live through Zoom. Please note that the Zoom link will be sent by EventBrite. Make sure to check your junk mail folder.)