| | |
| --- | --- |
| Business Model You® Workshop and MasterClass led by Dr. Timothy Clark: Amsterdam 7-8 November 2014 | |
Event Details
Reinvent Work  
Business Model You® Workshop
and Master Class
— Essential Training for Enterprising Professionals —
A full-day workshop on reinventing your career
Workshop: Friday, November 7 (Amsterdam Zilveren Toren)
Master Class: Saturday, November 8 (Amsterdam Zilveren Toren)
Both events 9:30 AM till 5:30 PM


If you want to get more out of your life and career, you're not alone. More and more people today want greater meaning, value and personal enjoyment in their daily lives. This workshop is designed to help you achieve that, and more. 
Have you read the global bestseller Business Model You: A One Page Method for Reinventing Your Career? It describes a "personal business model" methodology that reveals insightful ways you can identify evolving market needs and uncover fresh, more fulfilling career and life possibilities.

If you enjoyed the book (and even if you've yet to read it) you'll love our live workshop, where you'll quickly learn the Business Model You® methodology with direct guidance from its creator, Dr. Timothy Clark.


Two important questions

Like most people, you probably work for an enterprise, either as a manager, employee; contractor or vendor. If so, ask yourself these two key questions 1) How does the enterprise make money? 2) How do you make money?
These questions are not just for businesspeople. Every enterprise — whether nonprofit, for-profit, government, or social venture - must generate cash to carry out its work. And every enterprise has its own business model. What exactly is that? A business model shows how an enterprise creates and delivers something valuable to customers -- and is paid for doing so. As a professional, understanding business models is vital.


What that means to you

You have a personal business model. It's how you create and deliver something valuable to an enterprise — and are paid for doing so. If you can bring your personal business model to work and add value to the enterprise, you can achieve great success and make the changes you desire.
Whether you want to advance in your current role, change jobs, or start your own venture, you must know 1) how enterprises make money, and 2) how you make money — or can make money (perhaps in entirely new ways). Learn to answer both questions, step-by-step, in this essential training for enterprising professionals.
This immersive workshop is for you if:
Your career has hit an impasse or glass ceiling and you're keen to reinvigorate the sense of possibility and growth you previously enjoyed

Your team members have trouble seeing the "big picture" behind projects

You're considering going freelance or starting your own venture

You need a fresh approach to managing enterprise talent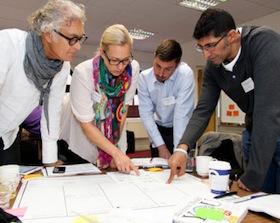 If you or your clients face challenges like these, you'll get a jump start by mastering this proven approach to business modeling. Here are just a few of the things you'll accomplish:
Articulate the personal value you provide and identify new prospective customers

Generate severa new career possibilities in a single day

Determine whether you should start your own venture or not

Learn a fresh approach and new skills in talent management Grab your spot now.
What You'll Learn
You will master the basics of Business Model You®, a powerful career redesign method you can use for the rest of your life. Specifically, you will:
Grasp business model thinking and draw a diagram of your personal business model

Define the purpose and value of your work

Create a new personal business model harmonized with that purpose 

Understand Business Model You® as a talent management method
 Our work together will include pair and group exercises, case studies, interactive presentations, structured feedback sessions, and group-generated Q&A with Dr. Clark.
Who Should Attend
Mid-career professionals seeking to redesign how they work

Managers striving to align individual employee actions with team goals  

Professional advisors planning to use the Business Model You® methodology to help clients or colleagues
Don't miss this rare opportunity
In just one day of training, you'll learn how to apply a tailored, personal business method that will drive your success for years to come. Join tens of thousands of other enterprising professionals worldwide who have enjoyed the career-changing benefits of Business Model You®. Join us!
Sign up today. Space is limited.
Reinvent Work  
Business Model You® Workshop
November 7, 2014  Program Overview
Draw

1. Set today´s goal: Which of the Three Questions Must you Ask Yourself Now?
2.  Guided Tour of the Personal Business Model Canvas 

3.  Draw Your As-Is Personal Business Model


Reflect

1.  Trusted Other Listening Laboratory (TOLL1): Identify Pain Points

2.  Personal Business Model Revision Case
3.  Think Out Loud Laboratory (group TOLL2): Create New Possibilities For Your Model
4.  Colleague Buzz/Q&A: Ask the Author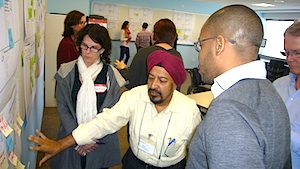 — Coffee Break —



1.  Know Your Purpose: Case and Exercise 

2.  Purpose-Full Cocktail Party
3.  Morning Summary/Group Picture/Table Change  

— Lunch —



Revise

1.  Reinvention Cases
2.  Exercise: (re)Design Your Value Proposition Using PINT
3.  Think Out Loud Laboratory (group TOLL3 ): Redesigned Value 
     Proposition/Canvases
4.  Colleague Buzz/Q&A: Ask the Author

— Coffee Break —


Act

1.  Guided Tour of the Enterprise Business Model Canvas 

2.  Team Exercise: Diagram a Familiar Enterprise Model
3.  Harmonizing Personal and Enterprise Models
4.  Re-Ask Yourself The Three Questions, Define Next Steps 

5.  Summary and Evaluation

Social Hour/Networking


Seating is limited. Fee includes:


• Lunch and refreshments throughout the day
• Participant Guide
• Two oversized Personal Business Model Canvas posters

• Copy of Business Model You
 
Note to leaders and professional advisors: Participation in the Business Model You® Workshop is required for participation in the Business Model You® Master Class.
Reinvent Work  
Business Model You® Master Class
 November 8, 2014  Program Overview
 
The Business Model You® Master Class builds upon experiential learning from the Business Model You® workshop. Now that you can think and feel in Personal Business Model terms, you'll learn how to implement the methodology within your own professional practice.
 
For one full day, a select group of 24 participants will study and practice techniques for teaching and facilitating using the Business Model You® methodology. Working closely and directly with the method's originator, you'll practice and learn the following:
The Four-Phase Approach: Applications for one-on-one and group engagements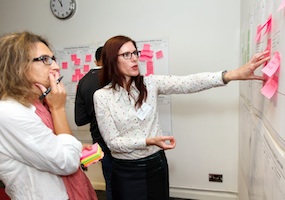 Correct Canvas technique: Avoiding common mistakes

Personal Business Model debriefing competencies

Simple Rules for harmonizing individual and enterprise models

Workshop and training design

Our work together will include a blend of interactive presentations, pair and group exercises, case studies, structured feedback sessions, and group-generated Q&A with the author.

Enrollment Prerequisites
All applicants for the Master Class must have completed a Business Model You® Workshop. Enrollees will be informed as to specific preparations upon acceptance in the class.
Who Should Attend
Professional advisors, coaches, counselors, consultants and others who want to use the Business Model You® methodology in their own professional practices

Team leaders, entrepreneurs, or managers striving to align individual actions with enterprise aims or otherwise proactively manage talent in a fresh way
What You'll Learn
Participants will learn the Business Model You® approach to enterprise and career modeling. Specifically, you will:
Learn how to design both one-on-one and group engagements using the Four-Phase Draw > Reflect > Revise > Act approach

Master correct Canvas technique

Learn Simple Rules for aligning individual action with enterprise aims

Study cases and practice Personal Business Model debriefing and facilitation techniques

Discover how to integrate the Business Model You® methodology with your own professional practice
Master Class Agenda
Set Your Goal: How Will You Use the Methodology? 

The Four-Phase Approach to Designing Engagements

Facilitator Guide Overview

Simple Rules Canvas Technique Practicum

Colleague Buzz/Q&A




 
— Coffee Break —
Trusted Other Listening Laboratory (TOLL) Overview

Coaching Practicum 1: TOLL Pair and Share

Coaching Practicum 1: TOLL 4 x 4

Case Study/Poster Session: Simple Rules for Aligning Individual, Enterprise Models

Morning Recap, Group Photo




 
— Lunch —
Create Your Professional Identity in Seven Words

Coaching Practicum 2: Think Out Loud Laboratory (TOLL)

Building Block Poster Session (groups)

Training Design Practicum in Groups (overview)




 
— Coffee Break —
Training Design Practicum in Groups

Presentation of Training Designs

Summary and Evaluation

Presentation of Certificates of Completion

Please contact organizer Mercedes Hoss-Weis (mercedes (at) businessmodelyou.com) with questions.
About the Venue 
Conveniently located less than a five minute walk from Amsterdam Central Station, Zilveren Toren offers a spectacular city panorama and striking interior design by Swiss artist Heinz Julen. Enjoy the culinary delights and stunning views from Level Eleven, where Master Class participants will lunch.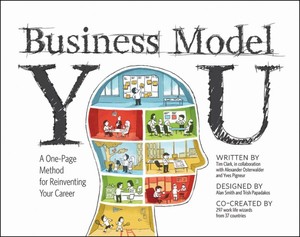 Download a free, full-color 79-page book sample at BusinessModelYou.com.




You can also learn more about BMY by watching this short video.

Learner Praise for Business Model You®
 
"I loved the ability to actually rehearse and say what I am
and simplify my message and clarify the whole model for myself with the help of others." 
Francisco Baptista
"The thing that is really life-changing is that I now think really entrepreneurially.
So I have a totally different mindset compared to how I thought in the past.
And I think I will progress that going forward
and I definitely know that this will help in my future career." 
Rolf Crisovan

"As an MBA candidate, I'd gleaned bits and pieces of career insight
from multiple personality and aptitude tests,
but was looking for something more holistic. Fortunately I met Michael Lang,
who introduced me to Business Model You during lunch at the Innovation Games Summit.
After returning home, I bought the book and used the methodology.
I was amazed at my ability to visualize my future career
with the Personal Business Model Canvas.
I happened to be applying for jobs, so the timing was perfect.
I recommend Business Model You to all professionals,
whether they're satisfied with their current jobs or not."
Sarvesh Singh, Former Europe Delivery Manager for Astellas Pharma

"An amazing workshop. I've renewed my passion."
Matteo Fusco, Italy

"Business Model You is the ultimate self-coaching book,
but to ensure follow-through,
I recommend a workshop with the author. The results are remarkable."
Kaori Okubo, Tokyo

"Thank you for writing Business Model You, it changed my life. 
I was a sad chemical engineer, now I'm a happy consultant!"
Gustavo Marques Couto, Brazil

"I love Business Model You because it gives clarity, focus, and direction--all on one page,
with a proven, step-by-step method based on the building blocks of business itself.
It's simple, fast, and effective.
The visual aspect is fun and engaging. And, yes--it works!"
Bryan Lubic, Professional Development Advisor, San Diego State University

"Your Business Model You work is amazing and can be life changing
for people applying it. I know from experience."
Annette Mason, U.S.

"This is an incredible book. It has changed my own life as well as those of my clients."
Mary Anne Shew, Small Business Consultant, Rochester, New York
Read what enthusiastic participants said about the Munich Master Class
Cancellation terms: If you cancel up to one month before the event, 50% of your workshop fee will be refunded. After that date we cannot refund workshop fees for any reason, but at any time you may designate someone else to attend the class in your place.
Program content is subject to change at the facilitator's sole discretion.
Program may be canceled if enrollment is insufficient and tickets price will be refunded 100%. Business Model You, LLC can not be held responsible for travel reservation losses or inconvenience resulting from cancellation due to insufficient enrollment.
Where

Zilveren Toren Amsterdam
Stationsplein 51
1012 AB
Netherlands


Organizer
Business Model You, LLC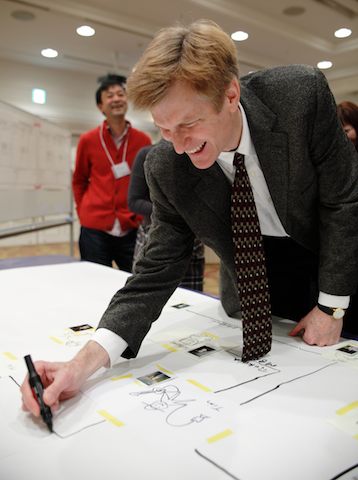 About the Facilitator 
Dr. Timothy Clark is an entrepreneur, NEXT-certified entrepreneurship trainer, and author who leads the global personal business model movement at BusinessModelYou.com. After selling his startup to a NASDAQ listed entity in a multi-million-dollar transaction, Tim completed doctoral research in international business model portability and went on to author or edit five books on entrepreneurship, business models, and personal development, including the international bestsellers Business Model You and Business Model Generation, which together have sold nearly a million copies in 26 languages.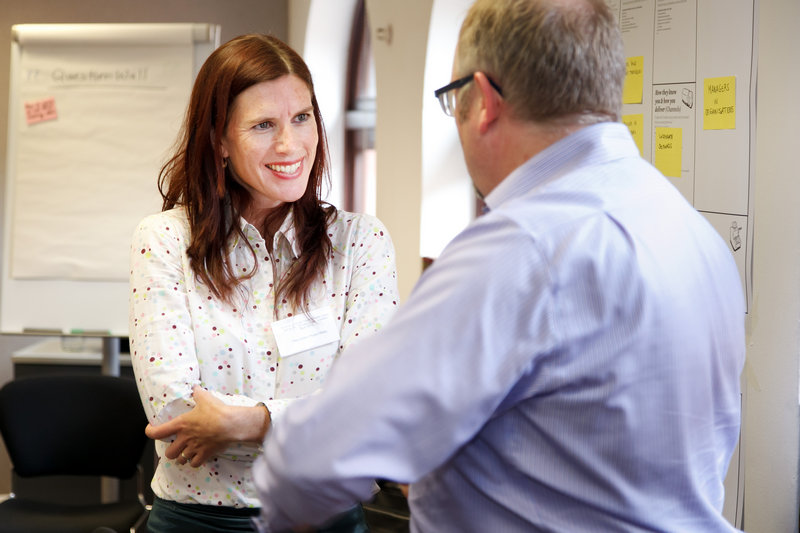 About the Organizer and Co-Facilitator 
Mercedes Hoss (BBA)  is an experienced business model designer, facilitator & project manager. She supports (inter)national organizations with the development and improvement of business models by getting teams and individuals to think broadly and expansively about their own strategies and business models. 
With 20+ years of hands-on management experience, 16 of which in leading functions in the areas of IT (ERP/ consolidation/ financial integration) and business/ process optimization for international corporates,  she enjoys realizing the successful impact of implementing new tools, skills and mindsets within organizations. 
Mercedes is a certified business coach, LEGO® SERIOUS PLAY® facilitator and Business Model You® Practitioner. Originally from Argentina, she lived in the US, England and Chile and has been in Munich since 2008. She speaks English, German and Spanish.