Business Model You® Master Class led by Dr. Timothy Clark -London Sept 2013

Wednesday, September 18, 2013 from 9:30 AM to 6:00 PM (GMT)
Event Details
This is a full-day master class led by Business Model You author Tim Clark. The class will be conducted in English by Tim Clark, with trainer/coach Mercedes Hoss-Weis (ACTP ICF) assisting as co-trainer.
A full-day workshop for professional advisers—consultants, counselors, coaches, educators, HR professionals, and managers—who want to use the Business Model You® methodology to help clients or colleagues achieve more satisfaction and success at work. Facilitated by Dr. Timothy Clark, author of Business Model You and co-creator of Business Model Generation.
Attendees will learn the overarching Business Model You® methodology and specific exercises for using it to:
Help clients or colleagues achieve clarity and direction

Harmonize personal and organizational business models

Help founders and entrepreneurs align personal and professional visions

Help students learn business model thinking and evaluate career options
Program Overview
Organizational Business Models (9:30-11:00)
Meet Your Colleagues, Set Your Goal

Guided Tour of the Organizational Canvas

Group Practice Diagramming Organizational Models

Harmonizing Organizational & Personal Business Models

Q&A/Discussion: Planning Your Own Training
— Coffee Break —  
Personal Business Models I (11:10-13:00)
Guided Tour of the Personal Canvas

Diagram as-is Personal Business Models (PBMs)

Diagnose Pain Points

Customer Implosion PBM Diagrams

Q&A/Discussion: Conducting Your Own Training 
 — Lunch —
Personal Business Models II (14:00-15:00)

Customer Implosion PBM feedback (groups)

Q&A Regarding Exercises and Implementation/Localization
Reinvention/Act (15:00-17:00)
Reinvention Cases (two)

Draw New PBMs, Identify Testing Activities

New PBM feedback (groups)

Accountability Partner Overview

Summary, Free Discussion: Facilitator Guide
Social Hour/Accountability Partner Network (17:00-18:00) in the lounge adjacent to the training room. Includes two free drinks and snacks.
The workshop is limited to 32 participants due to the immersive hands-on nature of the work and it includes:
Lunch & two free drinks and snacks after the event

Participant Guide

Two oversized Personal Business Model Canvas posters

Copy of Business Model You,

 signed by the author

Access to a Private Group where to meet, exchange & network with other participants prior to the event to 1) better tailor the workshop to participant needs, 2) offer networking opportunities in advance, and 3) accelerate the learning.
Certificates of Master Class completion will be awarded to every participant who completes the training.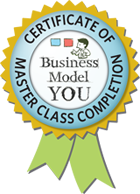 _________________________________________________________________
Training content subject to change at the facilitator's discretion.
_________________________________________________________________
Feel free to contact Mercedes Hoss-Weis (the Organizer) at mhoss(at)iff-time.eu for any questions.
_________________________________________________________________
Download a free, full-color 79-page book sample at BusinessModelYou.com.
You can also learn more about BMY by watching this short video.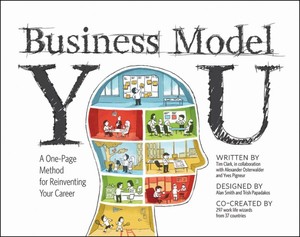 "Your Business Model You work is amazing and can be life changing
for people applying it. I know from experience."
Annette Mason, U.S.
"An amazing workshop. I've renewed my passion."
Matteo Fusco, Italy


"Business Model You is the ultimate self-coaching book,
but to ensure follow-through,
I recommend a workshop with the author. The results are remarkable."
Kaori Okubo, Tokyo
"This is an incredible book. It has changed my own life as well as those of my clients."
Mary Anne Shew, Small Business Consultant
Rochester, New York 
"I love Business Model You because it gives clarity, focus, and direction--all on one page, with a proven, step-by-step method based on the building blocks of business itself. It's simple, fast, and effective. The visual aspect is fun and engaging. And, yes--it works!"
Bryan Lubic, Professional Development Advisor
San Diego State University
"Thank you for writing Business Model You, it changed my life. 
I was a sad chemical engineer, now I'm a happy consultant!"
Gustavo Marques Couto, Brazil
Read what enthusiastic participants said about the Munich Master Class in April 2013
http://businessmodelyou.com/forum/topics/personal-business-model-master-class-munich-22nd-of-april-2013) 
When & Where

etc.venues - Shoreditch - Bonhill House
3 Bonhill St
EC2A London
United Kingdom


Wednesday, September 18, 2013 from 9:30 AM to 6:00 PM (GMT)
Add to my calendar
Organizer
Business Model You, LLC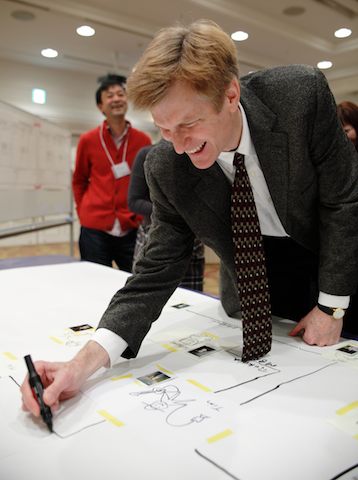 About the Facilitator 
Dr. Timothy Clark is an entrepreneur, NEXT-certified entrepreneurship trainer, and author who leads the global personal business model movement at BusinessModelYou.com. After selling his startup to a NASDAQ listed entity in a multi-million-dollar transaction, Tim completed doctoral research in international business model portability and went on to author or edit five books on entrepreneurship, business models, and personal development, including the international bestsellers Business Model You and Business Model Generation, which together have sold nearly a million copies in 26 languages.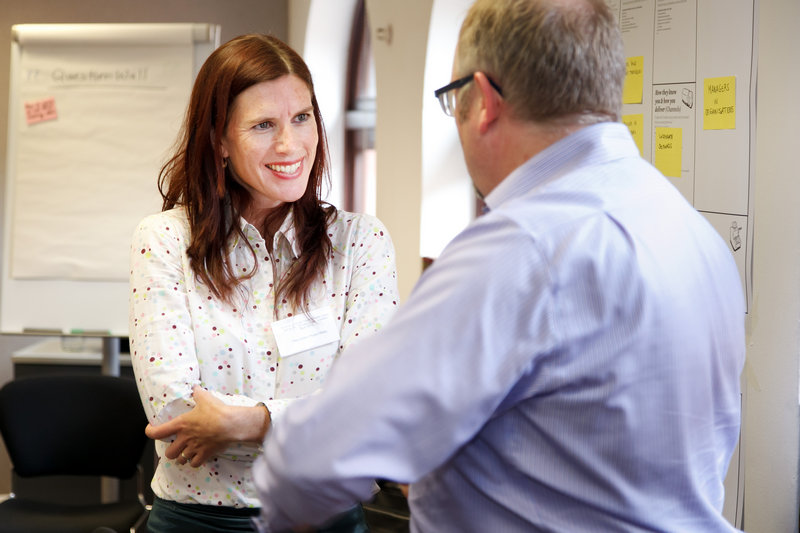 About the Organizer and Co-Facilitator 
Mercedes Hoss (BBA)  is an experienced business model designer, facilitator & project manager. She supports (inter)national organizations with the development and improvement of business models by getting teams and individuals to think broadly and expansively about their own strategies and business models. 
With 20+ years of hands-on management experience, 16 of which in leading functions in the areas of IT (ERP/ consolidation/ financial integration) and business/ process optimization for international corporates,  she enjoys realizing the successful impact of implementing new tools, skills and mindsets within organizations. 
Mercedes is a certified business coach, LEGO® SERIOUS PLAY® facilitator and Business Model You® Practitioner. Originally from Argentina, she lived in the US, England and Chile and has been in Munich since 2008. She speaks English, German and Spanish.
Business Model You® Master Class led by Dr. Timothy Clark -London Sept 2013