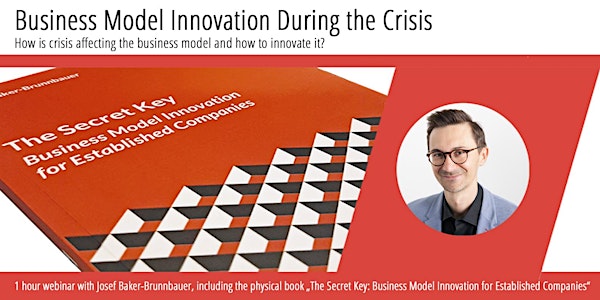 Business Model Innovation During the Crisis
Business Model Innovation During the Crisis: How is crisis affecting the business model and how to innovate it?
About this event
In this online webinar you will get an update of different perspective how the Corona crisis is influencing business models. Every crisis is an excellent growth medium for new chances and business models.
The webinar will give you a short overview about business model innovation and inputs of quick adaptions that you can try to implement for your business.
The ticket also includes my physical book "The Secret Key: Business Model Innovation for Established Companies" for inspiration and look up afterwards. Webinar and book language are in English. RPR of the book (ISBN: 978-3-99093-610-8) is EUR 19.90. Based on the current Corona crisis, shipment can take a bit longer as normal (please register with full name and address).
After the webinar you are able to visualize and innovate your business model as a first action. Business Model Innovation is not a 60min task, but with this webinar you will kick it off!
For further questions you can contact me via josef@product-xyz.com
About Josef Baker-Brunnbauer:
For about 20 years Josef Baker-Brunnbauer has been working in various industries for start-ups and established companies in international projects for leading companies. He advises companies on business model innovation, product innovation, change and digital transformation projects with his consulting company product-xyz.com.
He has published the new book "The Secret Key: Business Model Innovation for Established Companies" and he completed training in software development, psychology and international management at universities in Austria, Germany and China. In his free time, he enjoys traveling, discovering new opportunities outside of his comfort zone, cooking and endurance sports (triathlon, 24-hour road bike races, climbing and backcountry skiing).